Image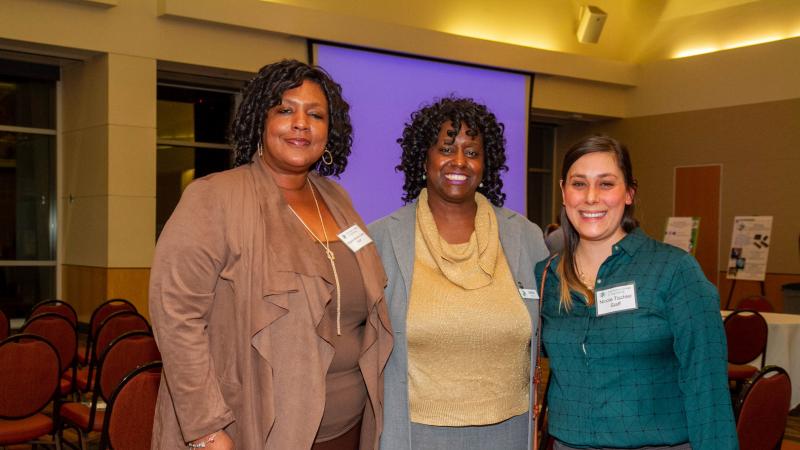 Credit: Cleveland State University
Two new staff members join CEEL
The Center for Experiential Learning welcomed Angela Benton-Smith and Nicole Tischler last year to CSU.
Cleveland State University's Center for Engineering Experiential Learning, a program that is a part of the Washkewicz College of Engineering, expanded its staff with two new members last year during the fall semester.
Angela Benton-Smith, CEEL coordinator for special programs, and Nicole Tischler, coordinator for academic programs joined the team.
Experiential learning consists of hands-on experience, being able to apply what students have learned to solve issues in the real world and take that knowledge and teamwork to get there.
"We provide a lot of service in the CEEL office for engineering and computer science students," Sandra English, senior manager of CEEL said. "It is a huge benefit for the Washkewicz College of Engineering to have three staff people to work on these engineering experiential learning endeavors."
Together with English, who leads the center, and a number of graduate and undergraduate student assistants, Benton-Smith and Tischler provide help and services to students, who now only need to come to one place to have all of their experiential learning questions answered and their plans set.  
Benton-Smith explained what the job meant to her.
"It is very rewarding to assist students with interviewing, resume review and job search skills so that they are able to secure a co-op or internship," Benton-Smith said. "In addition to these one-on-one services, we sponsor the largest two engineering career fairs on campus to assist students as well as facilitate industry information sessions year-round."
Benton-Smith comes to CSU with a bachelor's degree in physics from Spelman College, a bachelor's in electrical engineering from Georgia Institute of Technology, and a master's in business administration from Clark Atlanta University.  
Her career and professional experience include working as a project engineer for LTV Steel, as interim director for community services for Spelman, and as a coordinator for the Washington Bridge to Spelman Program.  
Most recently, Benton-Smith served as the facility coordinator for the Center for Experiential and Service Learning at Hawken School in Cleveland. Her professional background as well as her personal experience make her a stellar fit for her vital role in CEEL. 
Nicole Tischler works in both co-op and the industry-sponsored senior design projects at CSU. She received her bachelor's in psychology and theatre from Baldwin Wallace University and her master's in counseling from the University of Cincinnati. 
Prior to coming to CSU, Tischler worked as an in-home mental health counselor on Ohio Guidestone's first Assertive Community Treatment Team, helping severely mentally ill adults. 
Tischler first gained experience working in engineering co-op programs as a graduate assistant at the University of Cincinnati's Division of Professional Practice and Experiential Learning (ProPEL), one of the first cooperative education programs in the country. 
At ProPEL, Tischler was able to work with mechanical engineering students to both prepare them professionally for co-ops and help them process what they learned through their professional experiences. She is excited to be working in co-op again and looks forward to continuing to help CSU engineering students develop professionally from here on out.