Image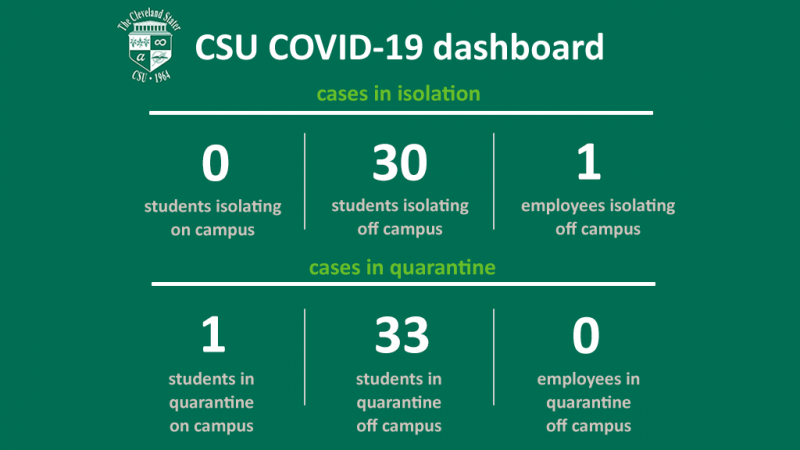 Credit: Tony Pesta
CSU falters as COVID-19 numbers go up again
The spread of COVID-19 among CSU students has increased once more with 64 students now in isolation or quarantine, an increase of 10 from last week.
Cleveland State University is reporting another increase in COVID-19 while other colleges in Ohio see a degree of leveling off of cases.
Thirty students are in isolation off campus after testing positive for COVID-19, a decrease from 37 the week prior. However, the number of students in quarantine off campus has more than doubled from 16 to 33 this week. 
On campus, cases have stayed the same with one student in quarantine and zero in isolation. 
While the number of students in isolation has decreased, the overall number impacted by COVID-19 has increased due to the rise of students in quarantine. 
Positive cases have increased and decreased sporadically. Cases peaked at 68 in September and have jumped back-and-forth since then, with an average of 43 students testing positive weekly during this stretch.
Cases among employees have not changed. One employee is in isolation off campus while none are in quarantine. 
Other Ohio schools such as Ohio State University, Case Western Reserve University, Kent State University and Ohio University have seen cases decrease more consistently and/or remain below CSU's semester average of more than 40 cases weekly.  
Furthermore, CSU has the highest percentage of positive COVID-19 cases in regard to each university's student population. 
Percentage of COVID-19 cases by student population (For the week of Nov. 3-10)
All of the above universities, besides CSU, require staff and students to be vaccinated against COVID-19.
Cleveland State University does not require immunization for COVID-19 unless you are a student living on campus. The Faculty Senate voted in favor of vaccine mandates in September and the School of Communication endorsed the Senate's decision in October. 
CSU has opted for other solutions to COVID such as mandatory masks, a peer-to-peer education program on vaccines, cash incentives for vaccination, randomized testing and most recently, a survey sent out to students to inquire about their experiences with vaccines. 
With four weeks remaining in the fall 2021 semester, it is unclear if Cleveland State will make any more changes to its COVID-19 policy before the end of the year or next semester. 
Isolation: An individual who has tested positive for COVID-19 with OR without symptoms and who must isolate for 10 days from either symptom onset or test result, the last 24 hours of which must be fever free and, if symptomatic, symptoms are improving. 
Quarantine: An individual who either meets the CDC definition of being a close contact of a confirmed COVID-19 case or is arriving at CSU from either a domestic hotspot or international location and must quarantine for 14 days from either last known contact with the confirmed COVID-19 case or, in the case of those arriving from hotspot or international locations, the day of arrival.
Via Cleveland State University's COVID-19 Dashboard
CSU COVID-19 Dashboard update Wednesday, October 27, 2021
0 students in isolation on campus

22 students isolating off campus

2 employees isolating off campus

1 student in quarantine on campus

13 students in quarantine off campus

0 employee in quarantine off campus
CSU COVID-19 Dashboard update Wednesday, October 20, 2021
1 student isolating on campus

64 students isolating off campus

1 employee isolating off campus

1 student in quarantine on campus

14 students in quarantine off campus

0 employee in quarantine off campus
CSU COVID-19 Dashboard update Wednesday, October 13, 2021
0 student isolating on campus

41 students isolating off campus

2 employees isolating off campus

0 students in quarantine on campus

12 students in quarantine off campus

1 employee in quarantine off campus
CSU COVID-19 Dashboard update Wednesday, October 6, 2021
1 student isolating on campus

61 students isolating off campus

4 employees isolating off campus

0 students in quarantine on campus

41 students in quarantine off campus

2 employee in quarantine off campus
CSU COVID-19 Dashboard update Wednesday, September 28, 2021
0 student isolating on campus

68 students isolating off campus

3 employees isolating off campus

4 students in quarantine on campus

44 students in quarantine off campus

1 employee in quarantine off campus
CSU COVID-19 Dashboard update Wednesday, September 21, 2021
1 student isolating on campus

61 students isolating off campus

3 employees isolating off campus

7 students in quarantine on campus

30 students in quarantine off campus

1 employee in quarantine off campus
CSU COVID-19 Dashboard update Wednesday, September 14, 2021
2 students isolating on campus

43 students isolating off campus

4 employees isolating off campus

2 students in quarantine on campus

37 students in quarantine off campus

1 employee in quarantine off campus
CSU COVID-19 Dashboard update Wednesday, September 8, 2021
3 students isolating on campus

38 students isolating off campus

3 employees isolating off campus

1 student in quarantine on campus

24 students in quarantine off campus

0 employees in quarantine off campus
CSU COVID-19 Dashboard update Wednesday, September 1, 2021
2 students isolating on campus

13 students isolating off campus

3 employees isolating off campus

0 students in quarantine on campus

4 students in quarantine off campus

0 employees in quarantine off campus
CSU COVID-19 Dashboard update Wednesday, August 19, 2021
0 students isolating on campus

1 student isolating off campus

0 employees isolating off campus

0 students in quarantine on campus

0 students in quarantine off campus

0 employees in quarantine off campus