Image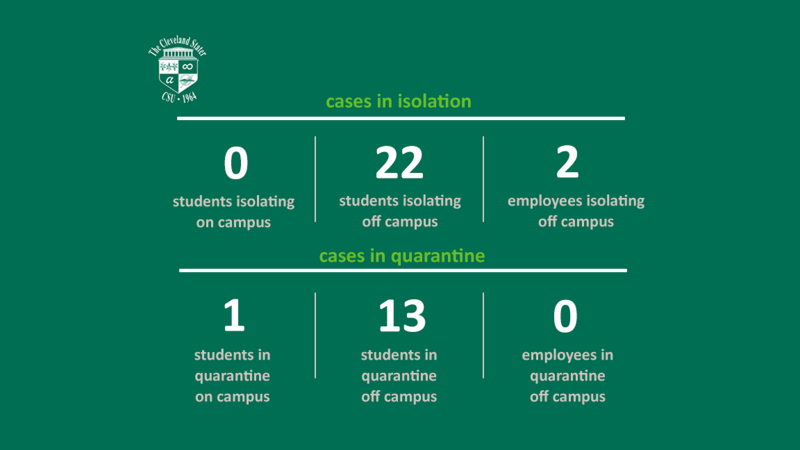 Credit: Tony Pesta
CSU: COVID-19 cases among students decrease by more than half
Cleveland State's weekly COVID-19 dashboard reports the fewest number of students in isolation or quarantine since Sept. 1.
COVID-19 cases have been in flux over the last few weeks with this week marking the second-biggest decrease in student cases of the semester.
Twenty-two students are in isolation off campus, down from 64 in the week prior. 
Students in quarantine off campus fell to 13, a decrease of one from last week. 
On campus, zero students are in isolation while one student is in quarantine. 
The only category that increased this week is the number of employees in isolation, with two staff members testing positive for COVID-19. Previously, one employee was in isolation. 
Employees in quarantine remain at zero.
Cleveland State continues to opt for a peer-to-peer education program rather than mandate vaccination. According to a recent Faculty Senate meeting, there has been little progress in deciding on whether a mandate should be implemented. 
Earlier in the semester, the Senate voted in favor of mandating the COVID-19 vaccine for all students and staff on campus. Despite this, the administration launched an education program to encourage vaccination and announced cash incentives for students and staff to get vaccinated, instead of enforcing a mandate. Concern lingers among faculty. The School of Communication, for example, at its Oct. 21 meeting endorsed the Senate motion calling for a vaccine mandate, adding support as an academic unit to the Senate's position.
CSU's former head of the Pandemic Response team, Dr. Forrest Faison, who resigned in October explained the administration's reasoning.
"There's a great deal of fear and hesitancy about vaccines," Faison said. "It has to do with long-standing hesitancy and distrust about organized medicine. You're not going to fix that overnight. So we took a different approach." He added that "what's going to make the campus safe is people getting vaccinated, not people getting exempted" if faced with a mandate.
The university planned to update its COVID-19 guidelines by Oct. 19 but there have been no changes. Provost Laura Bloomberg told the Faculty Senate the school was waiting for the results of an ongoing survey that was sent out to students. 
As a state, Ohio has reported its lowest number of daily cases (2,325) since Aug. 14. Similarly, Cuyahoga County has seen a steady decrease in the seven-day average of COVID-19 cases since late September. (New York Times)
Isolation: An individual who has tested positive for COVID-19 with OR without symptoms and who must isolate for 10 days from either symptom onset or test result, the last 24 hours of which must be fever free and, if symptomatic, symptoms are improving. 
Quarantine: An individual who either meets the CDC definition of being a close contact of a confirmed COVID-19 case or is arriving at CSU from either a domestic hotspot or international location and must quarantine for 14 days from either last known contact with the confirmed COVID-19 case or, in the case of those arriving from hotspot or international locations, the day of arrival.
Via Cleveland State University's COVID-19 Dashboard
CSU COVID-19 Dashboard update Wednesday, October 20, 2021
1 student isolating on campus
64 students isolating off campus
1 employee isolating off campus
1 student in quarantine on campus
14 students in quarantine off campus
0 employee in quarantine off campus
CSU COVID-19 Dashboard update Wednesday, October 13, 2021
0 student isolating on campus
41 students isolating off campus
2 employees isolating off campus
0 students in quarantine on campus
12 students in quarantine off campus
1 employee in quarantine off campus
CSU COVID-19 Dashboard update Wednesday, October 6, 2021
1 student isolating on campus
61 students isolating off campus
4 employees isolating off campus
0 students in quarantine on campus
41 students in quarantine off campus
2 employee in quarantine off campus
CSU COVID-19 Dashboard update Wednesday, September 28, 2021
0 student isolating on campus
68 students isolating off campus
3 employees isolating off campus
4 students in quarantine on campus
44 students in quarantine off campus
1 employee in quarantine off campus
CSU COVID-19 Dashboard update Wednesday, September 21, 2021
1 student isolating on campus
61 students isolating off campus
3 employees isolating off campus
7 students in quarantine on campus
30 students in quarantine off campus
1 employee in quarantine off campus
CSU COVID-19 Dashboard update Wednesday, September 14, 2021
2 students isolating on campus
43 students isolating off campus
4 employees isolating off campus
2 students in quarantine on campus
37 students in quarantine off campus
1 employee in quarantine off campus
CSU COVID-19 Dashboard update Wednesday, September 8, 2021
3 students isolating on campus
38 students isolating off campus
3 employees isolating off campus
1 student in quarantine on campus
24 students in quarantine off campus
0 employees in quarantine off campus
CSU COVID-19 Dashboard update Wednesday, September 1, 2021
2 students isolating on campus
13 students isolating off campus
3 employees isolating off campus
0 students in quarantine on campus
4 students in quarantine off campus
0 employees in quarantine off campus
CSU COVID-19 Dashboard update Wednesday, August 19, 2021
0 students isolating on campus
1 student isolating off campus
0 employees isolating off campus
0 students in quarantine on campus
0 students in quarantine off campus
0 employees in quarantine off campus