Image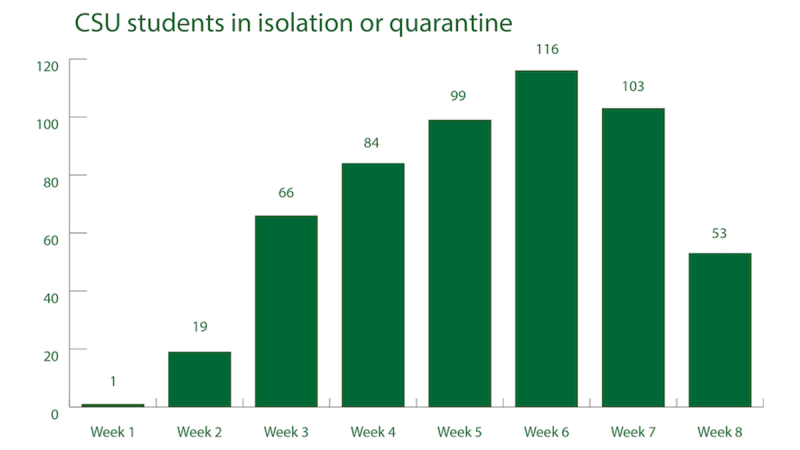 Credit: Tony Pesta
COVID-19 cases decrease again as CSU reaches midpoint of the fall semester
Cleveland State University is reporting a decrease in students and employees in isolation or quarantine due to COVID-19 as the fall 2021 semester is officially halfway through.
COVID-19 cases at CSU have dropped for the second consecutive week as the total number of students in isolation or quarantine falls by nearly half, from 103 to 53. 
Currently, 41 students are in isolation off campus due to testing positive for COVID-19. This number was at 61 last week.
There are 12 students in quarantine off campus, the fewest since Sept. 1 and a decrease of 29 from the week prior. 
The number of students in isolation or quarantine on campus is at zero. A decrease of one since last week. 
After seeing a consistent rise in cases week by week, the total number of students in isolation or quarantine peaked at 116 in week six of the semester and has decreased in the two weeks since. 
Two employees are in isolation off campus while one is in quarantine, marking a decrease in both categories.
The number of employees in isolation or quarantine has remained below double digits each week of the semester. The highest total of employees dealing with COVID-19 was reported last week at six. 
Overall, CSU is reporting a decrease in each category of its dashboard for the first time since welcoming students back to campus. This is a good sign entering the second half of the semester. 
The university planned to re-evaluate its COVID-19 policies on Oct. 19 but there has been no update as to what this might mean since Dr. Forrest Faison, who led CSU's Pandemic Response team, on Sept. 28 announced his resignation. 
Before stepping down, Faison implemented a peer-to-peer education program to encourage vaccination at CSU. The university opted for this four to six week program rather than enacting a vaccine mandate supported by the faculty senate. 
More recently, the university announced cash incentives for receiving a COVID-19 vaccine as well as a raffle for those who are already vaccinated.
For more information on how CSU has been handling COVID-19 and vaccination, click here. 
Cleveland State's recent decrease in cases is similar to the trend of Cuyahoga County, which has also seen cases decrease during this time (New York Times). 
Still, the death total surpassed 700,000 in the United States last week and COVID-19 continues to be something that should be taken seriously. 
As we enter the second half of the semester, students and staff are still required to wear masks when indoors and vaccination is encouraged by CSU's administration as well as the CDC and FDA. 
The vaccine is available for free on campus for CSU staff and students every Tuesday from 9 a.m. to 4 p.m. in Room 205 of the Center for Innovation in Medical Professions (2112 Euclid Avenue). 
Isolation: An individual who has tested positive for COVID-19 with OR without symptoms and who must isolate for 10 days from either symptom onset or test result, the last 24 hours of which must be fever free and, if symptomatic, symptoms are improving. 
Quarantine: An individual who either meets the CDC definition of being a close contact of a confirmed COVID-19 case or is arriving at CSU from either a domestic hotspot or international location and must quarantine for 14 days from either last known contact with the confirmed COVID-19 case or, in the case of those arriving from hotspot or international locations, the day of arrival.
Via Cleveland State University's COVID-19 Dashboard
CSU COVID-19 Dashboard update Wednesday, October 6, 2021
1 student isolating on campus

61 students isolating off campus

4 employees isolating off campus

0 students in quarantine on campus

41 students in quarantine off campus

2 employee in quarantine off campus
CSU COVID-19 Dashboard update Wednesday, September 28, 2021
0 student isolating on campus

68 students isolating off campus

3 employees isolating off campus

4 students in quarantine on campus

44 students in quarantine off campus

1 employee in quarantine off campus
CSU COVID-19 Dashboard update Wednesday, September 21, 2021
1 student isolating on campus

61 students isolating off campus

3 employees isolating off campus

7 students in quarantine on campus

30 students in quarantine off campus

1 employee in quarantine off campus
CSU COVID-19 Dashboard update Wednesday, September 14, 2021
2 students isolating on campus

43 students isolating off campus

4 employees isolating off campus

2 students in quarantine on campus

37 students in quarantine off campus

1 employee in quarantine off campus
CSU COVID-19 Dashboard update Wednesday, September 8, 2021
3 students isolating on campus

38 students isolating off campus

3 employees isolating off campus

1 student in quarantine on campus

24 students in quarantine off campus

0 employees in quarantine off campus
CSU COVID-19 Dashboard update Wednesday, September 1, 2021
2 students isolating on campus

13 students isolating off campus

3 employees isolating off campus

0 students in quarantine on campus

4 students in quarantine off campus

0 employees in quarantine off campus
CSU COVID-19 Dashboard update Wednesday, August 19, 2021
0 students isolating on campus

1 student isolating off campus

0 employees isolating off campus

0 students in quarantine on campus

0 students in quarantine off campus

0 employees in quarantine off campus