Image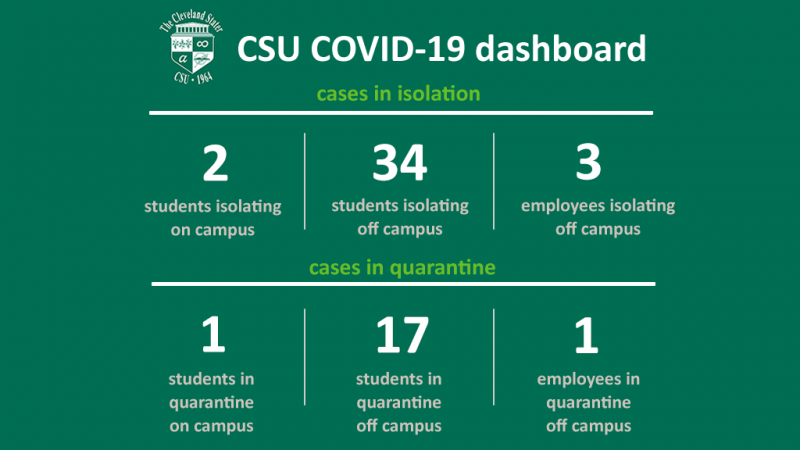 Credit: Tony Pesta
CSU: COVID-19 spread decreases overall with 54 students now in isolation or quarantine
Cleveland State is reporting a decrease in COVID-19 cases as the fall 2021 semester approaches the home stretch.
The spread of COVID-19 among CSU students slowed this week as the university prepares to wrap up its first semester back on campus. However, the number of students who have tested positive for COVID-19 has risen to 34, an increase of four from last week. 
Two students have entered a 10-day isolation period on campus. Previously, this number was zero. 
Despite marginal increases in the above categories, the number of students in quarantine off campus has been nearly cut in half. Only 17 students are in quarantine this week compared to 33 the week before. 
One student remains in quarantine on campus. 
Overall, 54 students are in isolation or quarantine, a decrease of 10 from last week. 
COVID-19 cases among employees have risen with three employees isolating off campus. 
One more employee is in quarantine off campus. 
Cleveland & the region
Cleveland is seeing a sharp increase as Cuyahoga County has had a 75 percent surge in COVID-19 cases over the last 14 days (New York Times).
Each day, an average of 28 people are hospitalized for COVID-19 in Cuyahoga County. Roughly five people die every day. 
While death from COVID-19 complications is often seen as a non-threat to healthy college students, it is estimated that one-third of those who contract the virus will develop "long COVID," which is defined as having symptoms that last more than four weeks (Medical News Today). 
A recent CNN story highlighted the struggles of people who have contracted long COVID. Some notable symptoms include cognitive dysfunction, loss of taste and shortness of breath. The goal is to encourage more young people to get protected by the vaccine. 
Cleveland State does not disclose the vaccination rate among students but the Ohio Department of Health reports just over 50 percent of individuals ages 20-29 have been fully immunized. 
CSU has implemented a peer-to-peer education program geared towards encouraging vaccination as well as offering up to $100 for receiving both doses of a COVID-19 vaccine. 
Those already vaccinated can enter a weekly raffle for $2,500 that has been extended to the end of the semester. 
Free vaccines are available every week on campus on Tuesdays from 9 a.m. - 4 p.m. at Health & Wellness Services in Room 205 at the Center for Innovation in Medical Professions (2112 Euclid Avenue). 
Cleveland State is also offering Moderna booster shots for those who meet the CDC eligibility. Appointments are required. 
The administration has yet to make a final decision on whether to mandate vaccination for all students and staff. The Faculty Senate voted in favor of a mandate and the School of Communication endorsed their vote earlier this semester. 
CSU has currently not announced any updates to its health and safety protocols for the remainder of the fall 2021 semester or future semesters. 
Isolation: An individual who has tested positive for COVID-19 with OR without symptoms and who must isolate for 10 days from either symptom onset or test result, the last 24 hours of which must be fever free and, if symptomatic, symptoms are improving. 
Quarantine: An individual who either meets the CDC definition of being a close contact of a confirmed COVID-19 case or is arriving at CSU from either a domestic hotspot or international location and must quarantine for 14 days from either last known contact with the confirmed COVID-19 case or, in the case of those arriving from hotspot or international locations, the day of arrival.
Via Cleveland State University's COVID-19 Dashboard
CSU COVID-19 Dashboard update Wednesday, November 10, 2021
0 students in isolation on campus
30 students isolating off campus
1 employee isolating off campus
1 student in quarantine on campus
33 students in quarantine off campus
0 employee in quarantine off campus
CSU COVID-19 Dashboard update Wednesday, October 27, 2021
0 students in isolation on campus
22 students isolating off campus
2 employees isolating off campus
1 student in quarantine on campus
13 students in quarantine off campus
0 employee in quarantine off campus
CSU COVID-19 Dashboard update Wednesday, October 20, 2021
1 student isolating on campus
64 students isolating off campus
1 employee isolating off campus
1 student in quarantine on campus
14 students in quarantine off campus
0 employee in quarantine off campus
CSU COVID-19 Dashboard update Wednesday, October 13, 2021
0 student isolating on campus
41 students isolating off campus
2 employees isolating off campus
0 students in quarantine on campus
12 students in quarantine off campus
1 employee in quarantine off campus
CSU COVID-19 Dashboard update Wednesday, October 6, 2021
1 student isolating on campus
61 students isolating off campus
4 employees isolating off campus
0 students in quarantine on campus
41 students in quarantine off campus
2 employee in quarantine off campus
CSU COVID-19 Dashboard update Wednesday, September 28, 2021
0 student isolating on campus
68 students isolating off campus
3 employees isolating off campus
4 students in quarantine on campus
44 students in quarantine off campus
1 employee in quarantine off campus
CSU COVID-19 Dashboard update Wednesday, September 21, 2021
1 student isolating on campus
61 students isolating off campus
3 employees isolating off campus
7 students in quarantine on campus
30 students in quarantine off campus
1 employee in quarantine off campus
CSU COVID-19 Dashboard update Wednesday, September 14, 2021
2 students isolating on campus
43 students isolating off campus
4 employees isolating off campus
2 students in quarantine on campus
37 students in quarantine off campus
1 employee in quarantine off campus
CSU COVID-19 Dashboard update Wednesday, September 8, 2021
3 students isolating on campus
38 students isolating off campus
3 employees isolating off campus
1 student in quarantine on campus
24 students in quarantine off campus
0 employees in quarantine off campus
CSU COVID-19 Dashboard update Wednesday, September 1, 2021
2 students isolating on campus
13 students isolating off campus
3 employees isolating off campus
0 students in quarantine on campus
4 students in quarantine off campus
0 employees in quarantine off campus
CSU COVID-19 Dashboard update Wednesday, August 19, 2021
0 students isolating on campus
1 student isolating off campus
0 employees isolating off campus
0 students in quarantine on campus
0 students in quarantine off campus
0 employees in quarantine off campus