Image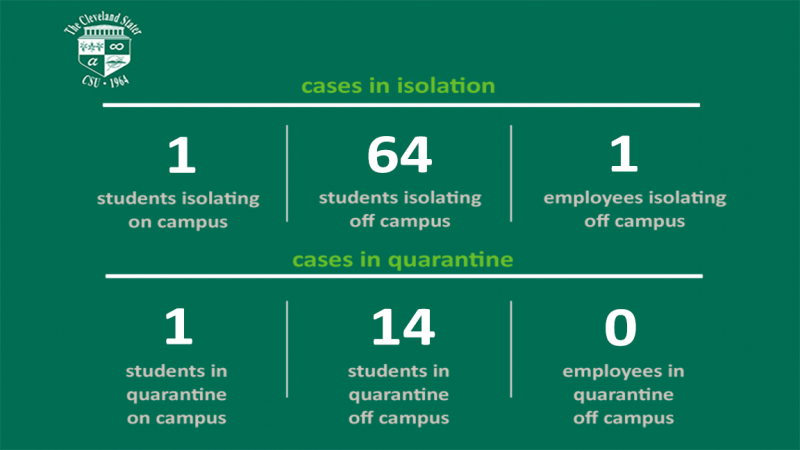 Credit: Tony Pesta
CSU reports second-biggest spike in COVID-19 cases of the semester
After two weeks of decreasing cases, Cleveland State University is reporting its biggest increase of COVID-19 infections since early September.
CSU has reported 27 new students in isolation or quarantine, pushing the total to 80 as the second half of the semester is officially underway. 
There are 64 students in isolation on campus and 14 students in quarantine. Last week, these numbers were at 41 and 12. 
One student is in isolation on campus while one other has entered a 10-day quarantine period on campus. There were zero students in isolation or quarantine on campus previously. 
Prior to this week, COVID-19 numbers for students had been decreasing. The total peaked at 116 in week six before steadily dropping to 53 last week. With the number back at 80, this marks the second-biggest spike of the semester.
In contrast, cases among CSU staff have remained low. This week, only one employee is in isolation off campus while zero are in quarantine. This is the lowest reported total since returning to campus. 
Cleveland State announced an update to its COVID-19 policy on Thursday, Oct. 21. CSU's latest decision involves a random survey sent out to students regarding their experiences with the virus and vaccine. Students who complete the surveys will be given a gift certificate for the university's bookstore. 
Other guidelines such as wearing masks indoors and providing incentives for vaccination will continue. According to an email sent out to all staff and students, the number of weekly vaccinations has more than doubled since announcing the cash incentives. 
COVID-19 cases in Cleveland have been decreasing since September with a 29 percent reduction in cases over the last 14 days. Hospitalizations during this time are down as well, though deaths are up by nine percent (New York Times). 
Meanwhile, the Ohio Department of Health is expected to approve the Pfizer vaccine for children ages 5-11 (Fox Ohio). 
Just over 50 percent of Ohioans are fully vaccinated while 54.9 percent have received at least one dose (ABC News). 
CSU has officially passed the midway point of the semester and is continuing to randomly test students and staff in order to combat the spread of COVID-19. 
Isolation: An individual who has tested positive for COVID-19 with OR without symptoms and who must isolate for 10 days from either symptom onset or test result, the last 24 hours of which must be fever free and, if symptomatic, symptoms are improving. 
Quarantine: An individual who either meets the CDC definition of being a close contact of a confirmed COVID-19 case or is arriving at CSU from either a domestic hotspot or international location and must quarantine for 14 days from either last known contact with the confirmed COVID-19 case or, in the case of those arriving from hotspot or international locations, the day of arrival.
Via Cleveland State University's COVID-19 Dashboard
CSU COVID-19 Dashboard update Wednesday, October 13, 2021
0 student isolating on campus

41 students isolating off campus

2 employees isolating off campus

0 students in quarantine on campus

12 students in quarantine off campus

1 employee in quarantine off campus
CSU COVID-19 Dashboard update Wednesday, October 6, 2021
1 student isolating on campus

61 students isolating off campus

4 employees isolating off campus

0 students in quarantine on campus

41 students in quarantine off campus

2 employee in quarantine off campus
CSU COVID-19 Dashboard update Wednesday, September 28, 2021
0 student isolating on campus

68 students isolating off campus

3 employees isolating off campus

4 students in quarantine on campus

44 students in quarantine off campus

1 employee in quarantine off campus
CSU COVID-19 Dashboard update Wednesday, September 21, 2021
1 student isolating on campus

61 students isolating off campus

3 employees isolating off campus

7 students in quarantine on campus

30 students in quarantine off campus

1 employee in quarantine off campus
CSU COVID-19 Dashboard update Wednesday, September 14, 2021
2 students isolating on campus

43 students isolating off campus

4 employees isolating off campus

2 students in quarantine on campus

37 students in quarantine off campus

1 employee in quarantine off campus
CSU COVID-19 Dashboard update Wednesday, September 8, 2021
3 students isolating on campus

38 students isolating off campus

3 employees isolating off campus

1 student in quarantine on campus

24 students in quarantine off campus

0 employees in quarantine off campus
CSU COVID-19 Dashboard update Wednesday, September 1, 2021
2 students isolating on campus

13 students isolating off campus

3 employees isolating off campus

0 students in quarantine on campus

4 students in quarantine off campus

0 employees in quarantine off campus
CSU COVID-19 Dashboard update Wednesday, August 19, 2021
0 students isolating on campus

1 student isolating off campus

0 employees isolating off campus

0 students in quarantine on campus

0 students in quarantine off campus

0 employees in quarantine off campus