Image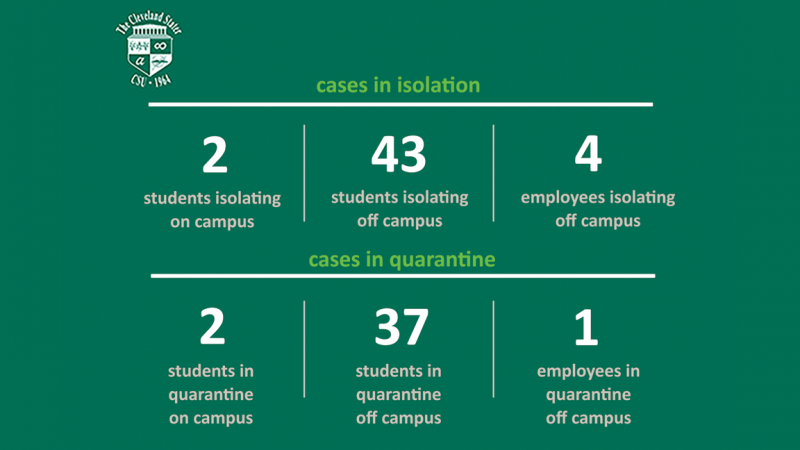 Credit: Tony Pesta
CSU reports 84 students now in quarantine or isolation
Cleveland State is reporting a further increase in COVID-19 cases among staff and students.
CSU is seeing increases in most of the categories on its weekly COVID-19 dashboard as the fall semester is in full swing. 
The dashboard was updated on September 15 and now reports 43 students are isolating off campus after a positive test. This is an increase of five from last week. 
Two other students are isolating on campus, a decrease by one.
A total of 37 students are quarantining off campus. This number was 24 in the week prior. 
Quarantine is necessary for any student or employee who comes in contact with an infected individual. 
Two students are in a 10-day quarantine period on campus, an increase from one last week. 
CSU has reported that four staff members are in isolation while one more is in quarantine off campus. 
Last week, CSU President Harlan Sands announced he had tested positive for COVID-19. He credited the vaccine for his lack of severe symptoms and encouraged students to get vaccinated in an email to all students and faculty. 
Still, the administration has opted against enforcing vaccinations despite the Faculty Senate voting in favor of mandates. 
Instead, CSU has implemented a peer-to-peer education program dedicated to making unvaccinated individuals feel comfortable receiving the vaccine without being forced. 
Currently, all staff and students are required to wear masks regardless of vaccination status. Social distancing is also encouraged whenever possible. The university has announced it will re-evaluate its policy on October 19. 
The seven-day average for COVID-19 cases in Ohio is over 7,000 per day. Cuyahoga County is reporting an average of 451 new cases during this same period (New York Times). This follows a nationwide trend of increased infections. 
However, deaths remain low in Ohio and Cuyahoga County, proportional to previous spikes in new cases. The FDA has stated the vaccines are the most effective way of reducing severe illness and avoiding death. 
The vaccine is available for free on campus for CSU staff and students every Tuesday from 9 a.m. to 4 p.m. in Room 205 of the Center for Innovation in Medical Professions (2112 Euclid Avenue). 
Isolation: An individual who has tested positive for COVID-19 with OR without symptoms and who must isolate for 10 days from either symptom onset or test result, the last 24 hours of which must be fever free and, if symptomatic, symptoms are improving. 
Quarantine: An individual who either meets the CDC definition of being a close contact of a confirmed COVID-19 case or is arriving at CSU from either a domestic hotspot or international location and must quarantine for 14 days from either last known contact with the confirmed COVID-19 case or, in the case of those arriving from hotspot or international locations, the day of arrival.
Via Cleveland State University's COVID-19 Dashboard
CSU COVID-19 Dashboard update Wednesday, September 8, 2021
3 students isolating on-campus

38 students isolating off-campus

3 employees isolating off-campus

1 student in quarantine on-campus

24 students in quarantine off-campus

0 employees in quarantine off-campus
CSU COVID-19 Dashboard update Wednesday, September 1, 2021
2 students isolating on-campus

13 students isolating off-campus

3 employees isolating off-campus

0 students in quarantine on-campus

4 students in quarantine off-campus

0 employees in quarantine off-campus
CSU COVID-19 Dashboard update Wednesday, August 19, 2021
0 students isolating on-campus

1 student isolating off-campus

0 employees isolating off-campus

0 students in quarantine on-campus

0 students in quarantine off-campus

0 employees in quarantine off-campus