Image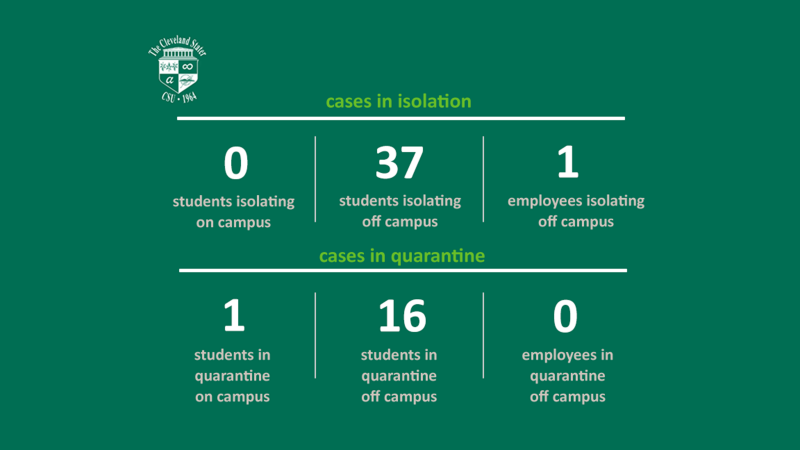 Credit: Tony Pesta
CSU: COVID-19 cases back on the rise with 54 students in isolation or quarantine
CSU is seeing another surge of COVID-19 cases among students after multiple weeks of fluctuating numbers.
COVID-19 cases at Cleveland State University are trending upwards again as the number of students in isolation or quarantine increases.
The COVID-19 spread among CSU students has been inconsistent. Since reaching a peak in week six of the semester with 116 students in isolation or quarantine, cases have increased and decreased sporadically. 
The number of students off campus in isolation has risen to 37 from 22 the week prior. 
A total of 16 students are off campus in quarantine, an increase of three from last week. One student is still in quarantine on campus. 
The number of employees in quarantine or isolation remains low. 
One employee is in isolation off campus, a decrease of one from last week. 
Zero employees are in quarantine.
CSU has randomly distributed surveys to students asking them to share their experiences with COVID-19 vaccines. If selected, students will receive a gift card to the bookstore for completing the survey. 
The university has also extended incentives for vaccination through the end of the semester. Students and staff who receive both shots of a COVID-19 vaccine are eligible for $100. 
Those who are already fully vaccinated can enter a weekly drawing for $2,500. Winners will be selected every Friday until Dec. 10.
The FDA has approved COVID-19 vaccines for children ages 5-11. Over 60 percent of Cuyahoga County residents are vaccinated while 55 percent of all Ohioans have received a vaccine. (Ohio Department of Health) 
Earlier this week, the global coronavirus death toll surpassed 5 million since the start of the pandemic. Experts say the total is likely even higher due to underreporting. (New York Times)
A recent report by the CDC stated that vaccination offers more consistent protection against COVID-19 than natural immunity. This serves as another indicator that vaccination is the safest and most effective way to avoid severe illness or death from the virus. 
CSU does not disclose the vaccination rate among staff or students but encourages all to receive a vaccine for free on campus on Tuesdays from 9 a.m. - 4 p.m. at Health & Wellness Services in Room 205 at the Center for Innovation in Medical Professions (2112 Euclid Avenue). 
Isolation: An individual who has tested positive for COVID-19 with OR without symptoms and who must isolate for 10 days from either symptom onset or test result, the last 24 hours of which must be fever free and, if symptomatic, symptoms are improving. 
Quarantine: An individual who either meets the CDC definition of being a close contact of a confirmed COVID-19 case or is arriving at CSU from either a domestic hotspot or international location and must quarantine for 14 days from either last known contact with the confirmed COVID-19 case or, in the case of those arriving from hotspot or international locations, the day of arrival.
Via Cleveland State University's COVID-19 Dashboard
CSU COVID-19 Dashboard update Wednesday, October 27, 2021
0 student isolating on campus

22 students isolating off campus

2 employees isolating off campus

1 student in quarantine on campus

13 students in quarantine off campus

0 employee in quarantine off campus
CSU COVID-19 Dashboard update Wednesday, October 20, 2021
1 student isolating on campus

64 students isolating off campus

1 employee isolating off campus

1 student in quarantine on campus

14 students in quarantine off campus

0 employee in quarantine off campus
CSU COVID-19 Dashboard update Wednesday, October 13, 2021
0 student isolating on campus

41 students isolating off campus

2 employees isolating off campus

0 students in quarantine on campus

12 students in quarantine off campus

1 employee in quarantine off campus
CSU COVID-19 Dashboard update Wednesday, October 6, 2021
1 student isolating on campus

61 students isolating off campus

4 employees isolating off campus

0 students in quarantine on campus

41 students in quarantine off campus

2 employee in quarantine off campus
CSU COVID-19 Dashboard update Wednesday, September 28, 2021
0 student isolating on campus

68 students isolating off campus

3 employees isolating off campus

4 students in quarantine on campus

44 students in quarantine off campus

1 employee in quarantine off campus
CSU COVID-19 Dashboard update Wednesday, September 21, 2021
1 student isolating on campus

61 students isolating off campus

3 employees isolating off campus

7 students in quarantine on campus

30 students in quarantine off campus

1 employee in quarantine off campus
CSU COVID-19 Dashboard update Wednesday, September 14, 2021
2 students isolating on campus

43 students isolating off campus

4 employees isolating off campus

2 students in quarantine on campus

37 students in quarantine off campus

1 employee in quarantine off campus
CSU COVID-19 Dashboard update Wednesday, September 8, 2021
3 students isolating on campus

38 students isolating off campus

3 employees isolating off campus

1 student in quarantine on campus

24 students in quarantine off campus

0 employees in quarantine off campus
CSU COVID-19 Dashboard update Wednesday, September 1, 2021
2 students isolating on campus

13 students isolating off campus

3 employees isolating off campus

0 students in quarantine on campus

4 students in quarantine off campus

0 employees in quarantine off campus
CSU COVID-19 Dashboard update Wednesday, August 19, 2021
0 students isolating on campus

1 student isolating off campus

0 employees isolating off campus

0 students in quarantine on campus

0 students in quarantine off campus

0 employees in quarantine off campus