Image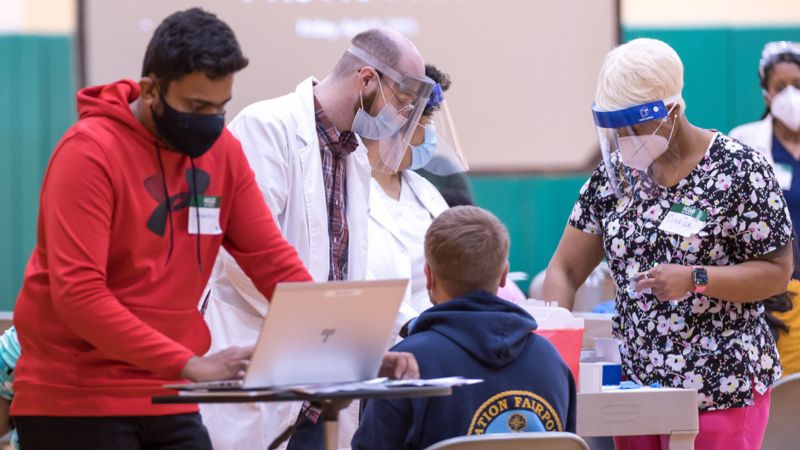 Credit: Cleveland State University
CSU's student-only COVID-19 vaccination clinic reopens with the Pfizer vaccine
After a brief pause, the clinic has reopened and replaced its Johnson & Johnson vaccine with Pfizer.
Cleveland State University's student-only vaccination clinic reopened on Wednesday, April 21 and will run through May 14.
The clinic temporarily closed last week after the CDC and FDA recommended a pause in the use of the one-shot Johnson & Johnson vaccine due to extremely rare blood clotting issues -- six in about seven million vaccinations -- that were reported.
CSU announced in an email sent out to students on Monday, April 19, that the clinic will now be offering the Pfizer vaccine after having previously distributed the Johnson & Johnson vaccine.
All appointments scheduled on or after April 21 still stand and students will receive a reminder via text message.
Students that had an appointment between April 13 and April 20 can reschedule by going to https://gettheshot.coronavirus.ohio.gov/ and following the steps below:
Enter the access code

PY9INDMM34

when prompted

 

(only current students can use this code to schedule an appointment)

Enter CSU's zip code on the next page:

44115

Choose your appointment date and time
Because the Pfizer vaccine requires two doses given three weeks apart, CSU highly recommends students schedule their appointments as soon as possible so that they can get their second dose at the clinic by May 14.
However, CSU will assist any student in making an appointment at a community clinic for their second dose of the vaccine after May 14.
The student-only clinic is located inside the MAC gym at the Recreation Center (2420 Chester Ave.), and free parking is available in the East Garage (2506 Chester Ave.) for students without a parking permit.
The clinic's hours of operation are Monday-Friday from 8:00 a.m. to 4:00 p.m.
Students are only required to bring their student IDs with them when getting their shots.
Students should email safecampusstudents@csuohio.edu with any questions they may have about the student-only vaccination clinic.