Image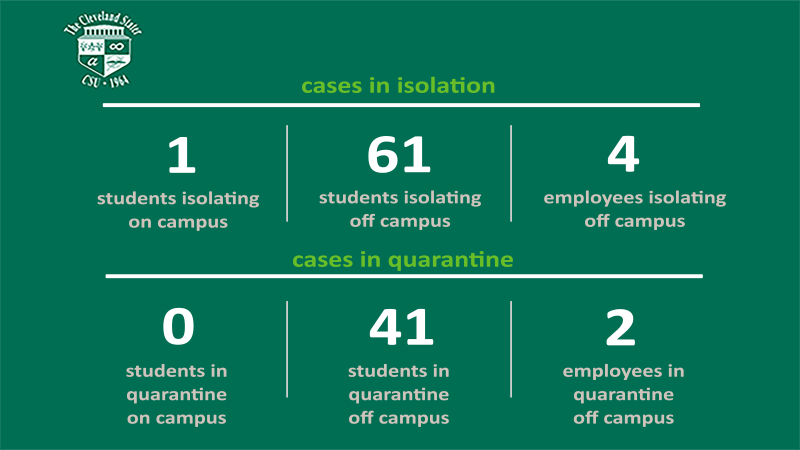 Credit: Tony Pesta
CSU reports its first decrease in COVID-19 cases of the fall semester
Cleveland State University has reported a decrease in COVID-19 cases for the first time this semester but the number of students in isolation or quarantine remains over 100. More than 700,000 people across the country are now dead because of COVID.
COVID-19 cases at CSU have not increased for the first time this semester as the university steps up incentives to promote vaccination among students. The weekly trend saw a decrease in some categories on the university's COVID Dashboard.
The number of students who have tested positive for COVID-19 and isolate off campus has dropped to 61 from 68 the week before. This is the first decrease in positive cases for the semester. 
There are also fewer students in quarantine, with the number falling from 44 to 41 this week. 
The only category that saw an increase this week was students isolating on campus, with only one student in isolation.  
There are zero students in quarantine on campus. This number was previously four. 
More than 100 students remain in isolation or quarantine. 
The number of employees in isolation off campus remains at three. One more employee is in quarantine off campus, the same total as last week. 
This leveling of reported cases comes the same week as CSU announced incentives for vaccination. Unvaccinated individuals will be rewarded $100 for getting both shots while students who are already vaccinated can enter a weekly raffle for $2,500. Proof of vaccination is required for the winner. 
The vaccine is available for free on campus for staff and students every Tuesday from 9 a.m. to 4 p.m. in Room 205 of the Center for Innovation in Medical Professions (2112 Euclid Avenue). 
The state and national COVID situation
Ohio Governor Mike DeWine also announced incentives recently for those 25 years and under. The vaccinated winners of $10,000 to $100,000 in college scholarship money will be announced daily October 11-15. 
COVID-19 cases in Cuyahoga County are beginning to slow with the daily average hovering at just over 400. The average peaked at nearly 500 in late September (New York Times). 
This stall in cases seems to be following the emerging pattern of COVID-19 surging for two months then fizzling out (Seattle Times). By this metric, Cleveland would be near the finish line of its recent spike which started in August.
This is positive news for those at CSU who have grown concerned with the decision to return to campus in fall 2021. 
Though, it is unclear if seasonality and colder weather will cause another surge, potentially in January (NPR). 
Meanwhile, the United States has surpassed 700,000 deaths since the start of the pandemic. 
Masks are required on campus for all students and staff regardless of vaccination status. The university plans to update its COVID-19 guidelines on October 19, which roughly marks the midpoint of the fall 2021 semester.  
Isolation: An individual who has tested positive for COVID-19 with OR without symptoms and who must isolate for 10 days from either symptom onset or test result, the last 24 hours of which must be fever free and, if symptomatic, symptoms are improving. 
Quarantine: An individual who either meets the CDC definition of being a close contact of a confirmed COVID-19 case or is arriving at CSU from either a domestic hotspot or international location and must quarantine for 14 days from either last known contact with the confirmed COVID-19 case or, in the case of those arriving from hotspot or international locations, the day of arrival.
Via Cleveland State University's COVID-19 Dashboard
CSU COVID-19 Dashboard update Wednesday, September 28, 2021
0 student isolating on campus

68 students isolating off campus

3 employees isolating off campus

4 students in quarantine on campus

44 students in quarantine off campus

1 employee in quarantine off campus
CSU COVID-19 Dashboard update Wednesday, September 21, 2021
1 student isolating on campus

61 students isolating off campus

3 employees isolating off campus

7 students in quarantine on campus

30 students in quarantine off campus

1 employee in quarantine off campus
CSU COVID-19 Dashboard update Wednesday, September 14, 2021
2 students isolating on campus

43 students isolating off campus

4 employees isolating off campus

2 students in quarantine on campus

37 students in quarantine off campus

1 employee in quarantine off campus
CSU COVID-19 Dashboard update Wednesday, September 8, 2021
3 students isolating on campus

38 students isolating off campus

3 employees isolating off campus

1 student in quarantine on campus

24 students in quarantine off campus

0 employees in quarantine off campus
CSU COVID-19 Dashboard update Wednesday, September 1, 2021
2 students isolating on campus

13 students isolating off campus

3 employees isolating off campus

0 students in quarantine on campus

4 students in quarantine off campus

0 employees in quarantine off campus
CSU COVID-19 Dashboard update Wednesday, August 19, 2021
0 students isolating on campus

1 student isolating off campus

0 employees isolating off campus

0 students in quarantine on campus

0 students in quarantine off campus

0 employees in quarantine off campus