Image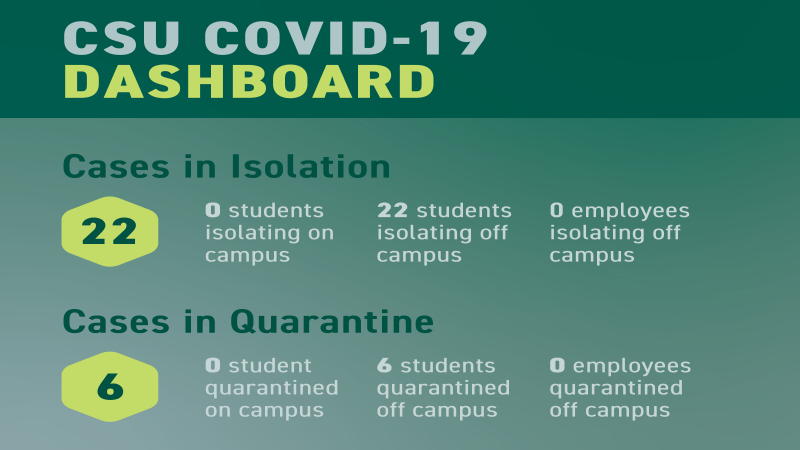 Eric Seitz
CSU reports decrease in COVID-19 cases as concern rises on campus
Cleveland State University is reporting a decrease in COVID-19 cases as students, faculty, and the administration diverge on how best to handle the pandemic.
CSU has seen a decrease in each category of its weekly COVID-19 dashboard but a rift is growing between faculty and some students and the administration over the university's handling of the pandemic, well into its second year.
The number of students in isolation off campus shrunk from 37 to 22 in the university's most recent update of its dashboard, Feb. 1. Zero students were on campus in isolation. 
Six students were in quarantine off campus while none were in quarantine on campus. 
No employees were in isolation or quarantine this week. 
(Ohio Department of Health COVID-19 numbers for Cuyahoga County)
COVID-19 has slammed Ohio
On Feb 4, Cleveland reported its lowest single-day COVID-19 cases since Nov. 21 with just over 4,000 new cases. The latest surge of omicron appears to have peaked with cases plummeting (Cleveland.com).
However, hospitalizations and deaths typically lag behind.
In the week ending Jan. 29, Ohio led the nation in COVID-19 deaths per capita (New York Times). 
This week, close to 4,000 Ohioans are currently hospitalized with the virus (Ohio.gov). 
The vast majority of people hospitalized with COVID-19 are unvaccinated. 
The vaccination rate in Cuyahoga County is roughly 60 percent, higher than Ohio's overall rate of 56 percent but below the United States' average of 64 percent (Our World in Data).
On Friday, Feb. 4, the U.S. COVID-19 death toll passed 900,000. Ohio has the 24th highest death rate in the country.  
CSU students and staff share concerns
A student group at CSU, Students for Safe Learning (SFL), launched an  online petition calling for stricter COVID-19 protocols at the university. Their demands include remote learning options and weekly testing for students, staff and faculty members attending in-person classes.  
The CSU Faculty Senate has echoed some of SFL's concerns. The Universities' method of tracking COVID-19 came into question in a recent meeting where the death of an unvaccinated staff member was cited. 
"The COVID dashboard does not reflect much, CSU has never reported on campus transmissions, and information was received that an unvaccinated staff member died of COVID, having infected numerous colleagues prior to their symptoms worsening. COVID has clearly hit home" the Faculty Senate wrote to the administration in an open letter, criticizing elements of the university's COVID response.
In the letter, the Senate also reiterated its push for a campus-wide vaccine mandate which it  overwhelmingly voted in favor of last semester. 
The administration opted in fall 2021 for an educational program and cash incentives for vaccination, an approach largely unchanged in spring 2022. 
"We feel very confident in our protocols for the spring which really focus on masking, and not just masking itself, but with a top quality N95 mask and the mask being worn properly," Sands told The Cleveland Stater.
The vaccination rate on campus is unknown but a survey from last semester found  that 79 percent of the students who responded said they were vaccinated. The administration has not reported to the community how many students participated in the survey.
For now, CSU continues the semester with a mask mandate and the suggestion for social distancing. 
Isolation: An individual who has tested positive for COVID-19 with OR without symptoms and who must isolate for 10 days from either symptom onset or test result, the last 24 hours of which must be fever free and, if symptomatic, symptoms are improving. 
Quarantine: An individual who either meets the CDC definition of being a close contact of a confirmed COVID-19 case or is arriving at CSU from either a domestic hotspot or international location and must quarantine for 14 days from either last known contact with the confirmed COVID-19 case or, in the case of those arriving from hotspot or international locations, the day of arrival.
Via Cleveland State University's COVID-19 Dashboard
CSU COVID-19 Dashboard update Wednesday, February 2, 2022
0 students in isolation on campus

22 students isolating off campus

0 employee isolating off campus

0 student in quarantine on campus

6 students in quarantine off campus

0 employees in quarantine off campus
CSU COVID-19 Dashboard update Wednesday, November 30, 2021
0 students in isolation on campus

34 students isolating off campus

0 employee isolating off campus

0 student in quarantine on campus

12 students in quarantine off campus

0 employees in quarantine off campus
CSU COVID-19 Dashboard update Wednesday, November 23, 2021
0 students in isolation on campus

49 students isolating off campus

1 employee isolating off campus

0 student in quarantine on campus

20 students in quarantine off campus

2 employees in quarantine off campus
CSU COVID-19 Dashboard update Wednesday, November 17, 2021
2 students in isolation on campus

34 students isolating off campus

3 employees isolating off campus

1 student in quarantine on campus

17 students in quarantine off campus

1 employee in quarantine off campus
CSU COVID-19 Dashboard update Wednesday, November 10, 2021
0 students in isolation on campus

30 students isolating off campus

1 employee isolating off campus

1 student in quarantine on campus

33 students in quarantine off campus

0 employee in quarantine off campus
CSU COVID-19 Dashboard update Wednesday, October 27, 2021
0 students in isolation on campus

22 students isolating off campus

2 employees isolating off campus

1 student in quarantine on campus

13 students in quarantine off campus

0 employee in quarantine off campus
CSU COVID-19 Dashboard update Wednesday, October 20, 2021
1 student isolating on campus

64 students isolating off campus

1 employee isolating off campus

1 student in quarantine on campus

14 students in quarantine off campus

0 employee in quarantine off campus
CSU COVID-19 Dashboard update Wednesday, October 13, 2021
0 student isolating on campus

41 students isolating off campus

2 employees isolating off campus

0 students in quarantine on campus

12 students in quarantine off campus

1 employee in quarantine off campus
CSU COVID-19 Dashboard update Wednesday, October 6, 2021
1 student isolating on campus

61 students isolating off campus

4 employees isolating off campus

0 students in quarantine on campus

41 students in quarantine off campus

2 employee in quarantine off campus
CSU COVID-19 Dashboard update Wednesday, September 28, 2021
0 student isolating on campus

68 students isolating off campus

3 employees isolating off campus

4 students in quarantine on campus

44 students in quarantine off campus

1 employee in quarantine off campus
CSU COVID-19 Dashboard update Wednesday, September 21, 2021
1 student isolating on campus

61 students isolating off campus

3 employees isolating off campus

7 students in quarantine on campus

30 students in quarantine off campus

1 employee in quarantine off campus
CSU COVID-19 Dashboard update Wednesday, September 14, 2021
2 students isolating on campus

43 students isolating off campus

4 employees isolating off campus

2 students in quarantine on campus

37 students in quarantine off campus

1 employee in quarantine off campus
CSU COVID-19 Dashboard update Wednesday, September 8, 2021
3 students isolating on campus

38 students isolating off campus

3 employees isolating off campus

1 student in quarantine on campus

24 students in quarantine off campus

0 employees in quarantine off campus
CSU COVID-19 Dashboard update Wednesday, September 1, 2021
2 students isolating on campus

13 students isolating off campus

3 employees isolating off campus

0 students in quarantine on campus

4 students in quarantine off campus

0 employees in quarantine off campus
CSU COVID-19 Dashboard update Wednesday, August 19, 2021
0 students isolating on campus

1 student isolating off campus

0 employees isolating off campus

0 students in quarantine on campus

0 students in quarantine off campus

0 employees in quarantine off campus