Image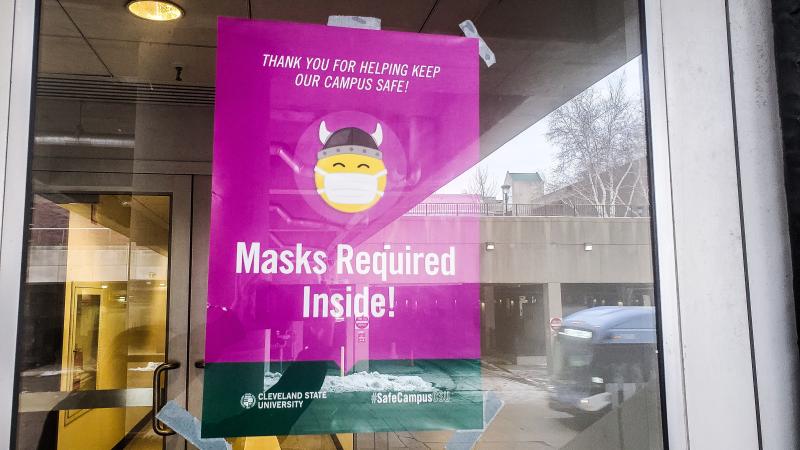 Credit: Willow Graley
CSU administration responds to faculty, student concerns over COVID protocols
As the coronavirus pandemic continues, the CSU Faculty Senate and some students are calling for stricter COVID protocols on campus.
CSU President Harlan Sands remains committed to the administration's approach to keeping COVID-19 at bay, as some students have joined the Faculty Senate in expressing concern about how the coronavirus pandemic is being handled on campus.
"We feel very confident in our protocols for the spring which really focus on masking, and not just masking itself, but with a top quality N95 mask and the mask being worn properly," Sands told The Cleveland Stater Friday, Jan 21. "What we don't want is for the university to be a hot spot where students come, congregate and pick up the virus." 
The protocols put in place for on-campus learning include properly masking up indoors, social distancing when possible and getting tested if a student suspects they may have been exposed to COVID-19. 
Students can collect a mask at the Student Center information booth, from student safety ambassadors, front desks in the resident halls, the recreation center front desk, and the dean's office at any college. 
Sands said if masks are not available, students can report that to the dean's office at the colleges or to the president's office to get the issue resolved.
"It comes to the responsibility of all of us," the president said of the number of students walking the corridors not wearing their masks properly, or in some cases not wearing them at all.
Sands also urged all students to get vaccinated and boosted.
"Rather than mandate a vaccine in some of the ways other universities have done, we are going to continue to strongly push for all students to get vaccinated, to get boosted, and to wear a top-of-the line mask in the right way," the president said.
Faculty concerns
CSU's approach to a vaccine mandate put the administration at odds with the Faculty Senate in fall 2021. As the spring semester started, the Senate reiterated its concerns, publishing an open letter Jan. 19, asking whether CSU should now mandate vaccination.
"[The] Faculty Senate voted overwhelmingly for a vaccine mandate in Fall 2021. The administrative response was to propose education and run a study on vaccination, and COVID levels to aid decision making for spring semester. However, no results of that study have been provided to the Faculty Senate, given incredible current infection rates in Cuyahoga and nearby counties, might CSU need a mandate [emphasis added]? Without a mandate, policies for this spring term mirror those of fall. If we assume that the new infection variant passes through vaccinated individuals as well, could faculty and staff at least be provided with higher- quality N95 or K95 masks?" 
The administration responded to The Stater's questions about the letter with reference to a survey it carried out late in the fall semester.
"79% of CSU students responding to our survey (utilizing a random, stratified sample) reported they were vaccinated," the administration said in an email.
The Faculty Senate also questioned the limited information provided by the university in its weekly COVID update.
"The COVID dashboard does not reflect much, CSU has never reported on campus transmissions, and information was received that an unvaccinated staff member died of COVID, having infected numerous colleagues prior to their symptoms worsening. COVID has clearly hit home."
The Faculty Senate is concerned at the pressure the administration's approach to COVID has put on teachers.
"Concurrently, faculty are asked to enforce mask policies in class, teach in classes with varied opportunities for spacing students, and support students who become sick and cannot attend. Given the expectation for hybrid/consecutive teaching, often with inadequate classrooms, faculty continue to be material in multiple ways, simultaneously."
The administration said it is committed to supporting both faculty and students.
"We believe our professors are and will continue to be as accommodating as they need to be to support our students," Sands told The Stater. "Provost [Laura] Bloomberg and Vice Provost [John] Holcomb have worked very, very closely with our deans and chairs, to make sure faculty have various options at their disposal." 
Sands noted that this is a stressful time and there are support options for students such as the CSU Counseling Center, and that students should also discuss their concerns with their professors.
Student concerns
With no sign of the pandemic ending in the near future, some students fear they will fall behind on assignments and say accommodations are needed for those who do fall ill from COVID-19.
Some students say that the protocols should be stricter and enforced better for in-person learning. 
A group calling itself CSU Students for Safe Learning (SFSL) created a petition in response to the current protocols in place on campus. The students say that stricter protocols are needed on campus to provide a safer environment. The petition had 673 signatures as of Feb. 3. 
The petition called for a range of options to better protect the campus community. They include a remote learning option for students, proper social distancing on campus and restricting dining hall options to grab-and-go. 
"These commitments MUST be made in order to protect students, staff, and families, as well as to prevent further overcrowding of hospitals. We believe your current protocols will lead to mass infections, which will inevitably leave you no other option than to close down the school. Grades will drop and students will not be able to maintain their GPAs."
The Stater asked the administration what its position was on the petition.
"We like our students to be active and let us know how they feel," President Sands said. "That is one of the things we teach here at Cleveland State, so I am very happy students are expressing themselves."
Several SFSL members and supporters protested outside the CSU Student Center building Tuesday, Jan. 25.
"Everyone has the right to protest, as long as they do it peacefully and in a way it keeps them safe," the president said. "What we encourage students to do is to talk with us about their concerns."
Sands added that Vice President for Campus Engagement, Diversity, Equity and Inclusion Phillip ("Flapp") Cockrell, would be meeting with the students who started the petition. 
Alissa Dodd, sophomore nursing major and junior at CSU, is one of the students who believe the administration should be doing more to protect the community.
"I think the current COVID protocols are not realistic to where we currently are in the pandemic," Dodd said. "There is basically zero social distancing, due to class size and lack of space."
She mentioned that during Sands' pre-semester Town Hall meeting on Facebook Jan. 13, the president said there would be N95 mask available to anyone who wanted one. Three weeks into the semester, it's unclear whether that is the case, but Dodd said she had seen only "two people giving out masks."
Another nursing student, who wished to remain anonymous, also said enough wasn't being done.
"Considering the new surge of omicron cases of COVID, especially in Cuyahoga County, I believe that the current COVID protocols are a little lax." However, she also acknowledged that "They [the administration] can't enforce that these things happen."
She said that a mandate for masks is pointless without follow-up.
"I've seen so many people walking around campus with it [and] not covering their nose and mouth, and that is not protecting anyone ... I've also never seen anyone tell those people to wear them properly." 
"CSU is doing what they can and I respect that, especially since what we know about the virus changes every day," the nursing student said. "But with hospitals at capacity with COVID, the protocols need to be enforced more."