Image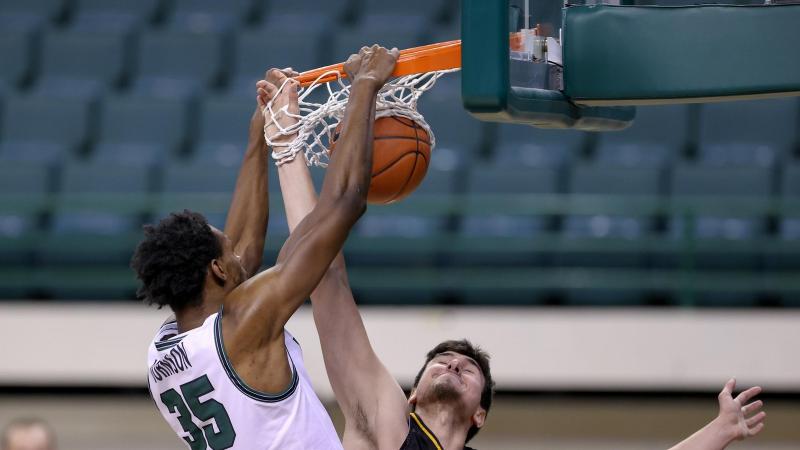 Credit: CSU Athletics Department
Who's in and who's out at Vikings men's basketball?
Since the end of CSU's very successful 2020-21 season, a number of players have indicated they're either leaving or announced they're on their way to join Cleveland State.
The NCAA transfer portal is the official name of the pool of players that will be transferring from their current university to a new one.
The transfer portal has affected almost every team in the country, and Cleveland State is no exception to that. After a season in which the Vikings won the Horizon League championship and made their third NCAA Tournament appearance in school history, we are seeing some changes to the roster.
Outgoing transfers
Hugo Ferreira - Ferreira was the first Viking to announce that he was leaving the program via the transfer portal. Ferreira, a native of Portugal, spent the past two seasons with the Vikings. In his freshman year, Ferreira played in 26 games, starting in 9, and averaged 4.6 points per game. What might have led to Ferreira's decision to leave was a disappointing sophomore season. The point guard was only featured in 5 games this past season, and only averaged 1.2 points per game. It is unknown what school Ferreira will transfer to at this time.
Alec Oglesby - Oglesby was one of the most anticipated recruits Dennis Gates brought in after arriving at CSU. Oglesby, who is technically classified as a freshman, enrolled halfway through the 2019-20 season and spent the back half of the season practicing with the team and preparing for his career. Oglesby came to Cleveland State from Gainesville, Florida, and was set to be a key contributor to the Vikings. In his freshman season, Oglesby was featured in 27 games, starting in two of them and averaging 4.3 points per game. Oglesby made the decision to transfer over a week ago and has found his new home. Oglesby will be attending UNC Wilmington to presumably finish his college career.
Incoming transfers
Broc Finstuen - CSU head coach Dennis Gates wasted little time fretting over the departures, landing Broc Finstuen, a graduate transfer from Pacific University. Finstuen spent the past two seasons at Pacific University, starting in 34 of 48 games averaging 7.5 points and 3.8 rebounds in that span. Finstuen had a big season this past year averaging 11.2 points and 5.7 rebounds. Finstuen is a 6-foot-4 guard that will provide veteran leadership to Cleveland State's backcourt with an ability to score at all three levels, something CSU struggled with at times this past season.
Nathanael Jack - Nate Jack is someone who is very familiar to CSU coach Dennis Gates having played for him when Gates was an assistant coach at Florida State. Now, a graduate transfer, Jack is reuniting with his former coach. Jack will have one year of eligibility left in Cleveland after spending the start of his college career at Florida State. In two seasons, Jack appeared in 32 games, averaging 3.5 points per game. A 6-foot-5 guard, Jack will add to Cleveland State's depth on the wing. Jack has appeared on several Florida State teams that have made deep runs into the NCAA Tournament, bringing a whole new level of experience to Cleveland State.
The NCAA transfer portal is a massive new development in today's college athletics. The portal is open 24/7, which means movement can happen at any time. Fans always have to be on their toes for new departures and arrivals via the portal.