Image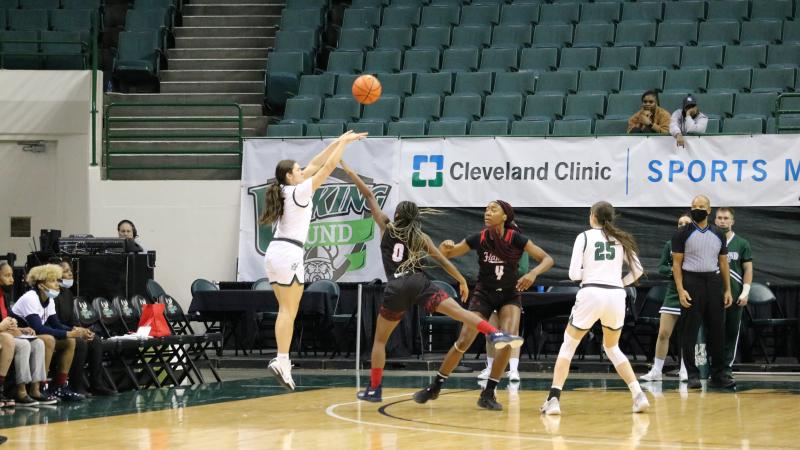 Credit: Matt Thomas
Destiny Leo helps the Vikings douse the UIC Flames
Destiny Leo continues her hot start to the season while leading the 5-0 Vikings with 22 points.
The Cleveland State women's basketball team continued their solid start to the season with a 74-64 victory over the UIC Flames on Saturday in their first official Horizon League game of the season. Sophomore Destiny Leo led the team in scoring with 22 points.
In a first quarter where Leo quickly scored 11 points, the Vikings found themselves in a four-point hole after early foul trouble led the Flames to the charity stripe early. The Vikings were down 23-19 by the end of the quarter.
The beginning of the second quarter was a different story as the Green and White quickly found themselves back in the thick of things after two quick buckets from Isabella Geraci and Gabriella Smith to tie the game. 
That was just the beginning as the Vikings outscored the Flames 18-6 in the quarter spurred by a 7-0 run that was capped off with a Smith 3-pointer. The Vikings went into the halftime break with a 37-29 lead.
The lead only grew in the third after Leo took a trip going perfect at the charity stripe, which she shortly followed up with a 3-point play after being fouled on a fast-break layup. CSU benefited with solid plays on the defensive side of the ball where the Vikings contested shots and came up with some steals that led to quick baskets giving them a 55-42 lead heading into the fourth.
At one point that lead would grow to 20, but the Flames came back to life, cutting that lead to five points within the final two minutes. The Vikings were able to put a stop to the UIC comeback with a big charge taken by Amele Ngwafang.
The bench made all of the difference for the Vikings as they outscored the Flames 36 to 24, with Smith and Geraci leading the bench charge with 16 and 9 points respectively. The pair went a combined 8-12 from the floor with Geraci also going 7-7-0 on her free throws.  Ngwafang chipped in as well with nine rebounds. 
The Vikings are now a perfect 5-0 on the season with Leo leading the way averaging 24 points per game. Their next opponent is Long Island at the Wolstein Center on Sunday, Nov. 28.