Image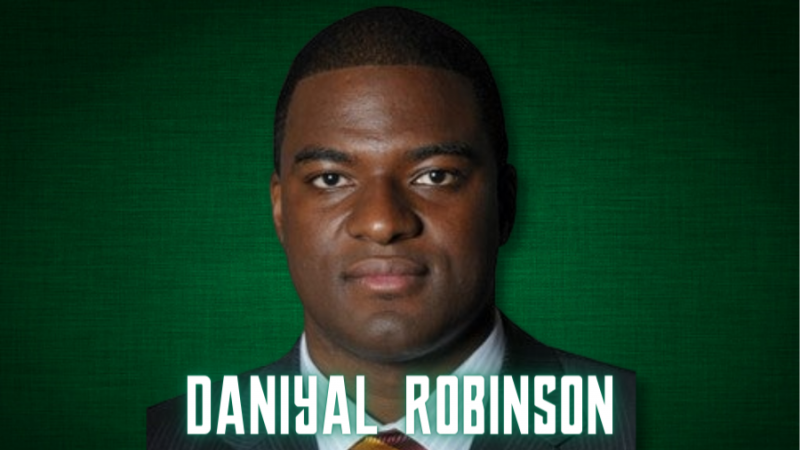 Credit: Matt Thomas
Daniyal Robinson will have to rebuild CSU men's basketball nearly from scratch
New head coach of CSU men's basketball, Daniyal Robinson, will be taking on the challenge of rebuilding the program with a fresh cast of players and staff members.
A new era for  Cleveland State men's basketball is fast approaching as first time NCAA Division I head coach, Daniyal Robinson, will have to rebuild the program nearly from scratch. 
Robinson most recently served as an assistant coach at Iowa State University before accepting on April 5 the head coaching job at Cleveland State University. Robinson has over 20 years of experience as an assistant coach at the collegiate level but has never been a head coach. 
He's replacing Dennis Gates, the two-time Horizon league coach of the year, who led CSU to back-to-back regular season Horizon league titles along with an NCAA tournament, big shoes for Robinson to fill in his first head coaching job.
"Losing your coach to another job is always tough," Robinson said. "Transition is tough." 
Also changing will be the top of CSU's food chain, President Harlan Sands, a fan of the team and game. His abrupt resignation was announced on Tuesday, April 26. 
Coach Robinson had listed Sands as one of his core reasons for joining Cleveland State. 
"You guys have laid a great foundation… I love what the University stands for. The reason why we've had success here starts with the leadership. President Sands and Scott Garrett, they are in alignment. I come here to be a partner with them," Robinson said in his introductory press conference. 
Sands was replaced by Dr. Laura Bloomberg, previously CSU's provost and senior vice president for academic affairs. There is currently no indication of how, or if at all, Sands resignation will impact the relationship between the administration and the men's basketball team.
Tre Gomillion #5, CSU men's basketball team (Credit: Matt Thomas)
Changes to the roster
Although Cleveland State is fresh off a successful season in which they finished with a 15-6 record and won the regular season championship, the roster will be drastically different entering Robinson's first year on the job.
Both of CSU's top players, Tre Gomillion and D'Moi Hodge, followed coach Gates to Missouri by taking advantage of the transfer portal. Hodge was named Horizon League Defensive Player of the Year in 2022, while Gomillion won the award in 2021. 
Meanwhile, Torrey Patton has completed his final year of eligibility. Patton averaged 13.7 points per game last season, joining Hodge and Gomillion on All-Horizon League teams. 
Torrey Patton #24, Deante Johnson #35, Yahel Hill #2, Deshon Parker #22 (Credit Matt Thomas)
This leaves coach Robinson with only four returning players -- Jayson Woodrich, Yahel Hill, Deshon Parker and most notably, Deante "Spider" Johnson. 
"The guys that played this past season, they had a phenomenal year, they worked very hard and put themselves in a great position," coach Robinson said. 
Johnson, a 6-9 senior, averaged 7.5 points per game last season and is expected to take on a larger role in the offense under coach Robinson. 
On that foundation, Coach Robinson has an opportunity to recruit new players and build this roster from the ground up just as Gates did. For context, coach Gates joined CSU with only four active players. 
"We're going to play aggressive offensively and play fast, be unselfish. Defensively we are going to play tough minded basketball," said Robinson. "That's what we're gonna come with. We're gonna take a ton of pride in doing those things every single day."
Tristan Enaruna, a former player of Robinson's at Iowa State, will be joining Cleveland State via the transfer portal. The 6-8 forward averaged 4.3 points and 2.9 rebounds in 14 minutes of playing time a game last season. 
Also joining the roster will be St. Vincent-St. Mary guard Ramar Pyror who previously committed to CSU under Gates. Standing 6-3, Pryor was selected to first-team Division II all-state in Ohio. 
The future of Cleveland State basketball might be uncertain, but Robinson appears committed to leading a winning culture. 
"In me, you will have a coach who will pour his heart and soul into our players. And we'll do this together," Robinson said.