Image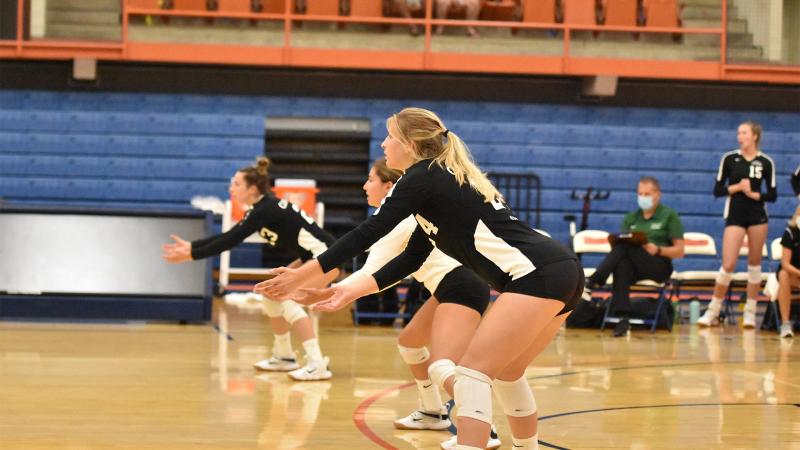 Credit: Cleveland State Athletic Department
CSU women's volleyball losing streak continues at Evansville Invitational
The Vikings dropped both of their games at the Evansville Invitational.
In their first set against Murray State, Cleveland State fell behind quickly 4-0 in the opening minutes. A combination of errors from the Racers, a kill by Liberty Torres and an ace by Alexa Harris brought the score back to 6-5.
The Vikings kept it close for the majority of the set before being outscored 8-2 and eventually losing the set 25-15. 
In the second set, the Vikings would take a 3-1 lead with a kill by London Portis and an ace from Audrey McConihe. However, the Racers proved too much as they pulled away for the victory. 
The third set was more of the same as Murray State would take control to capture the sweep.
Cleveland State's Erica Kostelac tallied a team-high of nine kills while Sam Snow and Portis both added six kills. McConihe nabbed a team-high of nine digs in the losing effort.  
EVANSVILLE: (15-25, 10-25, 15-25)
In their matchup against host Evansville, Cleveland State trailed by a considerable margin early in the first two sets.
But they fought back. Despite some Green and White errors and a pair of aces by Evansville's Melanie Feliciano and Alondra Vazquez, the score was even at 11-11 in the first set.
However, as would be the theme of the night, the Vikings could not keep pace, dropping the set, 15-25. 
They failed to score more than 15 points in all three sets in the loss to Evansville. The Aces stayed true to their name, tallying 10 aces while the Vikings mustered just three on the night.
The Vikings were led by Peyton Bloomer and Portis, who each tallied five kills. McConihe nabbed six digs.   
The Vikings will head into Horizon League action in hopes of turning their season around. The women play at Robert Morris on Sept. 24 and Youngstown State on Sept. 25.