Image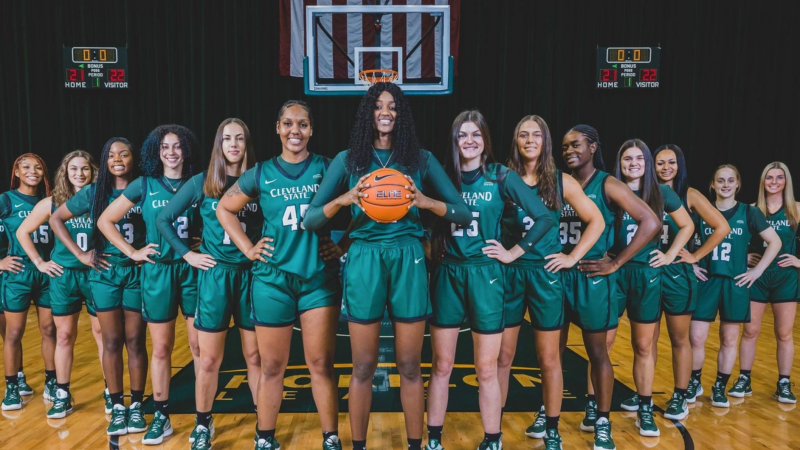 Credit: CSU Athletic Department
CSU: Women's basketball opens 2021-22 season with a perfect 7-0 record
Cleveland State University's women's basketball team has jumped out to an undefeated start this season behind strong all-around performances.
The CSU women's basketball team ranks first in the Horizon League with a 7-0 start to the season. 
Cleveland State is led in scoring by Destiny Leo who is averaging 22.8 points on 51.5 percent 3-point shooting. 
The sophomore guard leads the Horizon League with 114 total points this season. She is also tied for the most 3-pointers made (17).
In the Vikings' most recent victory, an 87-65 win Sunday against Long Island University, Amele Ngwafang chipped in with a career-high 20 points and nine rebounds off the bench. Ngwafang made 7-of-8 field goal attempts.
CSU has won all but one game this season by double-digits with their most emphatic win coming in a 93-53 route of Quincy University. Leo notched a career-high 30 points on 10-of-14 shooting while Nadia Dumas recorded her first double-double (12 points and 10 rebounds) of the season in that game. 
The Vikings have relied on timely performances from their deep squad all year long. Senior Barbara Zieniewska is averaging 7.2 rebounds while senior Isabella Gradwell is posting 6.6 points and 6.0 rebounds a game. 
Other notable moments from the red-hot start to the season include a career-high 16 points off the bench from Isabella Geraci and four steals from Brittni Moore in her CSU debut versus ETSU (Nov. 9).
Led by head coach Chris Kielsmeier, now in his third year, the Vikings have not lost a game at the Wolstein Center since Jan. 23, 2021.
"We continue to get better and strive for more on and off the court. Very proud of our players and staff and appreciative of all their hard work," Coach Kielsmeier tweeted after their win over LIU.
The Vikings rank first in scoring, first in rebounding, second in defense and eighth in 3-pointers among Horizon League teams. Next up, they face Northern Kentucky (4-2) on the road Friday, Dec. 3.