Image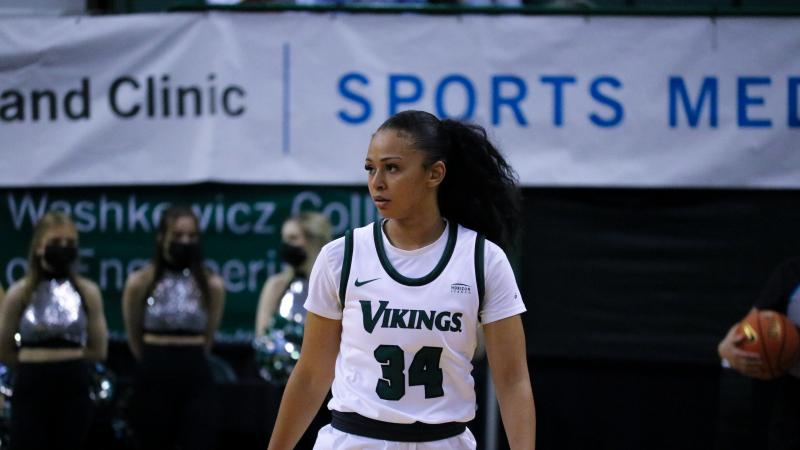 Credit: Matt Thomas
CSU women's basketball is gaining momentum at the right time
The Cleveland State Vikings are rolling at the end of the season as the women's basketball team gets the respect it deserves with 4th straight win.
The CSU women's basketball team is on fire late in the regular season as an 67-55 win over the Milwaukee Panthers, Feb. 24, marked their fourth straight victory and kept them in 4th place in the Horizon League standings.
The Vikings took down Oakland on Feb. 17 by a score of 85-65 before defeating Detroit 74-70 on Feb. 19 in the first of two consecutive meetings between Cleveland and the Titans. 
Sophomore Destiny Leo scored 22 points in their second game versus Detroit, leads CSU in scoring and ranks 41st in the country at 18.7 points per game. In the week starting Feb. 20, Leo was named Horizon League Player of the Week, her second time earning this honor. 
At the core of the Vikings' efforts is a strong group of seniors -- Isabella Geraci, Isabella Gradwell, Barbara Zieniewska and Nadia Dumas. Geraci, Gradwell and Dumas surpassed 100 career games this season. 
In their win over Detroit, Dumas became the ninth Viking in CSU women's basketball history to notch 80 career blocks. 
Cleveland State has relied on all-around team efforts to keep them competitive. Amele Ngwafang leads the team on the boards at 7.6 rebounds per game and has three double-doubles this season. 
Junior Gabriella Smith has been one of CSU's top perimeter players, averaging 1.8 steals, 9.3 points and 1.3 3-pointers per game.
CSU holds a 17-6 overall record (including two forfeits) and an 11-5 record against conference opponents. 
The Vikings have one game remaining in the regular schedule versus Green Bay who has won 11 of their last 12 games heading into their Feb. 26 matchup. 
Cleveland State will compete in the Horizon League tournament on March 3 with a first round bye.