Image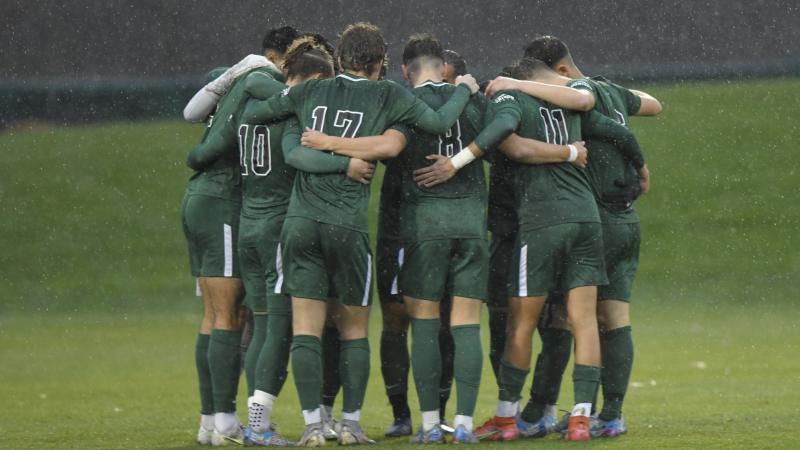 Cleveland State Athletics
CSU men's soccer loses to Oakland in Horizon League Championship
The Vikings were unable to overcome some costly mistakes, dropping their final conference match to the Golden Grizzlies 3-1, and finishing as runners-up for the season.
The Cleveland State men's soccer team fell to Oakland, 3-1, in the Horizon League Championship game on Saturday to finish the season as runners up in the conference. 
The Vikings were seeking their first Horizon League championship since 2012, but were unable to overcome some costly mistakes to secure the victory. The Green and White faced a staunch Oakland defense that applied consistent pressure in the Cleveland State defensive end. 
Oakland found the scoreboard early as Cleveland State goalkeeper Omeed Naeemy was unable to secure a bouncing shot from Noah Jensen that gave the Golden Grizzlies a 1-0 lead less than a minute into the contest.
That lead would hold for most of the first half until the Vikings were able to even the score in the 41st minute on a shot from Pablo Kawecki that found the back right corner. 
The game was not tied for long as Oakland struck back less than 30 seconds later on a shot that bounced in off a Cleveland State defender. 
The Golden Grizzlies took the 2-1 lead into halftime and did not look back from there.
Oakland came out of the break firing on all cylinders once again, adding to their lead with a goal from Dylan Borczak just two minutes into the second period of play. That proved to be more than enough as the Vikings were unable to find any offensive rhythm to make a comeback. 
The Vikings were unable to secure successful clears throughout most of the game, leading to strong chances for the Oakland offense. Naeemy managed 6 saves on 9 shots, but was unable to match Oakland goalkeeper Finn Jurak who recorded 7 saves on 8 shots.
With the championship, Oakland secures a spot in the NCAA tournament scheduled to start Nov. 18. The Vikings will have to wait and see if they did enough this season to earn a birth of their own.