Image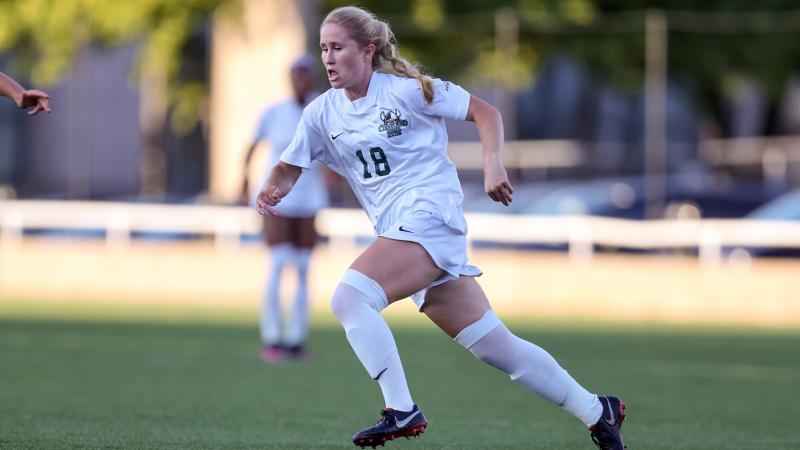 Credit: Cleveland State Athletics
Cleveland State women's soccer drops tight game to Horizon League rival Wright State, 2-1.
The Vikings suffer their third straight defeat, falling to 2-3 in Horizon League play.
Cleveland State women's soccer team dropped a rainy match against Horizon League rival Wright State, 2-1, at Krenzler Field on Saturday.
The Vikings played tough, but were unable to match the Raiders scoring attack as Wright State was able to find the back of the net in the 25th and 52nd minutes on goals from Olga Massombo and Maddie Mitchell.  
The Vikings made a late push in the second half and were able to cut the Raiders' lead to one when Rylee Bussen, assisted by a pass from Lina Feltovich, slipped a shot past the Wright State goalkeeper in the 82nd minute. Cleveland State held momentum towards the end of the game but were unable to find the tying goal.
Cleveland State head coach Dallas Boyer found optimism in the Vikings fighting until the end, but said the team needs to find a way to start stronger.
"Our best moments were after we made some changes late and played with a little bit of desperation," Boyer said. "It's OK that we play our best in these late moments but it's not OK that we keep putting ourselves in spots where we have to play from behind as often as we have been."
Cleveland State outshot Wright State 14-9 in the contest, including a 5-4 advantage in shots on goal. Goalkeeper Kayla Valaitis managed 2 saves in the loss.
With the loss, the Vikings fall to 3-8-1 overall and 2-3 in conference matchups. The Vikings will travel to Oakland to take on the Golden Grizzlies in their next match on Oct. 7 at 7 p.m.