Image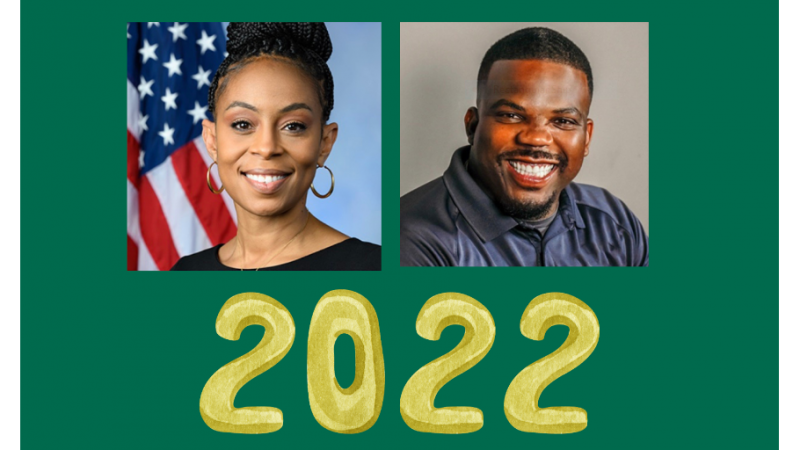 Credit: Cleveland State University | Mary Dudzik
Shontel Brown, Timothy Alexander will address CSU's spring commencement ceremonies
Brown is a member of the U.S. House of Representatives. Alexander is a writer, speaker and life coach.
Cleveland State University will host two commencement ceremonies for spring 2022 graduates. U.S. Rep. Shontel Brown will speak at the morning ceremony. Author, speaker and life coach Timothy Alexander will speak at the afternoon ceremony.
"We are very excited to have both Congresswoman Brown and Tim Alexander as speakers for our spring 2022 commencement," CSU President Harlan Sands said. "Both of them have incredibly powerful and inspirational stories to share that will resonate with our graduates and their families. I know that they are looking forward to being with us and participating in this special day."
Brown is a lifelong Clevelander who was sworn in Nov. 4, 2021, to represent Ohio's 11th Congressional District.
She first entered public service in 2012, when she was elected as a Warrensville Heights city council member.
Alexander is a best-selling writer, award-winning speaker and life coach. A native of Birmingham Alabama, Alexander was ranked the #8 high school football player in the state. However, a car accident in 2006 left him paralyzed from the neck down.
Alexander refused to be beaten and now inspires change in other people's lives with his signature line: "We don't need it to be easy we just need it to be possible®."
The morning ceremony will begin at 9:30 a.m. It features the College of Education and Human Services, Washkewicz College of Engineering, College of Liberal Arts and Social Sciences, and Maxine Goodman Levin College of Urban Affairs. 
The afternoon ceremony will begin at 2 p.m. and will feature the Monte Ahuja College of Business, School of Nursing and College of Sciences and Health Professions are the colleges featured in the second ceremony.
To find out more about the ceremonies, see the university's commencement page here.