Image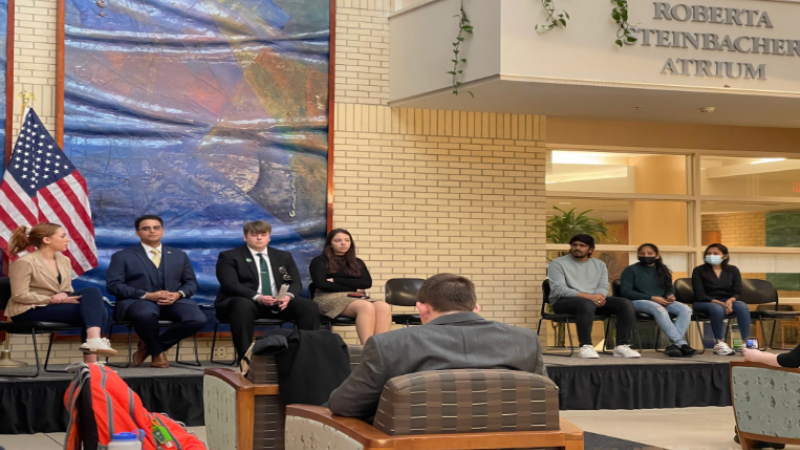 Credit: Jayla Salter
SGA forum - Who will be there for the students?
The two parties running for CSU's Student Government Association answered questions at a forum on how they would best represent the student body.
The two groups of candidates running for leadership positions in the CSU Student Government Association answered questions from the public at a forum March 23 in the Roberta Steinbacher Atrium at Cleveland State University.
Lauren Koleszar, features editor for the Vindicator, moderated the event, allowing both sides to present their vision for the university and its students' needs. 
Ticket one opened the discussion with its vision for the campus. Cael Shaw, running for SGA vice president, said his team wanted to "find a way to connect students and re-engage them with the campus" with an emphasis on diversity and inclusion.
Ticket two followed with its vision for the campus. Kalyah Veluri, running for treasurer, said they want to have a more diverse campus. Ticket two plans to focus on students needs in as many ways a possible.
Ticket one had three candidates present: Elias Palmer, Shaw and Nina Faisal. Ticket two had two candidates present: Kalyah Veluri and Usha Mundra.
Each side spoke and answered questions from people present. The questions ranged from how they plan to protect freedom of speech on campus to what makes each ticket qualified for the positions they are running for in the Student Government Association. 
Both sides addressed the revamp of CSU's college structure known as CSU 2.0. 
Usha Mundra, running for secretary with ticket two, said they will have "bi-weekly sessions so that their voices can be heard." Mundra wants to have sessions every other week with students so that they can bring student input on CSU 2.0 to the administration.
Ticket one said it has already been pushing the administration for great input into CSU 2.0.
"I have constantly been on administration for students to be on CSU 2.0," Elias Palmer said, adding that ticket one wanted to see SGA student input into a range of CSU 2.0 issues, including naming of the new colleges.
Koleszar invited both tickets to finish with closing thoughts.
"This is the perfect opportunity to get CSU and SGA more involved because everything is changing," Palmer said for ticket one, referring to the changing campus because of CSU 2.0. Ticket one said it wants to grow the SGA as the university grows.
"No matter who wins, we want to be united," Mundra said for ticket two. "We want to be better." Ticket two emphasized creating a united team with the students to be a better campus and work with students. 
Both tickets said they are all in for the students. 
Ticket one:
Elias Palmer - Running for President 
Cael Shaw - Running for Vice President
Nina Faisal - Running for Treasurer 
Sam Ly - Running for Secretary (Not Present)
Ticket two:
Sheshenk Reddy - Running for President (Not Present)
Arpan Reddy - Running for Vice President (Not Present)
Kalyah Veluri - Running for Treasurer
Usha Mundra - Running for Secretary