Image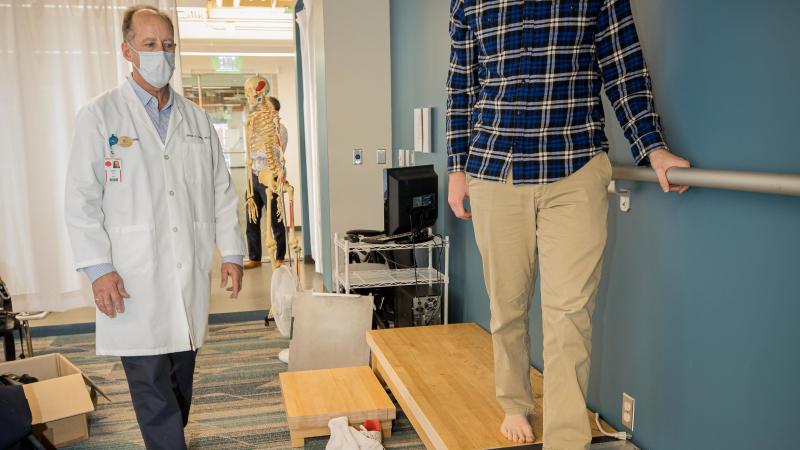 Credit:Cleveland State University/Brian Davis
Professor acknowledged for his work on foot-related diabetic condition
Engineering professor Brian Davis wins federal funding for his work on a sensor that detects diabetic issues in the foot
Brian Davis, Ph.D., a professor in the Cleveland State engineering department, has received $75,000 in federal funding for his newest project, which focuses on developing a sensor-based system for monitoring stresses on a diabetic patient's foot while they walk.
"I was very pleased to get this award," Davis said. "It is the first federal grant I have received since joining CSU in 2019. I hope it is a forerunner of many more to come."
One of the complications of diabetes is a condition known as Charcot Arthropathy. This is a complication that results in the collapse of a person's foot. While it is not a common problem, it is devastating to those patients who experience a collapsed foot arch, and it often results in a foot being amputated. Davis's research is focused on preventing that from happening.
Davis's approach is to develop sensors that can detect the initial occurrence of the condition, and allow time for treatment to occur before the foot arch totally collapses. There are very few labs in the world focusing on skin stresses on patients with diabetes. Most researchers concentrate their efforts at looking at pressure on skin, whereas Davis looks for both pressure and frictional forces.
Davis's funding was part of a larger grant awarded to Innovative Science Solutions Inc., based in Dayton. The college has had a productive working relationship with ISSI for more than 10 years.
Engineers and researchers at ISSI have collaborated with Davis's CSU-based lab to develop a platform for measuring skin stresses. This project is a natural extension of those efforts, mainly to take the technology to a smaller scale and create in-shoe sensors.
"Looking ahead,"  Davis said, "I anticipate bright students at CSU figuring out how to account for the influence of variables such as sweat, sock material, and weave patterns on frictional forces exerted on skin."