Image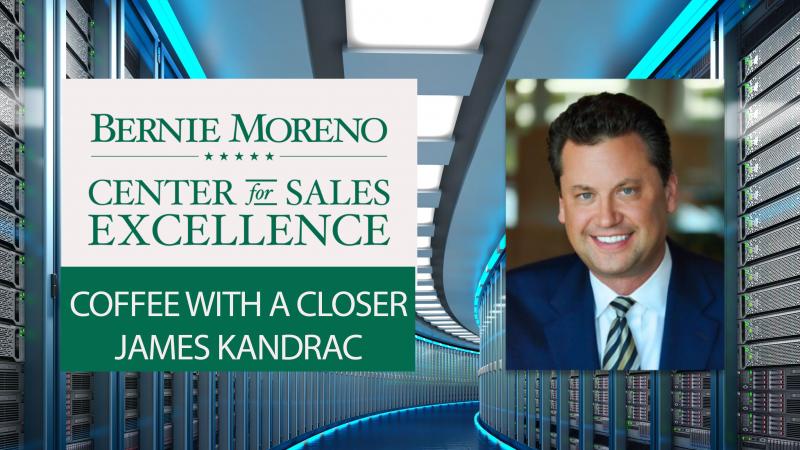 Credit: UCG Technologies; CSU's Monte Ahuja College of Business
CSU Coffee With a Closer features entrepreneur Jim Kandrac from the class of '83
Jim Kandrac, the president and founder of UCG Technologies, told his story about how he made a multimillion dollar company after leaving IBM.
Jim Kandrac came from a middle-class family and didn't have any connections or money to fund his future in business.
"I didn't think I had the intelligence to be an accountant, attorney or a professor," Kandrac said. "When you're young you just got a job like delivering newspapers and that's how you tried to get by."
Kandrac is the president and founder of UCG Technologies. He graduated from CSU in 1983 with a bachelor's in marketing.
He spoke at the Monte Ahuja College of Business Coffee with a Closer series at CSU on Oct. 21 about the time his dad sat him down and asked him what he wanted to do with his life.
"I was thinking, 'I'm 12 years old, so what do you want me to do?'" Kandrac told his student audience. "At the time I thought about it and said, 'I would like to go into sales or the technology field.'"
He said he made it his goal to be in sales at IBM. After he graduated from high school, Cleveland State University was the only school that accepted him. At first he was denied an internship at IBM, but he was able to raise his GPA and secure the internship.
"My dream kind of became disenchanted after a year and a half of working for IBM," Kandrac said. "I felt people in the organization weren't doing what's in the best interest for the client or company."
His wake up call came when he saw one of his middle-aged coworkers forced to go back to school.
"I saw this man turn white in the face, then red and have a nervous breakdown and realized that wouldn't be me," he said.
He ended up leaving IBM and jumped around firms for the next couple years until he decided he wanted to pursue it his way.
Kandrac started his own business with $30,000 and one office in 1985. 35 years later, he owns three niche companies stemming from UCG Technologies.
He shared his knowledge of the world of sales in a question and answer session with students after his talk. One student asked him what was the most important factor in his success.
"If you don't have a passion for it, then forget it," Kandrac said.
Business major Tom Flanigan said he thought that the talk was very insightful and informative.
"Jim Kandrac was easy to listen to and had helpful examples, hints and suggestions I can use in my sales profession," Flanigan said.
The Monte Ahuja College of Business will host their last Coffee with a Closer event of the fall semester on Nov. 18. It will feature Shelly Cayette Weston, who is the vice president of global partnerships for the Cleveland Cavaliers. You can register to attend here.