Image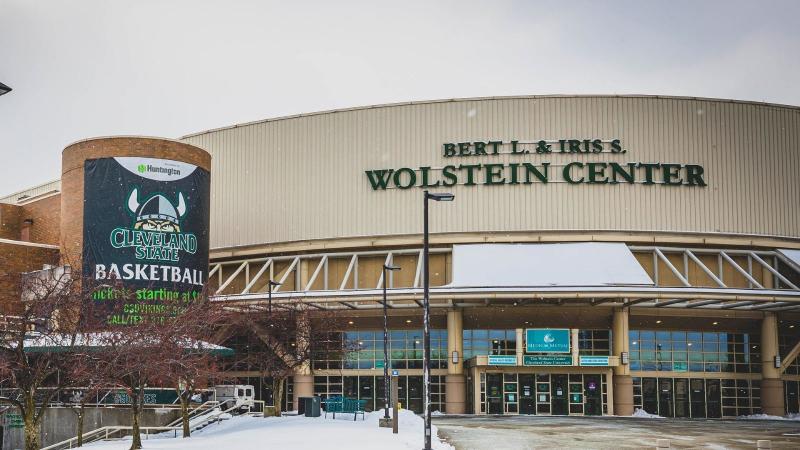 Credit: Cleveland State University
Ohio's first mass vaccination clinic to be held at CSU's Wolstein Center
The clinic is set to open on March 17 for eight weeks.
Cleveland State University has announced that the Wolstein Center has been selected by the Federal Emergency Management Agency (FEMA) to host Ohio's first state-federal mass vaccination clinic.
CSU President Harlan Sands said in an email on Mar. 5 that the clinic is scheduled to open March 17. It will operate 12 hours a day, seven days a week and it will administer approximately 6,000 vaccines a day. 
"Our goal is to vaccinate as many people as we can, as quickly as we can," Ohio Governor Mike DeWine said in a press conference at the Wolstein Center on Mar. 5. "We get out of this pandemic through vaccination, and the vaccination process that's going to start here on St. Patrick's Day at Cleveland State is going to be an integral part of that."
Any Ohioan who is eligible to receive a vaccine under the state's vaccination plan may be vaccinated at the clinic. 
Ohioans will have the option to schedule an appointment in-person at the clinic, over-the-phone or through the state's online scheduling system.
"We have an obligation to make sure that every Ohioan who wants the vaccine has the ability to get it in their community easily, and that includes setting up an appointment," DeWine said. 
Besides setting up an appointment, Cuyahoga County will work to make sure that every Ohioan who wants a vaccine will have various ways to get to the clinic.
The county will work with the County Council to provide free bus passes through RTA as well as subsidize rides through a ride-share service which individuals can access by calling 2-1-1. 
The Senior Transportation Center and local churches will provide additional transportation as well.
"This vaccination program is directly focused on making sure that all people have access to vaccines, especially those who might face barriers to access the vaccine," Cuyahoga County Executive Armond Budish said. "The county is doing our part with that."
Several deciding factors came into play when FEMA chose the Wolstein Center as the site of this mass clinic:
More than 25,000 people live within one mile of the Wolstein Center, of whom nearly 45% live below the poverty level

66% reside in medically underserved communities

Within a six-mile radius of CSU are 100 neighborhoods with higher-than-average vulnerability
"When we discussed this with the White House, this seemed to be the logical place," said DeWine. "A place that could be reached by car, with parking spaces, but certainly a place that could be reached by mass transit." 
Registration for the mass clinic opened on Mar. 11. Individuals who are eligible to receive the vaccine can book an appointment here. 
More information can be found on the Ohio Department of Health Vaccination Program website and in CSU's press release as well.