Image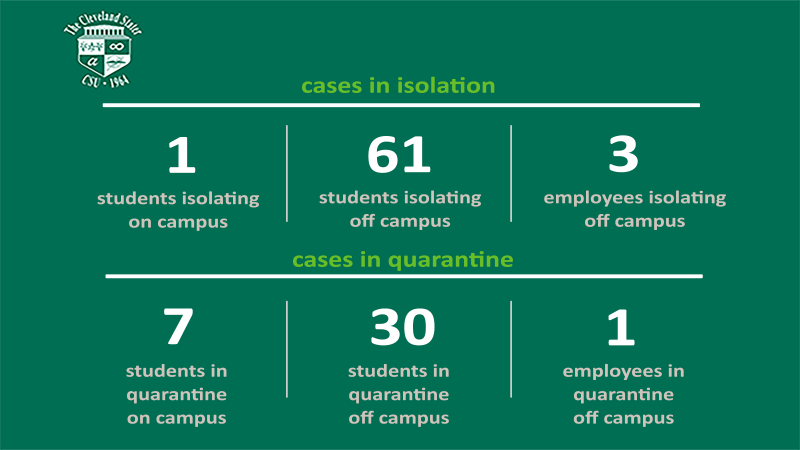 Tony Pesta
CSU reports an increase of COVID-19 cases for the fifth straight week
The spread of COVID-19 at Cleveland State University is not slowing down with more than 100 members of the campus community now in quarantine or isolation.
CSU is reporting 99 students in isolation or quarantine with the semester almost one-third over.
The number of students who have tested positive for COVID-19 and isolate off campus has risen to 61. An increase of 18 and the second-biggest spike in cases this semester. 
CSU reports 30 students in quarantine off campus. A decrease of seven from last week. 
One additional student has tested positive and is isolating on campus. 
Seven more students are in quarantine while remaining on campus. An increase of five on last week. 
The number of employees isolating off campus has dropped to three while one other employee is in quarantine off campus.  
The University has not updated its policy for handling COVID-19 in spite of increasing numbers. Currently, vaccination is not required but mask-wearing is mandated for all staff and students. 
Cleveland State plans to re-evaluate its guidelines on October 19. 
The Ohio Department of Health has announced that hospitals in the state are becoming overwhelmed with unvaccinated patients as COVID-19 surges. 
Hospitalizations of individuals under the age of 39 are at their highest level of the pandemic with 230 people admitted last week. 
CSU's dashboard does not include how many students or staff members have been hospitalized. 
The university also does not disclose the positivity rate of the students they test. Each week, five percent of the student population is randomly selected for PCR testing. (CSU Safe Campus)
Contact tracing is being handled by a team at CSU in coordination with the Cleveland Department of Public Health. 
CSU's Health and Wellness Services provides free testing to students and faculty members. Appointments are not needed. 
The FDA has fully approved the Pfizer vaccine while the other vaccines have been deemed safe and effective. Vaccines are the most effective way to avoid hospitalization and death. 
The vaccine is available for free on campus for CSU staff and students every Tuesday from 9 a.m. to 4 p.m. in Room 205 of the Center for Innovation in Medical Professions (2112 Euclid Avenue). 
Isolation: An individual who has tested positive for COVID-19 with OR without symptoms and who must isolate for 10 days from either symptom onset or test result, the last 24 hours of which must be fever free and, if symptomatic, symptoms are improving. 
Quarantine: An individual who either meets the CDC definition of being a close contact of a confirmed COVID-19 case or is arriving at CSU from either a domestic hotspot or international location and must quarantine for 14 days from either last known contact with the confirmed COVID-19 case or, in the case of those arriving from hotspot or international locations, the day of arrival.
Via Cleveland State University's COVID-19 Dashboard
CSU COVID-19 Dashboard update Wednesday, September 14, 2021
2 students isolating on campus

43 students isolating off campus

4 employees isolating off campus

2 students in quarantine on campus

37 students in quarantine off campus

1 employee in quarantine off campus
CSU COVID-19 Dashboard update Wednesday, September 8, 2021
3 students isolating on campus

38 students isolating off campus

3 employees isolating off campus

1 student in quarantine on campus

24 students in quarantine off campus

0 employees in quarantine off campus
CSU COVID-19 Dashboard update Wednesday, September 1, 2021
2 students isolating on campus

13 students isolating off campus

3 employees isolating off campus

0 students in quarantine on campus

4 students in quarantine off campus

0 employees in quarantine off campus
CSU COVID-19 Dashboard update Wednesday, August 19, 2021
0 students isolating on campus

1 student isolating off campus

0 employees isolating off campus

0 students in quarantine on campus

0 students in quarantine off campus

0 employees in quarantine off campus