Image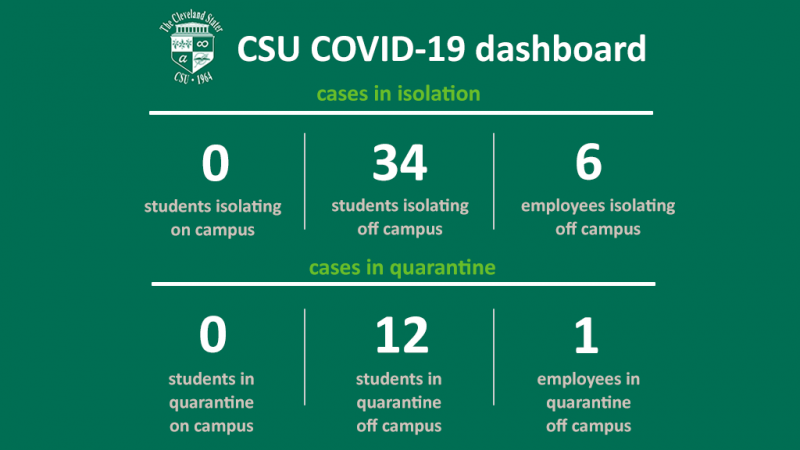 Credit: Tony Pesta
CSU reports a decrease in COVID-19 cases as the Omicron variant enters the U.S.
In the last week of semester, Cleveland State University is reporting fewer campus members in isolation or quarantine with COVID-19. Meanwhile, a new variant is appearing across the globe.
COVID-19 cases among students at CSU have dropped by 15 from last week, with 34 students in isolation off campus. Twelve students are in quarantine off campus, a decrease of eight from last week. 
For the second week in a row, there are zero students in isolation or quarantine on campus. 
A total of 46 students are in quarantine or isolation, down from the 69 reported before Thanksgiving break. 
The number of employees who have tested positive for COVID-19 has risen to a semester-high of six. 
One more employee is in quarantine off campus. A decrease of one from last week. 
Omicron enters the United States
Recently, a new COVID-19 variant named Omicron was discovered in South Africa. 
The first U.S.-based case of Omicron was reported this week in California. The person was fully vaccinated and is experiencing mild symptoms, according to CNN. 
Omicron's origin is a mystery. However, variants are created by mutations that occur when a virus infects somebody — not due to vaccination, as some conspiracy theories suggest. 
"When a virus is widely circulating in a population and causing many infections, the likelihood of the virus mutating increases," the World Health Organization said. "The more opportunities a virus has to spread, the more it replicates – and the more opportunities it has to undergo changes." (WHO)
Delta, a previous mutation of COVID-19, was more than twice as contagious as the original coronavirus strain. It is estimated that 99 percent of new cases in the U.S. since July have been the Delta variant. 
Yet, the Pfizer and Moderna vaccines remain up to 96 percent effective against death or serious illness caused by Delta.
It is still unclear if Omicron will be as contagious as Delta or if it will be able to evade vaccine immunity.
Early reports from Israel suggest the vaccines will hold up against Omicron but the sample size is small. 
For now, vaccination and taking precautions such as masking appear to be the most consistent and effective ways to avoid contracting COVID-19, serious illness, hospitalization or death from the virus and its variants.
Free vaccines are available every week on campus on Tuesdays from 9 a.m. - 4 p.m. at Health & Wellness Services in Room 205 at the Center for Innovation in Medical Professions (2112 Euclid Avenue). 
​​Isolation: An individual who has tested positive for COVID-19 with OR without symptoms and who must isolate for 10 days from either symptom onset or test result, the last 24 hours of which must be fever free and, if symptomatic, symptoms are improving. 
Quarantine: An individual who either meets the CDC definition of being a close contact of a confirmed COVID-19 case or is arriving at CSU from either a domestic hotspot or international location and must quarantine for 14 days from either last known contact with the confirmed COVID-19 case or, in the case of those arriving from hotspot or international locations, the day of arrival.
Via Cleveland State University's COVID-19 Dashboard
CSU COVID-19 Dashboard update Wednesday, November 23, 2021
0 students in isolation on campus

49 students isolating off campus

1 employee isolating off campus

0 student in quarantine on campus

20 students in quarantine off campus

2 employees in quarantine off campus
CSU COVID-19 Dashboard update Wednesday, November 17, 2021
2 students in isolation on campus

34 students isolating off campus

3 employees isolating off campus

1 student in quarantine on campus

17 students in quarantine off campus

1 employee in quarantine off campus
CSU COVID-19 Dashboard update Wednesday, November 10, 2021
0 students in isolation on campus

30 students isolating off campus

1 employee isolating off campus

1 student in quarantine on campus

33 students in quarantine off campus

0 employee in quarantine off campus
CSU COVID-19 Dashboard update Wednesday, October 27, 2021
0 students in isolation on campus

22 students isolating off campus

2 employees isolating off campus

1 student in quarantine on campus

13 students in quarantine off campus

0 employee in quarantine off campus
CSU COVID-19 Dashboard update Wednesday, October 20, 2021
1 student isolating on campus

64 students isolating off campus

1 employee isolating off campus

1 student in quarantine on campus

14 students in quarantine off campus

0 employee in quarantine off campus
CSU COVID-19 Dashboard update Wednesday, October 13, 2021
0 student isolating on campus

41 students isolating off campus

2 employees isolating off campus

0 students in quarantine on campus

12 students in quarantine off campus

1 employee in quarantine off campus
CSU COVID-19 Dashboard update Wednesday, October 6, 2021
1 student isolating on campus

61 students isolating off campus

4 employees isolating off campus

0 students in quarantine on campus

41 students in quarantine off campus

2 employee in quarantine off campus
CSU COVID-19 Dashboard update Wednesday, September 28, 2021
0 student isolating on campus

68 students isolating off campus

3 employees isolating off campus

4 students in quarantine on campus

44 students in quarantine off campus

1 employee in quarantine off campus
CSU COVID-19 Dashboard update Wednesday, September 21, 2021
1 student isolating on campus

61 students isolating off campus

3 employees isolating off campus

7 students in quarantine on campus

30 students in quarantine off campus

1 employee in quarantine off campus
CSU COVID-19 Dashboard update Wednesday, September 14, 2021
2 students isolating on campus

43 students isolating off campus

4 employees isolating off campus

2 students in quarantine on campus

37 students in quarantine off campus

1 employee in quarantine off campus
CSU COVID-19 Dashboard update Wednesday, September 8, 2021
3 students isolating on campus

38 students isolating off campus

3 employees isolating off campus

1 student in quarantine on campus

24 students in quarantine off campus

0 employees in quarantine off campus
CSU COVID-19 Dashboard update Wednesday, September 1, 2021
2 students isolating on campus

13 students isolating off campus

3 employees isolating off campus

0 students in quarantine on campus

4 students in quarantine off campus

0 employees in quarantine off campus
CSU COVID-19 Dashboard update Wednesday, August 19, 2021
0 students isolating on campus

1 student isolating off campus

0 employees isolating off campus

0 students in quarantine on campus

0 students in quarantine off campus

0 employees in quarantine off campus