Image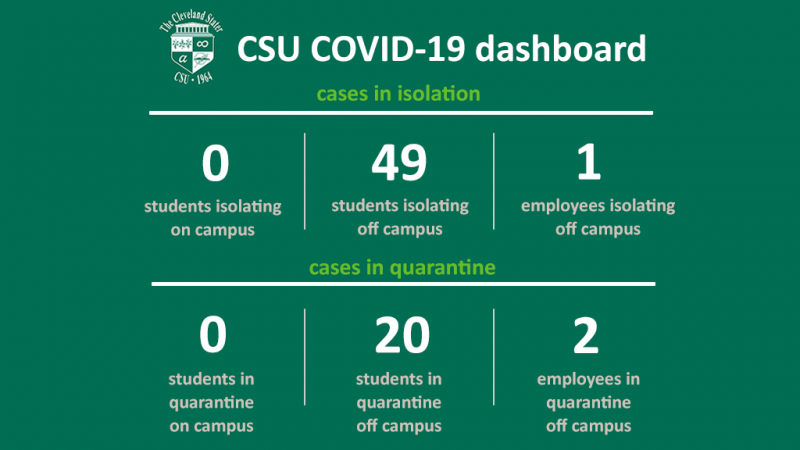 Credit: Tony Pesta
CSU reports 69 students in isolation or quarantine, the highest total of November
Cleveland State University is reporting another increase in COVID-19 cases with only two weeks remaining in the fall 2021 semester.
Heading into Thanksgiving break, CSU reported 49 students in isolation off campus due to a positive COVID-19 test, the highest total since Oct. 20.
Twenty students are in quarantine off campus, an increase of three. 
Zero students are in isolation or quarantine on campus, both categories decreasing from last week. 
The overall number of students in contact with COVID-19 this week has risen by 15. 
One employee is in isolation off campus, a decrease of two. 
Two employees are in quarantine off campus, an increase of one.
In Cleveland, COVID-19 cases have risen by 32 percent over the last 14 days. However, deaths are still down with a 27 percent decrease during the same stretch (New York Times).
The CDC did not recommend against family gatherings this holiday season but did encourage vaccination for protection. The death rate for unvaccinated individuals is roughly seven times higher than those who are fully vaccinated in the U.S. (Our World in Data).
CSU has fewer than two weeks remaining in the fall 2021 semester with Dec. 10 being the final day for exams. The university maintained a mask mandate throughout its first attempt at returning to campus but avoided requiring vaccines for those living off campus. 
There has been no update on how Cleveland State prepares to handle COVID-19 during the spring 2022 semester. 
For now, free vaccines are available every week on campus on Tuesdays from 9 a.m. - 4 p.m. at Health & Wellness Services in Room 205 at the Center for Innovation in Medical Professions (2112 Euclid Avenue). 
Isolation: An individual who has tested positive for COVID-19 with OR without symptoms and who must isolate for 10 days from either symptom onset or test result, the last 24 hours of which must be fever free and, if symptomatic, symptoms are improving. 
Quarantine: An individual who either meets the CDC definition of being a close contact of a confirmed COVID-19 case or is arriving at CSU from either a domestic hotspot or international location and must quarantine for 14 days from either last known contact with the confirmed COVID-19 case or, in the case of those arriving from hotspot or international locations, the day of arrival.
Via Cleveland State University's COVID-19 Dashboard
CSU COVID-19 Dashboard update Wednesday, November 17, 2021
2 students in isolation on campus

34 students isolating off campus

3 employees isolating off campus

1 student in quarantine on campus

17 students in quarantine off campus

1 employee in quarantine off campus
CSU COVID-19 Dashboard update Wednesday, November 10, 2021
0 students in isolation on campus

30 students isolating off campus

1 employee isolating off campus

1 student in quarantine on campus

33 students in quarantine off campus

0 employee in quarantine off campus
CSU COVID-19 Dashboard update Wednesday, October 27, 2021
0 students in isolation on campus

22 students isolating off campus

2 employees isolating off campus

1 student in quarantine on campus

13 students in quarantine off campus

0 employee in quarantine off campus
CSU COVID-19 Dashboard update Wednesday, October 20, 2021
1 student isolating on campus

64 students isolating off campus

1 employee isolating off campus

1 student in quarantine on campus

14 students in quarantine off campus

0 employee in quarantine off campus
CSU COVID-19 Dashboard update Wednesday, October 13, 2021
0 student isolating on campus

41 students isolating off campus

2 employees isolating off campus

0 students in quarantine on campus

12 students in quarantine off campus

1 employee in quarantine off campus
CSU COVID-19 Dashboard update Wednesday, October 6, 2021
1 student isolating on campus

61 students isolating off campus

4 employees isolating off campus

0 students in quarantine on campus

41 students in quarantine off campus

2 employee in quarantine off campus
CSU COVID-19 Dashboard update Wednesday, September 28, 2021
0 student isolating on campus

68 students isolating off campus

3 employees isolating off campus

4 students in quarantine on campus

44 students in quarantine off campus

1 employee in quarantine off campus
CSU COVID-19 Dashboard update Wednesday, September 21, 2021
1 student isolating on campus

61 students isolating off campus

3 employees isolating off campus

7 students in quarantine on campus

30 students in quarantine off campus

1 employee in quarantine off campus
CSU COVID-19 Dashboard update Wednesday, September 14, 2021
2 students isolating on campus

43 students isolating off campus

4 employees isolating off campus

2 students in quarantine on campus

37 students in quarantine off campus

1 employee in quarantine off campus
CSU COVID-19 Dashboard update Wednesday, September 8, 2021
3 students isolating on campus

38 students isolating off campus

3 employees isolating off campus

1 student in quarantine on campus

24 students in quarantine off campus

0 employees in quarantine off campus
CSU COVID-19 Dashboard update Wednesday, September 1, 2021
2 students isolating on campus

13 students isolating off campus

3 employees isolating off campus

0 students in quarantine on campus

4 students in quarantine off campus

0 employees in quarantine off campus
CSU COVID-19 Dashboard update Wednesday, August 19, 2021
0 students isolating on campus

1 student isolating off campus

0 employees isolating off campus

0 students in quarantine on campus

0 students in quarantine off campus

0 employees in quarantine off campus