Image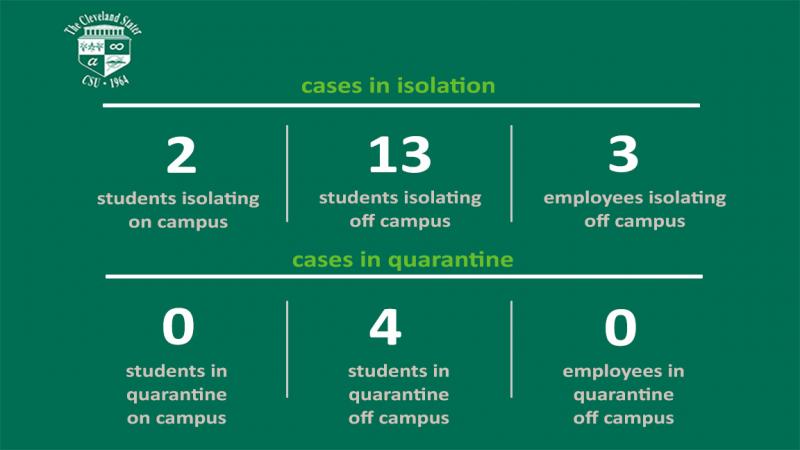 Credit: Courtney Byrnes
CSU: COVID-19 weekly dashboard (9/1)
Cleveland State University COVID-19 reports: Updated weekly
A weekly COVID-19 dashboard is being used to track the number of students and employees who have entered isolation or quarantine as they return to campus for the Fall 2021 semester at Cleveland State University.
The number of students isolating off campus following a positive COVID-19 test has risen to 13. Only one student was in isolation according to the previous report from August 19.
Three employees are now isolated off campus. 
Two more students remain on campus during their isolation period of 10 days. 
Four students are in a 14-day quarantine period off campus. Quarantine is necessary for individuals who have come in contact with a person who has tested positive for COVID-19. 
The numbers at CSU come amidst a spike in cases across the country as a result of the highly contagious Delta Variant. Cuyahoga County, home to the university, has been reporting roughly 300 COVID-19 cases each day since late August.
Cleveland State has mandated masks on campus, though they have not moved forward with a vaccine mandate. In contrast, other colleges such as Akron State University, Kent State University and Ohio State University have implemented vaccination mandates for both students and employees.
More than 11 million vaccine doses have been administered in Ohio with 48 percent of the population reaching full vaccination status. According to the CDC and state of Ohio, receiving a vaccine continues to be the most effective way to protect yourself and others from the coronavirus.
The vaccine is available for free on campus for CSU staff and students every Tuesday from 9 a.m. to 4 p.m. in Room 205 of the Center for Innovation in Medical Professions (2112 Euclid Avenue). 
Isolation: An individual who has tested positive for COVID-19 with OR without symptoms and who must isolate for 10 days from either symptom onset or test result, the last 24 hours of which must be fever free and, if symptomatic, symptoms are improving. 
Quarantine: An individual who either meets the CDC definition of being a close contact of a confirmed COVID-19 case or is arriving at CSU from either a domestic hotspot or international location and must quarantine for 14 days from either last known contact with the confirmed COVID-19 case or, in the case of those arriving from hotspot or international locations, the day of arrival.
Via Cleveland State University's COVID-19 Dashboard
CSU COVID-19 Dashboard update Wednesday, August 19, 2021
0 students isolating on-campus

1 students isolating off-campus

0 employees isolating off-campus

0 students in quarantine on-campus

0 students in quarantine off-campus

0 employees in quarantine off-campus