Image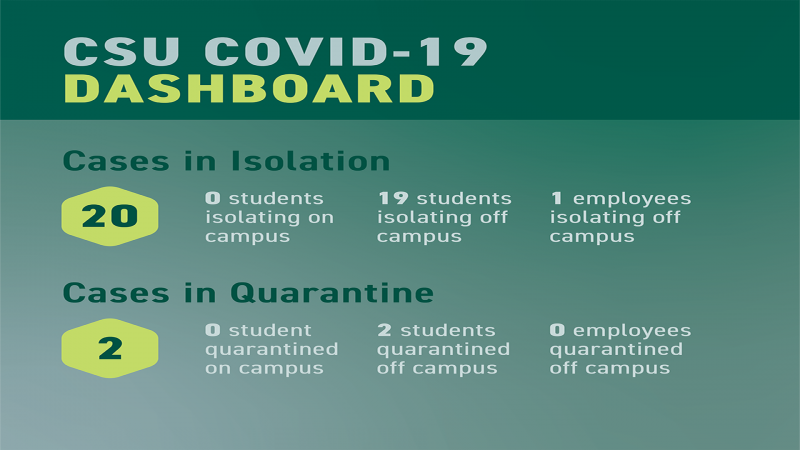 CSU's Weekly COVID-19 Dashboard
COVID cases increase at CSU, NE Ohio drops transport mask mandate
Cleveland State University reported an increase in coronavirus cases in the latest update of its COVID-19 dashboard. This, as Northeast Ohio public transportation lifts its mask mandate.
Cleveland State University reported an increase in campus-related cases on its COVID-19 dashboard for the week ending April 20.
CSU reported that 19 students and one employee were isolating off campus. Two students were in quarantine off campus. None were in quarantine or isolation on campus at this time.
The campus community increase is in line with the regional trend, which is seeing an uptick in COVID cases, including in Cuyahoga country, home to CSU.
By mid-April, the number of daily new cases in Cuyahoga County was topping 150, up from numbers in the 20s in March, the New York Times reported. 984 cases per day were reported in Ohio this past week. Cases have increased by 80% from the average two weeks ago. 
Hospitalization rates, however, have remained low. Regional health officials say it's unclear whether this is due to changes in the virus or the two to three-week lag between spikes in infections and hospitalizations. 
Since the beginning of the pandemic, at least 1-in-4 Ohio residents has been infected, 2.7 million in total. COVID has killed at least 38,360 people in Ohio, 1 in 305 people in the state.
NE Ohio drops mask mandate on public transport
The increase in infections across the region did not stop transportation authorities in Northeast Ohio from starting to drop mask mandates, beginning with public transportation.
The Greater Cleveland Regional Transit Authority (RTA) -- CSU's key public transport system for students, staff and faculty -- has dropped its mask mandate for employees and passengers.
Cleveland Hopkins International Airport, Akron-Canton Airport and Cuyahoga Valley Scenic Railroad are among other transport systems have have done away with masking, WKYC reported.
The moves in Ohio followed a ruling April 18 by a Trump-appointed federal judge in Florida who quashed the CDC's and Biden administration's attempt to enforce masking as one way to curb the spread of coronavirus nationwide.
---
Isolation: An individual who has tested positive for COVID-19 with OR without symptoms and who must isolate for 10 days from either symptom onset or test result, the last 24 hours of which must be fever free and, if symptomatic, symptoms are improving. 
Quarantine: An individual who either meets the CDC definition of being a close contact of a confirmed COVID-19 case or is arriving at CSU from either a domestic hotspot or international location and must quarantine for 14 days from either last known contact with the confirmed COVID-19 case or, in the case of those arriving from hotspot or international locations, the day of arrival.
---
Via Cleveland State University's COVID-19 Dashboard
CSU COVID-19 Dashboard update Tuesday, April 20, 2022
0 students in isolation on campus

19 students isolating off campus

1 employees isolating off campus

0 students in quarantine on campus

2 students in quarantine off campus

0 employees in quarantine off campus
CSU COVID-19 Dashboard update Tuesday, April 5, 2022
0 students in isolation on campus

8 students isolating off campus

0 employees isolating off campus

0 students in quarantine on campus

3 students in quarantine off campus

0 employees in quarantine off campus
CSU COVID-19 Dashboard update Wednesday, March 23, 2022
0 students in isolation on campus

5 students isolating off campus

0 employee isolating off campus

0 student in quarantine on campus

1 students in quarantine off campus

0 employees in quarantine off campus
CSU COVID-19 Dashboard update Wednesday, March 9, 2022
0 students in isolation on campus

9 students isolating off campus

1 employee isolating off campus

0 student in quarantine on campus

2 students in quarantine off campus

0 employees in quarantine off campus
CSU COVID-19 Dashboard update Wednesday, March 2, 2022
0 students in isolation on campus

9 students isolating off campus

0 employee isolating off campus

0 student in quarantine on campus

2 students in quarantine off campus

0 employees in quarantine off campus
CSU COVID-19 Dashboard update Wednesday, February 23, 2022
0 students in isolation on campus

8 students isolating off campus

1 employee isolating off campus

0 student in quarantine on campus

1 students in quarantine off campus

0 employees in quarantine off campus
CSU COVID-19 Dashboard update Wednesday, February 16, 2022
0 students in isolation on campus

13 students isolating off campus

0 employee isolating off campus

0 student in quarantine on campus

0 students in quarantine off campus

0 employees in quarantine off campus
CSU COVID-19 Dashboard update Wednesday, February 9, 2022
0 students in isolation on campus

11 students isolating off campus

1 employee isolating off campus

0 student in quarantine on campus

2 students in quarantine off campus

0 employees in quarantine off campus
CSU COVID-19 Dashboard update Wednesday, February 2, 2022
0 students in isolation on campus

22 students isolating off campus

0 employee isolating off campus

0 student in quarantine on campus

6 students in quarantine off campus

0 employees in quarantine off campus
CSU COVID-19 Dashboard update Wednesday, November 30, 2021
0 students in isolation on campus

34 students isolating off campus

0 employee isolating off campus

0 student in quarantine on campus

12 students in quarantine off campus

0 employees in quarantine off campus
CSU COVID-19 Dashboard update Wednesday, November 23, 2021
0 students in isolation on campus

49 students isolating off campus

1 employee isolating off campus

0 student in quarantine on campus

20 students in quarantine off campus

2 employees in quarantine off campus
CSU COVID-19 Dashboard update Wednesday, November 17, 2021
2 students in isolation on campus

34 students isolating off campus

3 employees isolating off campus

1 student in quarantine on campus

17 students in quarantine off campus

1 employee in quarantine off campus
CSU COVID-19 Dashboard update Wednesday, November 10, 2021
0 students in isolation on campus

30 students isolating off campus

1 employee isolating off campus

1 student in quarantine on campus

33 students in quarantine off campus

0 employee in quarantine off campus
CSU COVID-19 Dashboard update Wednesday, October 27, 2021
0 students in isolation on campus

22 students isolating off campus

2 employees isolating off campus

1 student in quarantine on campus

13 students in quarantine off campus

0 employee in quarantine off campus
CSU COVID-19 Dashboard update Wednesday, October 20, 2021
1 student isolating on campus

64 students isolating off campus

1 employee isolating off campus

1 student in quarantine on campus

14 students in quarantine off campus

0 employee in quarantine off campus
CSU COVID-19 Dashboard update Wednesday, October 13, 2021
0 student isolating on campus

41 students isolating off campus

2 employees isolating off campus

0 students in quarantine on campus

12 students in quarantine off campus

1 employee in quarantine off campus
CSU COVID-19 Dashboard update Wednesday, October 6, 2021
1 student isolating on campus

61 students isolating off campus

4 employees isolating off campus

0 students in quarantine on campus

41 students in quarantine off campus

2 employee in quarantine off campus
CSU COVID-19 Dashboard update Wednesday, September 28, 2021
0 student isolating on campus

68 students isolating off campus

3 employees isolating off campus

4 students in quarantine on campus

44 students in quarantine off campus

1 employee in quarantine off campus
CSU COVID-19 Dashboard update Wednesday, September 21, 2021
1 student isolating on campus

61 students isolating off campus

3 employees isolating off campus

7 students in quarantine on campus

30 students in quarantine off campus

1 employee in quarantine off campus
CSU COVID-19 Dashboard update Wednesday, September 14, 2021
2 students isolating on campus

43 students isolating off campus

4 employees isolating off campus

2 students in quarantine on campus

37 students in quarantine off campus

1 employee in quarantine off campus
CSU COVID-19 Dashboard update Wednesday, September 8, 2021
3 students isolating on campus

38 students isolating off campus

3 employees isolating off campus

1 student in quarantine on campus

24 students in quarantine off campus

0 employees in quarantine off campus
CSU COVID-19 Dashboard update Wednesday, September 1, 2021
2 students isolating on campus

13 students isolating off campus

3 employees isolating off campus

0 students in quarantine on campus

4 students in quarantine off campus

0 employees in quarantine off campus
CSU COVID-19 Dashboard update Wednesday, August 19, 2021
0 students isolating on campus

1 student isolating off campus

0 employees isolating off campus

0 students in quarantine on campus

0 students in quarantine off campus

0 employees in quarantine off campus