Image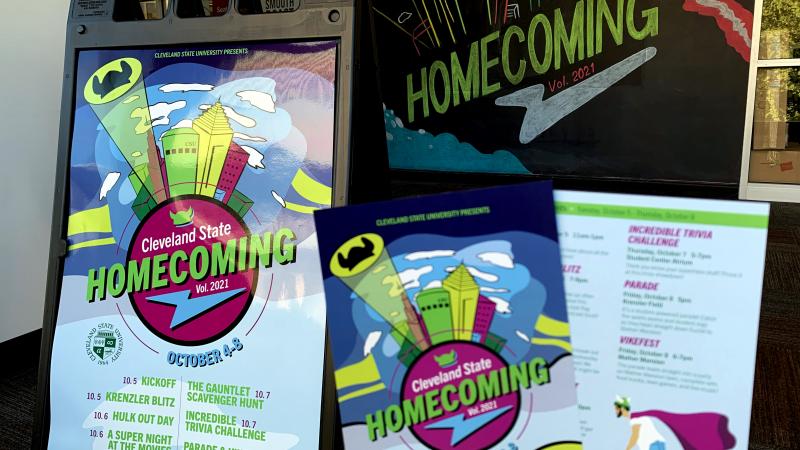 Credit: Eric Seitz
Cleveland State prepares for Homecoming Week
The Campus Activities Board, Athletics department and Alumni Affairs department plan to hold events all week long.
Cleveland State Homecoming — the largest annual week of events — begins on Oct. 4 and will last through Oct. 12.
Homecoming Week is a collaboration among various departments and organizations across CSU. The majority of the student events are planned by the Campus Activities Board (CAB), while the Alumni Association plans events for alumni that are returning to campus for the celebration.
CAB Pride & Spirit Chair Jaren Hodgson says that he has been hard at work planning the Homecoming he would have wanted if he were just a regular student attending the events. 
"I am excited to plan my first Homecoming and give the students a great week that they deserve after the hardships of the pandemic," he said.
The theme for the week is superheroes, and CAB's activities revolve around that theme, with events such as a screening of "Black Widow," a scavenger hunt for the Infinity Stones, a comic book trivia night and a Hulk-themed giveaway day.
Alumni events include the Golden Apple Awards, where faculty and staff are recognized for their support of students; the Faculty and Staff Alumni Breakfast, for university employees who also graduated from CSU; and the 50th Reunion Brunch, where the class of 1971 will return to celebrate 50 years since they graduated.
For the students, Tuesday will see the return of a campus tradition, Krenzler Blitz, where students can watch a flag football game, take on mini-game challenges, and grab something to eat. 
Wednesday is Hulk Out Day, and students are encouraged to wear green for the chance to win prizes. Wednesday night is A Super Night at the Movies, and "Black Widow" will be screened on the Washkewicz Lawn. 
Thursday will see The Gauntlet Scavenger Hunt during the day, in which students will receive clues to track down each of the six Infinity Stones at offices around campus. On Thursday night, CAB is hosting Incredible Trivia Challenge. 
Two Homecoming traditions make their return on Friday — the Homecoming Parade and VikeFest. 
In the Homecoming Parade, student organizations and university departments can march in the parade and hand out giveaways to those who come to spectate. The Homecoming Parade will begin at Krenzler Field and head toward Mather Mansion, where VikeFest will kick off. 
At VikeFest, singer AJ Smith will perform for attendees, and students can play lawn games or eat food from one of the food trucks.
In addition to the alumni and CAB events, all Homecoming attendees are invited to the sporting events that will take place during the week. The women's volleyball team plays two home games — one on Thursday and one on Friday — against Green Bay and Milwaukee, respectively.
Homecoming Week Schedule:
Kickoff (student event)
Oct. 5
11 a.m.–1 p.m.
Student Center Atrium
Golden Apple Awards (alumni event)
Oct. 5
5–7 p.m.
Student Center Atrium
Krenzler Blitz (student event)
Oct. 5
7–9 p.m.
Krenzler Field
Faculty & Staff Alumni Breakfast (alumni event)
Oct. 6
8–9:30 a.m.
Student Center Ballroom
Hulk Out Day (student event)
Oct. 6
10 a.m.–2 p.m.
Around campus
A Super Night at the Movies (student event)
Oct. 6
7–10 p.m.
Washkewicz Lawn
The Gauntlet Scavenger Hunt (student event)
Oct. 7
11 a.m.–1 p.m.
Around campus
Women's Volleyball vs. Green Bay (public event)
Oct. 7
6 p.m.
Woodling Gym
Homecoming Parade (student and alumni event)
Oct. 8
5 p.m.
Krenzler Field
VikeFest (student and alumni event)
Oct. 8
6–7 p.m.
Mather Mansion
Women's Volleyball vs. Milwaukee (public event)
Oct. 8
7 p.m.
Woodling Gym