'Viking Public House' opens on campus
Viking Public House, Cleveland State's newest addition to its growing food options, opened on Friday.
The Stater was invited to sample menu items during the restaurant's soft opening Sept. 28. For the entire week leading up to the grand opening, Viking Public House was open for shortened lunch hours to slowly get things running.
Everything from the menu items to the decor of the restaurant all pays homage to CSU's Viking mascot. Nick VandeVelde, CSU's Associate Vice President of Hospitality services, mentioned the most popular item so far is the fish and chips. Unlike usual fish and chips, their take on the classic dish uses cold smoked salmon instead of white fish. 
"We wanted to say that this is where Vikings hang out," VandeVelde said. "We wanted to be something fun and different and maybe eventually iconic to campus – this is where everyone wants to eat."
The names of the drinks also channel their inner Viking heritage, with names like "The Magnus" and "Thor's Hammer." 
Image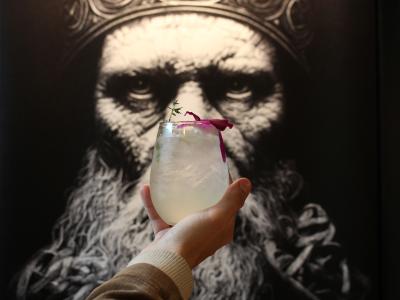 We were able to watch one of the head bartenders make "Freya's Garden" – a cocktail comprised of vodka, housemade citrus thyme simple syrup, lemon juice and soda water. The drink was then topped with a sprig of thyme and a violet orchid. Additionally, there is a separate mocktail menu with fun drinks for those who don't enjoy alcohol. 
Viking Public House intends to host an array of events. It plans to have live music every Friday, trivia on Tuesdays and a halloween costume contest just in time for spooky season.