Image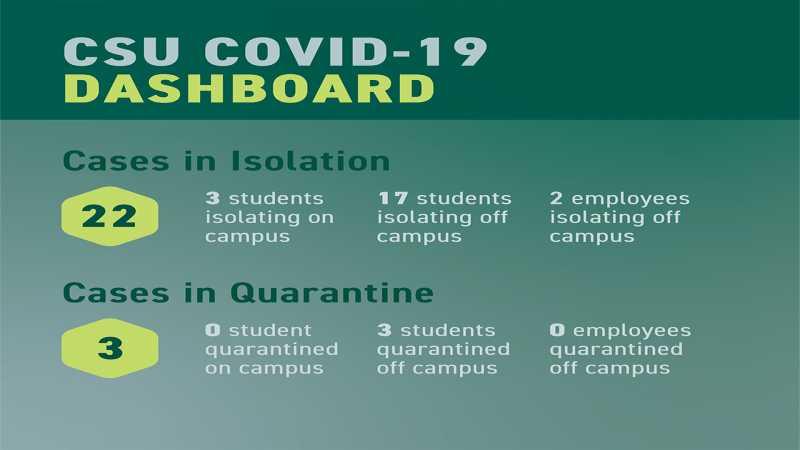 Credit: Eric Seitz
CSU reports another uptick in COVID-19
Cleveland State University is reporting another increase in coronavirus cases in the latest update of its COVID-19 dashboard.
Cleveland State University's COVID-19 dashboard reported another increase in overall coronavirus cases for the week through April 26.
CSU said 17 students and two employees were isolating off campus. A decrease of two since the previous week.
Three more students were in quarantine off campus, an increase of one. 
No students or employees were in quarantine off campus.
Three students were isolating on campus. None were in isolation the previous week.
In total, 25 members of CSU are in quarantine or isolation, an increase of three since last week. 
COVID-19 is among the three leading causes of death in Ohio
The uptick in coronavirus-related cases at CSU comes as the CDC National Center for Health Statistics, reports that the three leading causes of death in Ohio now are heart disease, cancer and COVID-19.
Heart disease and cancer have long held the top two spots in the state. COVID-19 broke into the third-place slot in December 2020, when 87.3 deaths per 100,000 were documented, according to Cleveland.com.
COVID-19 rose to 123.6 deaths per 100,000 as of September 2021, beginning the climb caused by the omicron surge at the end of last year.
An average of 161 cases per day were reported in Cuyahoga County this past week, double the average from two weeks ago.
Since the beginning of the pandemic, at least 1-in-5 Ohio residents has been infected, a total of  272,158 reported cases, according to The New York Times.
The Times notes that although cases have increased recently, the numbers of hospitalized COVID patients and deaths in Cuyahoga County, home to CSU, have remained at about the same level.
Isolation: An individual who has tested positive for COVID-19 with OR without symptoms and who must isolate for 10 days from either symptom onset or test result, the last 24 hours of which must be fever free and, if symptomatic, symptoms are improving. 
Quarantine: An individual who either meets the CDC definition of being a close contact of a confirmed COVID-19 case or is arriving at CSU from either a domestic hotspot or international location and must quarantine for 14 days from either last known contact with the confirmed COVID-19 case or, in the case of those arriving from hotspot or international locations, the day of arrival.
Via Cleveland State University's COVID-19 Dashboard
CSU COVID-19 Dashboard update Tuesday, April 26, 2022
3 students in isolation on campus

17 students isolating off campus

2 employees isolating off campus

0 students in quarantine on campus

3 students in quarantine off campus

0 employees in quarantine off campus
CSU COVID-19 Dashboard update Tuesday, April 20, 2022
0 students in isolation on campus

19 students isolating off campus

1 employees isolating off campus

0 students in quarantine on campus

2 students in quarantine off campus

0 employees in quarantine off campus
CSU COVID-19 Dashboard update Tuesday, April 5, 2022
0 students in isolation on campus

8 students isolating off campus

0 employees isolating off campus

0 students in quarantine on campus

3 students in quarantine off campus

0 employees in quarantine off campus
CSU COVID-19 Dashboard update Wednesday, March 23, 2022
0 students in isolation on campus

5 students isolating off campus

0 employee isolating off campus

0 student in quarantine on campus

1 students in quarantine off campus

0 employees in quarantine off campus
CSU COVID-19 Dashboard update Wednesday, March 9, 2022
0 students in isolation on campus

9 students isolating off campus

1 employee isolating off campus

0 student in quarantine on campus

2 students in quarantine off campus

0 employees in quarantine off campus
CSU COVID-19 Dashboard update Wednesday, March 2, 2022
0 students in isolation on campus

9 students isolating off campus

0 employee isolating off campus

0 student in quarantine on campus

2 students in quarantine off campus

0 employees in quarantine off campus
CSU COVID-19 Dashboard update Wednesday, February 23, 2022
0 students in isolation on campus

8 students isolating off campus

1 employee isolating off campus

0 student in quarantine on campus

1 students in quarantine off campus

0 employees in quarantine off campus
CSU COVID-19 Dashboard update Wednesday, February 16, 2022
0 students in isolation on campus

13 students isolating off campus

0 employee isolating off campus

0 student in quarantine on campus

0 students in quarantine off campus

0 employees in quarantine off campus
CSU COVID-19 Dashboard update Wednesday, February 9, 2022
0 students in isolation on campus

11 students isolating off campus

1 employee isolating off campus

0 student in quarantine on campus

2 students in quarantine off campus

0 employees in quarantine off campus
CSU COVID-19 Dashboard update Wednesday, February 2, 2022
0 students in isolation on campus

22 students isolating off campus

0 employee isolating off campus

0 student in quarantine on campus

6 students in quarantine off campus

0 employees in quarantine off campus
CSU COVID-19 Dashboard update Wednesday, November 30, 2021
0 students in isolation on campus

34 students isolating off campus

0 employee isolating off campus

0 student in quarantine on campus

12 students in quarantine off campus

0 employees in quarantine off campus
CSU COVID-19 Dashboard update Wednesday, November 23, 2021
0 students in isolation on campus

49 students isolating off campus

1 employee isolating off campus

0 student in quarantine on campus

20 students in quarantine off campus

2 employees in quarantine off campus
CSU COVID-19 Dashboard update Wednesday, November 17, 2021
2 students in isolation on campus

34 students isolating off campus

3 employees isolating off campus

1 student in quarantine on campus

17 students in quarantine off campus

1 employee in quarantine off campus
CSU COVID-19 Dashboard update Wednesday, November 10, 2021
0 students in isolation on campus

30 students isolating off campus

1 employee isolating off campus

1 student in quarantine on campus

33 students in quarantine off campus

0 employee in quarantine off campus
CSU COVID-19 Dashboard update Wednesday, October 27, 2021
0 students in isolation on campus

22 students isolating off campus

2 employees isolating off campus

1 student in quarantine on campus

13 students in quarantine off campus

0 employee in quarantine off campus
CSU COVID-19 Dashboard update Wednesday, October 20, 2021
1 student isolating on campus

64 students isolating off campus

1 employee isolating off campus

1 student in quarantine on campus

14 students in quarantine off campus

0 employee in quarantine off campus
CSU COVID-19 Dashboard update Wednesday, October 13, 2021
0 student isolating on campus

41 students isolating off campus

2 employees isolating off campus

0 students in quarantine on campus

12 students in quarantine off campus

1 employee in quarantine off campus
CSU COVID-19 Dashboard update Wednesday, October 6, 2021
1 student isolating on campus

61 students isolating off campus

4 employees isolating off campus

0 students in quarantine on campus

41 students in quarantine off campus

2 employee in quarantine off campus
CSU COVID-19 Dashboard update Wednesday, September 28, 2021
0 student isolating on campus

68 students isolating off campus

3 employees isolating off campus

4 students in quarantine on campus

44 students in quarantine off campus

1 employee in quarantine off campus
CSU COVID-19 Dashboard update Wednesday, September 21, 2021
1 student isolating on campus

61 students isolating off campus

3 employees isolating off campus

7 students in quarantine on campus

30 students in quarantine off campus

1 employee in quarantine off campus
CSU COVID-19 Dashboard update Wednesday, September 14, 2021
2 students isolating on campus

43 students isolating off campus

4 employees isolating off campus

2 students in quarantine on campus

37 students in quarantine off campus

1 employee in quarantine off campus
CSU COVID-19 Dashboard update Wednesday, September 8, 2021
3 students isolating on campus

38 students isolating off campus

3 employees isolating off campus

1 student in quarantine on campus

24 students in quarantine off campus

0 employees in quarantine off campus
CSU COVID-19 Dashboard update Wednesday, September 1, 2021
2 students isolating on campus

13 students isolating off campus

3 employees isolating off campus

0 students in quarantine on campus

4 students in quarantine off campus

0 employees in quarantine off campus
CSU COVID-19 Dashboard update Wednesday, August 19, 2021
0 students isolating on campus

1 student isolating off campus

0 employees isolating off campus

0 students in quarantine on campus

0 students in quarantine off campus

0 employees in quarantine off campus