Image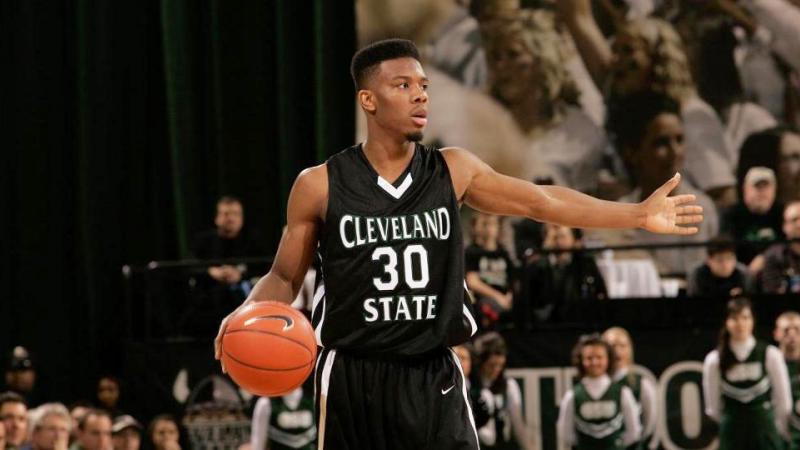 Photo courtesy of CSU Athletic Dept.
Cleveland State Men's Basketball Alum Norris Cole Continues To Give Back
Cleveland State University alumnus Norris Cole has stayed connected with the university post graduation while continuing to pursue his professional basketball career internationally.
Cole continues to have a strong connection with the university, saying in a March 2 interview that his continued support is part of his appreciation to the institution that helped him improve his athletic and academic abilities.
In 2007, head coach Gary Waters picked the Dayton native to play for the Cleveland State men's basketball program.
As a sophomore, Cole helped the Vikings clinch a spot in the annual March Madness tournament by winning the 2009 Horizon League Championship. It was the first appearance the Vikings made in the March Madness tournament since the 1985-86 season.
Over the course of four seasons, Cole played in 140 career games. During his senior season at Cleveland State, Cole averaged 21.7 points per game and made Horizon League history by being selected as the first player to win both Horizon League Player of the Year and Horizon League Defensive player of the Year in one season.
Cole graduated from Cleveland State in 2011 with a Bachelor of Health Sciences degree and was drafted that same year by the Chicago Bulls as the 28th overall pick in the NBA draft. Later that night Cole was traded to the Miami Heat.
Cole secured two championship trophies with the Heat in 2012 and 2013, becoming the first player in Horizon League history to do so. Cole also played for the New Orleans Pelicans, and Oklahoma City Thunder before taking his career overseas. In 2016 Cole's jersey number, 30, was retired by Cleveland State in his honor.
Cole's continued support of the university has allowed him to make several appearances, to talk to current student-athletes and staff about his experience at Cleveland State and lend advice to the student-athlete community.
"I want the students after me to have great college experiences as I was able to," Cole said. "Cleveland State allowed me to live my dream as a Division 1 student-athlete."
"I feel a strong connection to the school," he continued. "The administrators, staff members, coaches, students and student-athletes have kept in touch with, and supported me, since I've graduated. It really felt like a family."
Cole received a nomination for the Horizon League All-Decade team, which recognizes the best players from the past decade in league history.
"It's an honor to be mentioned as a nominee," Cole said. "I put a lot of work in on the court and sacrificed a lot. It's a blessing to be recognized for it."