Image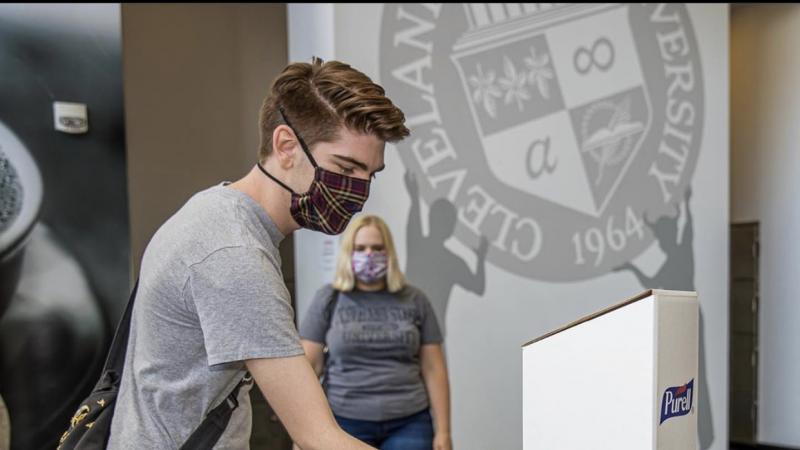 Credit: Cleveland State University Instagram
Cuyahoga County Universities take COVID-19 precautions
Cleveland State University, Baldwin Wallace and Notre Dame College have put a range of protocols in place for fall as Cuyahoga County declares a level two emergency in COVID-19 cases.
As COVID-19 cases continue to rise, colleges and universities in Ohio have created safety guidelines for their students returning to campus this fall. 
Cleveland State University restarted classes on Aug. 24, making changes across the campus in order to practice proper safety guidelines.
CSU has ordered a mask mandate for students, staff and faculty who come onto campus, and have utilized the Working Well app, which requires members of the university community to log possible symptoms before entering campus. 
The app requires community members to take their temperature and check for other COVID-19 symptoms. If someone reports any symptoms, they are instructed to stay off campus. 
"I feel safe entering campus. I think the school has done a good job of keeping everyone safe during COVID," fourth year student Katarina Schubert said. 
Social distancing measures have been administered across campus along with signs reminding everyone to "mask up" and to "keep their campus safe."
CSU has also implemented social distancing in the dorms. Residence halls have been reconfigured to allow each student a private bedroom. Common areas in the residence halls have been rearranged to ensure social distancing. 
The university's facility management and ancillary services teams have developed enhanced protocols for cleaning and disinfecting classrooms, common areas and high-touch surfaces. Cleaning supplies are available in classrooms where students are required to wipe down their seating area before and after each use. 
Students who show COVID-19 symptoms or have come into close contact with a positive case will qualify for testing at the Health & Wellness Center by appointment. Contact tracing of confirmed close contacts on campus is being conducted by a university contact tracing team in coordination with local public health authorities. 
Cuyahoga County had 17,327 COVID-19 cases with 656 deaths as of Sept. 24. 
Neighboring universities have created new protocols pertaining to COVID-19 to ensure safety. 
Baldwin Wallace in Berea created a "BW Be Safe Pledge." This has led students and faculty to complete COVID-19 awareness and safety training, along with using an app for daily health checks. 
Students are expected to have personal protective equipment, three to five reusable face masks, a personal digital thermometer, hand sanitizer and surface sanitizing supplies. 
BW has enhanced their cleaning protocols across campus based on the CDC's "Guidance for Cleaning and Disinfecting Public Spaces," and requires the use of U.S. EPA-approved disinfectants for use against SARS-CoV-2. Students and faculty are encouraged to use disinfectant wipes on their desks, lab equipment, and other shared spaces. 
Residence halls are restricted to students living in single rooms, and no more than two students are allowed per dorm. Bathroom facilities and common areas have restricted occupancy levels as well. 
BW has included their Be Safe protocols in class syllabi with a link on all Blackboard course sites, and given students more time in between class to reduce crowding during class changes. BW is doing a blend of in-person classes along with remote in order to ensure safety of all students. 
Notre Dame College aims to deliver a personal, face-to-face education system while limiting the spread of COVID-19. Students will have a robust classroom experience combined with technology-based remote attendance. 
Face masks are mandatory among students and faculty at NDC, along with increased sanitation across campus. Students and professors are required to wipe down their workspace at the beginning of each class. 
Residents' living units will function as "family units," and these residents are not required to socially distance or wear a face covering within their family unit. Family units will complete a cleaning contract along with room checks for cleanliness. 
Students and faculty must complete a daily health assessment and monitor for symptoms. Those who do not feel well are advised to stay at home. 
Employees or students who develop symptoms of COVID-19 should self isolate and contact the COVID-19 response team. 
Cleveland State University, Baldwin Wallace and Notre Dame Collegeare aiming to continue COVID-19 safety measures throughout the fall semester to limit the number of positive cases. These universities have reported less than 10 total on-campus cases since resuming classes.