Image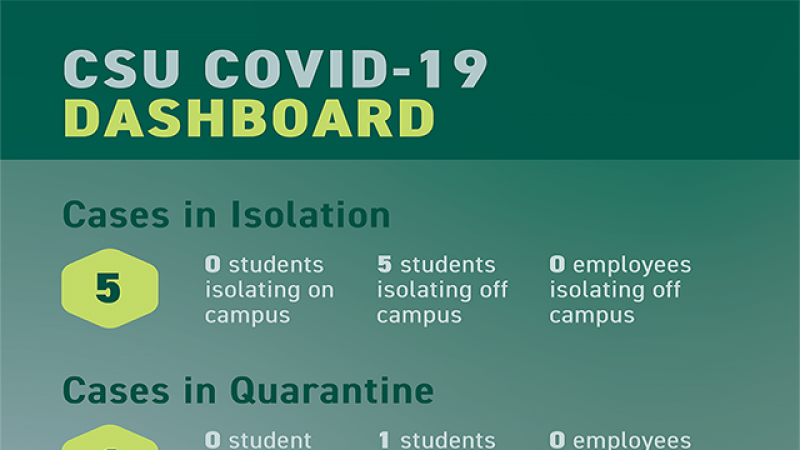 Credit: Eric Seitz
CSU reports small decrease in COVID-19
Cleveland State University reports fewer coronavirus cases in the latest update to its COVID dashboard.
Cleveland State University's COVID-19 dashboard reported a minor decrease across the board on March 23, with the exception of one student in quarantine off campus. 
CSU reported that five students are isolating off campus. One student is in quarantine off campus.
No students or employees are in isolation or quarantine on or off campus at this time.
Cuyahoga County Case Count
Cuyahoga County's test positivity rate is reported to be relatively low as the number of new cases has flattened.
According to The New York Times COVID tracker, an average of 43 cases per day were reported in Cuyahoga County during the past week, a 41% decrease from two weeks ago. 
The number of hospitalized COVID-19 patients has also fallen in Cuyahoga County, reports The Times, but the death count has remained at about the same level.
Since the beginning of the pandemic, at least one in five residents in the county, home to Cleveland State University, has been infected, making a total of 267,450 reported cases.
Isolation: An individual who has tested positive for COVID-19 with OR without symptoms and who must isolate for 10 days from either symptom onset or test result, the last 24 hours of which must be fever free and, if symptomatic, symptoms are improving. 
Quarantine: An individual who either meets the CDC definition of being a close contact of a confirmed COVID-19 case or is arriving at CSU from either a domestic hotspot or international location and must quarantine for 14 days from either last known contact with the confirmed COVID-19 case or, in the case of those arriving from hotspot or international locations, the day of arrival.
Via Cleveland State University's COVID-19 Dashboard
CSU COVID-19 Dashboard update Wednesday, March 23, 2022
0 students in isolation on campus

5 students isolating off campus

0 employee isolating off campus

0 student in quarantine on campus

1 students in quarantine off campus

0 employees in quarantine off campus
CSU COVID-19 Dashboard update Wednesday, March 9, 2022
0 students in isolation on campus

9 students isolating off campus

1 employee isolating off campus

0 student in quarantine on campus

2 students in quarantine off campus

0 employees in quarantine off campus
CSU COVID-19 Dashboard update Wednesday, March 2, 2022
0 students in isolation on campus

9 students isolating off campus

0 employee isolating off campus

0 student in quarantine on campus

2 students in quarantine off campus

0 employees in quarantine off campus
CSU COVID-19 Dashboard update Wednesday, February 23, 2022
0 students in isolation on campus

8 students isolating off campus

1 employee isolating off campus

0 student in quarantine on campus

1 students in quarantine off campus

0 employees in quarantine off campus
CSU COVID-19 Dashboard update Wednesday, February 16, 2022
0 students in isolation on campus

13 students isolating off campus

0 employee isolating off campus

0 student in quarantine on campus

0 students in quarantine off campus

0 employees in quarantine off campus
CSU COVID-19 Dashboard update Wednesday, February 9, 2022
0 students in isolation on campus

11 students isolating off campus

1 employee isolating off campus

0 student in quarantine on campus

2 students in quarantine off campus

0 employees in quarantine off campus
CSU COVID-19 Dashboard update Wednesday, February 2, 2022
0 students in isolation on campus

22 students isolating off campus

0 employee isolating off campus

0 student in quarantine on campus

6 students in quarantine off campus

0 employees in quarantine off campus
CSU COVID-19 Dashboard update Wednesday, November 30, 2021
0 students in isolation on campus

34 students isolating off campus

0 employee isolating off campus

0 student in quarantine on campus

12 students in quarantine off campus

0 employees in quarantine off campus
CSU COVID-19 Dashboard update Wednesday, November 23, 2021
0 students in isolation on campus

49 students isolating off campus

1 employee isolating off campus

0 student in quarantine on campus

20 students in quarantine off campus

2 employees in quarantine off campus
CSU COVID-19 Dashboard update Wednesday, November 17, 2021
2 students in isolation on campus

34 students isolating off campus

3 employees isolating off campus

1 student in quarantine on campus

17 students in quarantine off campus

1 employee in quarantine off campus
CSU COVID-19 Dashboard update Wednesday, November 10, 2021
0 students in isolation on campus

30 students isolating off campus

1 employee isolating off campus

1 student in quarantine on campus

33 students in quarantine off campus

0 employee in quarantine off campus
CSU COVID-19 Dashboard update Wednesday, October 27, 2021
0 students in isolation on campus

22 students isolating off campus

2 employees isolating off campus

1 student in quarantine on campus

13 students in quarantine off campus

0 employee in quarantine off campus
CSU COVID-19 Dashboard update Wednesday, October 20, 2021
1 student isolating on campus

64 students isolating off campus

1 employee isolating off campus

1 student in quarantine on campus

14 students in quarantine off campus

0 employee in quarantine off campus
CSU COVID-19 Dashboard update Wednesday, October 13, 2021
0 student isolating on campus

41 students isolating off campus

2 employees isolating off campus

0 students in quarantine on campus

12 students in quarantine off campus

1 employee in quarantine off campus
CSU COVID-19 Dashboard update Wednesday, October 6, 2021
1 student isolating on campus

61 students isolating off campus

4 employees isolating off campus

0 students in quarantine on campus

41 students in quarantine off campus

2 employee in quarantine off campus
CSU COVID-19 Dashboard update Wednesday, September 28, 2021
0 student isolating on campus

68 students isolating off campus

3 employees isolating off campus

4 students in quarantine on campus

44 students in quarantine off campus

1 employee in quarantine off campus
CSU COVID-19 Dashboard update Wednesday, September 21, 2021
1 student isolating on campus

61 students isolating off campus

3 employees isolating off campus

7 students in quarantine on campus

30 students in quarantine off campus

1 employee in quarantine off campus
CSU COVID-19 Dashboard update Wednesday, September 14, 2021
2 students isolating on campus

43 students isolating off campus

4 employees isolating off campus

2 students in quarantine on campus

37 students in quarantine off campus

1 employee in quarantine off campus
CSU COVID-19 Dashboard update Wednesday, September 8, 2021
3 students isolating on campus

38 students isolating off campus

3 employees isolating off campus

1 student in quarantine on campus

24 students in quarantine off campus

0 employees in quarantine off campus
CSU COVID-19 Dashboard update Wednesday, September 1, 2021
2 students isolating on campus

13 students isolating off campus

3 employees isolating off campus

0 students in quarantine on campus

4 students in quarantine off campus

0 employees in quarantine off campus
CSU COVID-19 Dashboard update Wednesday, August 19, 2021
0 students isolating on campus

1 student isolating off campus

0 employees isolating off campus

0 students in quarantine on campus

0 students in quarantine off campus

0 employees in quarantine off campus