Image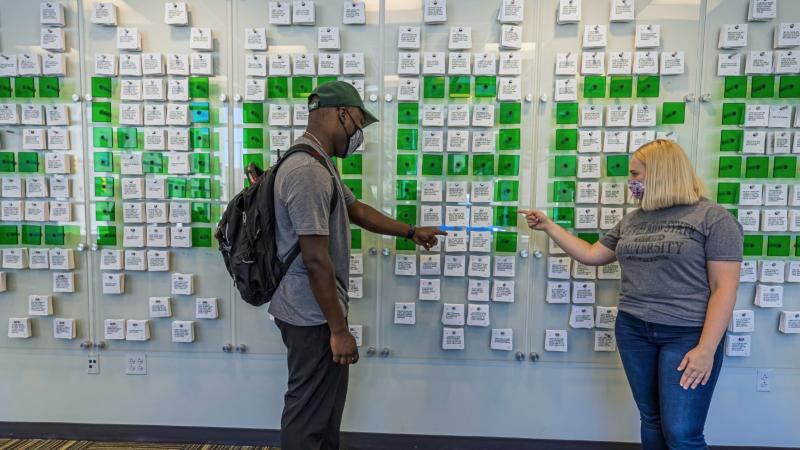 Credit: Cleveland State University
CSU launches limited in-person campus visits
Cleveland State University has begun offering limited in-person campus visits for prospective students and their families.
By incorporating various safety protocols, CSU hopes to give new students the opportunity to explore its campus during the COVID-19 pandemic.
Cristina Sanchez Wayton, the director of undergraduate admissions at CSU, is responsible for developing the plan for these tours. 
"We were getting messages and phone calls from families that felt ready to start coming back to campus," Wayton said. "We thought to do these campus tours again because it is such a big part of the college decision process."
Since CSU relaunched their in-person tours on Sept. 11, there have been 125 visitors. 
Each tour is capped at a maximum of four students who are limited to one guest each to allow for social distancing. 
Prior to the COVID-19 pandemic, the maximum capacity was set to 80 students per campus tour.
"We have drastically cut down the amount of people that we allow to come to campus so that we can space them well in the presentation room, and that we can keep the tour groups very small for each tour guide," Wayton said. "We want to make sure that our visitors who are coming to campus feel safe, and that our current students who provide the tours feel comfortable coming to work."
Each tour session has two tour guides that split the group in half, giving each tour guide four total guests to guide through CSU's campus.
Those registering for the in-person tours must comply with various safety protocols including pre-registering, wearing a facial covering during the entire duration of the tour and keeping a six-foot distance from other visitors.
"Students and families have to read through our Safe Campus Visitor Protocols and take the Health Assessment prior to coming to campus," Wayton said. "Plus we'll have their registration for any contact tracing that the university would have to do if someone were to have a confirmed case."
Aside from the limited in-person tours, CSU has additional options fit for students who may still have concerns about attending an in-person tour.
"We have a number of online visit options like our virtual tour, where we have current students walk people through our virtual tour map," Wayton said. "So it's not setting foot on campus, but you're at least talking to a current student about their experience at Cleveland State University."
Wayton said she hopes that students and faculty on campus recognize the value of having prospective students come to explore CSU and its campus, but reassures that everyone's health and safety is the university's main priority.
"We will do whatever we need to to keep our current students and faculty on campus safe," Wayton said.
In-person campus tours are now underway, with sessions being held Monday through Friday at 10 a.m., 12 p.m and 2 p.m. 
You can find more information here about visiting Cleveland State University.