Image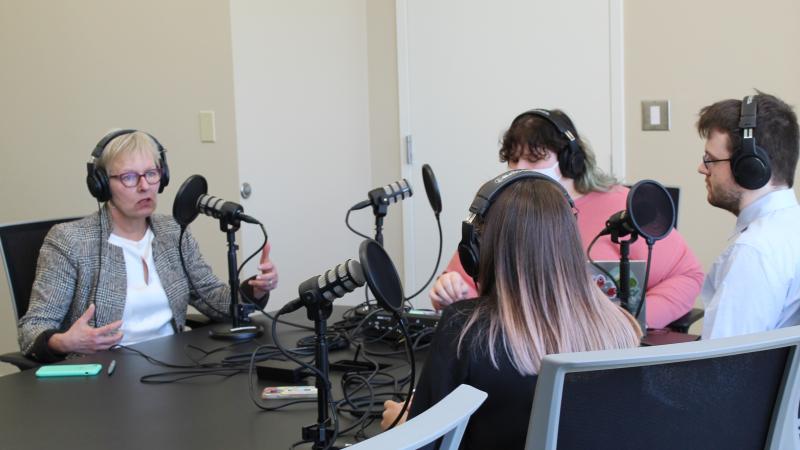 Credit: Mason Cole
President Laura Bloomberg discusses the state of CSU
Cleveland State University President Laura Bloomberg, Ph.D., reflects on her first year in office, Ohio Senate Bill 83, CSU 2.0 and more in an interview with The Cleveland Stater and The Cauldron on April 11.
Cleveland State University President Laura Bloomberg, Ph.D., reflected on her first year in office, Ohio Senate Bill 83, CSU 2.0 and more in an interview with The Cleveland Stater and The Cauldron on April 11.
First year as university president
On April 27, 2022, Dr. Laura Bloomberg received a standing ovation from the faculty senate when introduced as the new president of Cleveland State University. 
Almost one year later, she can't believe how time has flown by. 
After devoting her entire career to education in both higher education and K-12 education Bloomberg said a highlight of her position is the opportunity to hear stories from students who have really big dreams.
"It always makes me want to work harder to do the best possible job I can of stewarding an institution," Bloomberg said about those students' stories. 
In her first year as president, she said she was most proud of rolling out the Campus Master Plan, the successful realignment and naming of three newly formed colleges and working towards the notion of living well together on campus and in our city. 
"For me, a highlight is trying to figure out what that would look like when we really live well together and when we really savor and appreciate our placement in the heart of urban Cleveland," Bloomberg said. 
Despite a warm welcome, Bloomberg's assumption of the president's role came as a surprise to many of the students and faculty. The departure of her predecessor Harlan Sands was abrupt and unexpected. The Cleveland State board of trustees gave, and has given, no explanation beyond that Sands was no longer a good fit, leaving it up to students' and faculty's imaginations as to what happened.
Bloomberg said however, that to her knowledge, there is no "smoking gun" as to why Sands stepped down as president. 
"That is really a board decision. I accept that explanation that it wasn't a good fit," Bloomberg said. "I think that without fully understanding what happened, I know these jobs are hard and I know that people come into these jobs wanting to do the right thing. And so beyond that, I'm not trying to hide anything. I just don't know if I have more I can tell you about it than that." 
Ohio Senate Bill 83
On Senate Bill 83, which has triggered concern throughout the Ohio state higher education system, CSU's president said she believed her time, right now, was best spent studying and talking about the bill.
"There are a lot of opportunities to speak out in opposition to this (bill) and I intend to speak out," Bloomberg told the Faculty Senate at its March 29 meeting. She added that she did not see higher education as "a problem to be contained in Ohio" but rather as an "asset to be amplified."
On the day of this interview, Bloomberg met the bill's author, Republican State Senator Jerry Cirino.
Cirino introduced Ohio Senate Bill 83 in March 2023 in the name of free speech. The 39-page bill, titled the "Higher Education Enhancement Act," aims to ban at public universities like CSU:
"Bias" in classrooms

Affinity groups and affirmative action policies

Public positions on controversial issues

Relationships with China

Mandatory Diversity, Equity and Inclusion training

Labor strikes and forms of collective bargaining
The bill, if passed and signed into law in its current form would also require:
U.S. history and government courses for all students

Teacher information and course syllabi to be put online and made public

Review of tenure

Revised faculty workload policies 

Rewritten mission statements to include that students reach their own conclusions in the classroom

Discipline and funding loss for violations
Bloomberg said she has read through SB83 at least two dozen times, to fully understand the "intent and core values" that led to it. 
"He (Cirino) is aware there are parts of this that I cannot support, but to say that is one thing, to do something about it is another," Bloomberg said. Later in the interview, Bloomberg added, "I don't think that because I make suggestions the senator is necessarily going to say, 'Oh, good idea, I'll do that right away.'"
Bloomberg said she met Sen. Cirino in summer 2022 when he first told her he was envisaging a higher education bill. Bloomberg told the senator then that some of the things, like a tenure review process and workload policies, were already done at the university. She said she believes that conversation prompted Cirino to assume she supported the bill. 
Bloomberg did not say that Cirino had mischaracterized her position, only that she believes his misunderstanding was based on that conversation. 
Bloomberg said she wants to know the bill "very, very well" before she takes a position. She said she is working to better understand where common ground can be found with concepts behind the bill, the financial and legal implications of the bill, and contradictions within the bill by identifying inconsistency between clauses. 
"One place I believe we can find common ground is in the notion of protecting free speech," Bloomberg said, although she added that she doesn't necessarily believe that the current bill will achieve that. "Higher ed. should always be about protecting the free exchange of ideas on all sides."
Bloomberg also voiced her support for the concept of protection of intellectual property from the Chinese government, which has been accused of stealing intellectual property from U.S. institutions. But she does not support what the bill says about the relationship of higher education institutions with the Chinese government or Chinese scholars and students.
Bloomberg believes that if the bill is passed as is, it will create tension between the university and the faculty, but as a campus community all sides would have to think about what the legislation means and how to uphold CSU's principles.
At the Faculty Senate meeting on March 29, many professors expressed concerns about the legislation, saying that it is "poorly written" and "micromanaging universities." 
When asked if she supports the right for faculty to strike, one thing SB83 aims to ban, Bloomberg declined to answer what her position would be if the current rules were to change. 
"We have a relationship agreement with a number of collective bargaining units and I imagine we need to follow whatever those collective bargaining agreements are, and right now those agreements create the opportunity to strike," Bloomberg said. 
At the faculty senate, Bloomberg said there will be a lot of opportunities to speak out against the bill. Engaging with Cirino and his colleagues and talking to the state's other higher education institutions are her ways to do so. 
"We all know there's places, there's time and opportunities for protests of all kinds of civil actions, and then there's some times where you just need to sit down and just keep talking," Bloomberg said. "Right now, that's where I believe my time is best spent."
CSU 2.0 & the Campus Master Plan 
In November 2022, the Board of Trustees endorsed a "Campus Master Plan" to ensure the university has the infrastructure needed to achieve CSU 2.0.
CSU 2.0. aims to revitalize Cleveland State to support the university's academic and research missions, enhance the student experience, increase and elevate on-campus housing, and expand partnerships throughout the city. 
The Master Plan envisages replacing the Wolstein Center with a partnership district, creates a reimagined student experience district off of Chester Ave., improves intersections around the university, and renovates Rhodes Tower as campus housing among other things. 
Bloomberg is excited to see the Master Plan come to life throughout the next decade as funding is secured and bidding takes place. She hopes to see projects come to life within the next four years.
The President is first looking forward to "green" parking spaces for the commuter campus, saying that CSU never plans to back away from its mission to serve commuting students who don't or can't use public transit. Currently, parking is maintained through surface lots around campus, a major lot is in the middle of campus between East 19 and East 21 streets. 
The university plans to bury the Central Garage to create a continued courtyard space while maintaining parking underneath. 
Bloomberg also said that Rhodes Tower renovations will create affordable campus housing with an inspiring view of the city and Lake Erie for students who cannot afford luxury apartments downtown.
"I think something changes in us when we wake up every morning and see that beautiful, great lake," Bloomberg said. 
Rhodes Tower renovations are a priority of the Master Plan. But a timeline has yet to be established. Funding has been received for asbestos abatement, Bloomberg said, and historic tax credits may be leveraged for further renovations. 
The asbestos in Rhodes Tower is of particular concern. A Request For Proposal (RFP) – a formal solicitation process to contract for a professional service – must still be put in for removal of the carcinogen. Once the asbestos is removed and the building is ready for renovation, "swing spaces" for offices currently in the building must also be secured. 
Bloomberg is excited about the multiuse arena to house basketball programs, serve as a magnet for concerts and performances, and be used as a gathering space for students. The arena will be paid for through private partners, giving them equity in the reimagined space, and an RFP is in the works.
"All of this seems slow, but it's a big investment," Bloomberg said. "So we want to make sure we get it right."
Funding for the $650 million plan will come from state legislative appropriations, public-private partnerships, and expanded philanthropy but will not touch student tuition fees, Bloomberg said, adding that philanthropy for building will not compromise philanthropy for student support. 
"If we look back 10 years from now and 90% of that Master Plan is implemented, I'll consider that a success," Bloomberg said. 
Enrollment 
As part of CSU 2.0, the university underwent a rebranding at the beginning of the spring 2023 semester debuting a new logo and tagline highlighting CSU's location in downtown Cleveland. 
The rebranding is part of a broader Cleveland State plan to deal with its enrollment problems, which came to light in the past year. 
In Sept. 2022, CSU Provost Nigamanth Sridhar told the university that enrollment had fallen by 20% since 2018, from 16,400 to 12,900 students. This spring, enrollment was down by another 1,217 students. COVID coupled with a shift in demographics were cited as major reasons for the drop in enrollment.
Bloomberg hopes the rebrand entices students from surrounding areas like eastern Illinois, southern Michigan, and western Pennsylvania to consider what Cleveland and CSU have to offer as a means to supplement dropping enrollment.  
"I am absolutely in love with Cleveland having come from Minneapolis," Bloomberg said. "It's a great city and a great lake. So I think we have a pretty powerful story to tell. And so, I'm bullish on the future of urban regional institutions and I'm bullish on our ability to recruit."
With fewer students coming straight out of high school into a four-year institution, Bloomberg said Cleveland State should think more flexibly about what it means to be a college student. 
"I think regional urban institutions like this are essential and they will be essential for the foreseeable future. We will have ebbs and flows of enrollment, and I want enrollment to go up, too," Bloomberg said. "But when we think about demographic shifts, the demographic shifts that are impacting colleges now happened 18 to 25 years ago. So we have to acknowledge that. But that doesn't mean that we can't recruit in a different way." 
Flexibility would include the recruitment of transfer students from other institutions and community colleges, expansion and amplification of fully online degrees through their website and social media, CSU global, and enticing students to return to college with programs like the Ohio College Comeback, which has yet to produce real results, with only a 2% success rate to date.
If enrollment does not increase, this may impact the number of employed faculty and sections of courses students have to choose from, Bloomberg said. But it will not substantially harm the student experience. 
Housing for International Students
With enrollment rates down, one source of students is to recruit not only out-of-state, but abroad. CSU Global has been tasked with bringing to Cleveland international students, who currently make up 6.2% of the student population. 
However, the rollout of CSU Global has had teething problems, including where to house the incoming students. Currently, international students are contracted to live at Reserve Square Apartments in downtown Cleveland. But concerns have arisen from the student government about the arrangement and whether students are being overcharged for housing. 
Bloomberg explained that Reserve Square Apartments became the default for international students because CSU Global wanted to partner with an apartment building to guarantee a secure place for international students to live and contracted to reserve a block of rooms to ensure students coming from abroad had somewhere to live.
"So, it's like let's at least make sure everybody's housed first," Bloomberg said. "I realized that in thinking about the whole you lose some freedom and flexibility of individual choice in that, and so those were tradeoffs that we made." 
Bloomberg added that when students bring up these issues at meetings they have an impact. However, she did not indicate whether or how the administration would move forward on the issue. 
Removal of Marshall from the College of Law name
CSU's board of trustees approved the removal of the name "Marshall" from its Cleveland-Marshall College of Law after 18 months of contemplation. Following the vote, banners were immediately put up to cover the name around campus, but over time became weathered, torn or missing. 
Bloomberg said the banners would be replaced, but official signage will take time to be changed due the cost being "capital outlay." She added that Marshall's name was likely to remain within the curriculum. 
"John Marshall, the legal scholar, had made huge contributions to American jurisprudence that will always be there," Bloomberg said. "I don't imagine a future where we won't be talking about (him) ... We have three branches of government because of the vision of John Marshall. There's just no denying that. That doesn't mean that his name has to be on the building. That was kind of the core argument."
Theft of the Solidarity for Palestinian Human Rights banner
In January, the Solidarity for Palestinian Human Rights student organization banner was stolen from the CSU student center by a frequent courtyard visitor, Alec Popivker. Popivker had a history of coming to campus and haranguing the school's Muslim and Palestinian communities and was arrested by the university's police department on Jan. 25 for violating a protection order connected to a CSU student.
After the theft of the banner, the university presented evidence to the prosecutor to charge as a hate crime, but the prosecutor charged for petty theft, citing a lack of evidence. Bloomberg said the university felt it had handled the issue appropriately, meeting with necessary individuals at the time of the event, rather than questioning the prosecutor's decision.
"I was much more interested in working to make sure that the sign was replaced, that the harm was corrected, and that the chance of it happening again were eliminated," Bloomberg said. 
Relationship with Student Organizations
Bloomberg said that the voices of the students are essential at a university.  When the student government speaks at the faculty senate, it gets people's attention, and she believes the trustees take that very seriously. 
Going into her second year of the presidency she wants to do a better job of regularly meeting with student leaders. 
"I really appreciate the conversations that I've had when I sat down with our LGBTQ students talking about particular issues and concerns they have on campus and certainly the solidarity for Palestinian human rights group that I met with, those are really important conversations to have," Bloomberg said. 
Message to campus community 
Bloomberg said she wants a campus community that "lives well together." She believes that we are better learners when we figure out how to be together in a community that can disagree respectfully and use its differences to amplify everyone's well being as an urban campus. 
"If I were to look back at the end of my presidency, whenever that will be, hopefully a long time from now, and think about my success, I would love to think about a campus Master Plan implementing, our enrollment being where we want to be, but more than anything else, I'd like to think about living well together," Bloomberg said. "It's not the university's mission. It's not the logo. It's just my sort of from the heart vision of what leadership should be in higher education, living well together on our campus, in our city. I would love for people to think about what that means for us individually and as a community."
For the full interview, visit https://clevelandstater.podbean.com/e/president-laura-bloomberg-discuss…. 
** The Stater's Editor-in-Chief, Abigail Preiszig, and The Cauldron's Editor-in-Chief, Jaden Stambolia, spoke with Bloomberg in her office at CSU, April 11, 2023. Lydia Kacala, audio, and Mason Cole, photography, assisted.