Image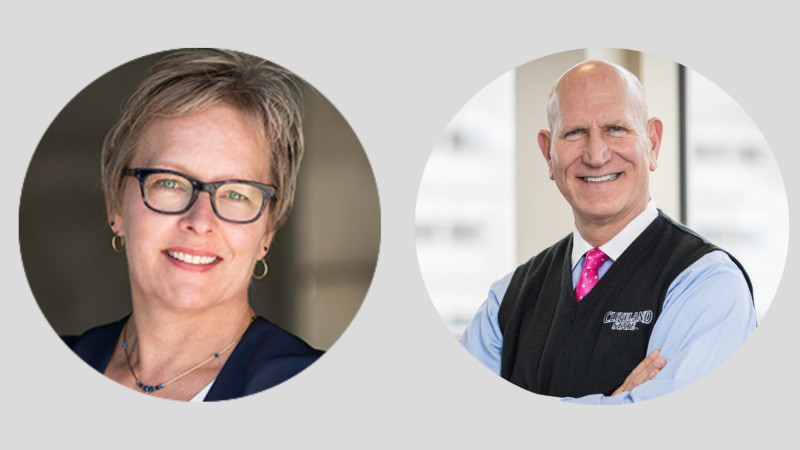 Credit: Mary Dudzik
Bloomberg replaces Sands at helm of CSU
Harland Sands' time as CSU president is over. The university's president is now Dr. Laura Bloomberg, appointed in a shock move announced Tuesday.
Harlan Sands and the CSU Board of Trustees mutually agreed that Sands would step down as the president of Cleveland State University over differences regarding how the university should be led.
In an email Tuesday to the university community, the Board of Trustees named Dr. Laura Bloomberg, CSU's current provost and Senior Vice President for Academic Affairs, as Sands' successor and the university's eighth president.
Sands' departure was unexpected as the Board of Trustees in April 2021 extended his original contract -- which ran from May 2018 to June 2023 -- for a further three years through to June 20, 2026.
At the time, the board cited its great confidence in Sands.
"Harlan is a dynamic leader and there is no one our Board would rather have leading us during this time of great change and challenge," said David Gunning, then chair of the CSU Board of Trustees. Gunning added that the contract extension was a demonstration of the Board's "full faith and confidence in President Sands' leadership and ability to carry out CSU's mission and expand its transformational reach."
What happened between April 2021 and now is not clear as the board's email on April 26, 2022 lacked any specifics about the change in mood, only that it was time to move on.
"The Board recognizes that CSU has made significant advances during Sands' tenure and is on solid footing," CSU Board of Trustees' chair, David Reynolds, said. "Over time, however, it has become clear that this simply is not a good match for either party going forward."
Sands' time at CSU may not, however, be over. Ideastream is reporting that Sands will move to a tenured faculty position at the CSU Cleveland-Marshall College of Law this fall. That option was part of Sands' original contract. The Cleveland Stater has reached out to the university to find out whether Sands, indeed, will be staying.
The Stater has also reached out to Athletic Director Scott Garrett for comment on Sands' position -- when he was president -- as the Horizon League representative to the NCAA Division 1 Board of Directors.
"We're very pleased to have President Sands representing the Horizon League on the NCAA Board of Directors," Horizon League commissioner Jonathan LeCrone said in August 2020. "Since arriving at Cleveland State University, he has been an excellent addition to our league's Board of Directors, working on behalf of CSU and the Horizon League's student-athletes. He brings a wealth of experience in higher education and we know he will represent CSU and the Horizon League well."
Bloomberg takes over as CSU's president
With Sands' departure, Dr. Laura Bloomberg moves from her position as provost, essentially chief of academics, to the administrative helm of the university. She is the second woman to hold the post, following Claire Van Ummersen who was CSU's president from 1993-2001.
Bloomberg is a recognized leader in public and global policy education. She previously spent 24-years at the University of Minnesota, most recently serving there as the Dean and Associate Dean of the Hubert H. Humphrey School of Public Affairs.
"I have been inspired by the fundamental strengths and resiliency of both the community and this university, and I look forward to a very exciting future together," Bloomberg said in a statement.
Reynolds expressed the board's pleasure that Bloomberg will be leading the university now in a difficult time, as it continues to grapple with COVID and reorganize itself under the banner of CSU 2.0, a plan to restructure the university which Sands had spearheaded.
Reynolds also emphasized how well Bloomberg has worked with faculty and students. 
"We are very pleased that in Dr. Bloomberg we have an energetic, dynamic and highly qualified academic leader already within our ranks who is exceedingly prepared to lead this university as it emerges from a very challenging period," Reynolds said. "During her relatively brief tenure at CSU, she has quickly demonstrated her ability to work well with faculty and students, as well as excellent external relations and fund-raising skills."
CSU university marketing on Tuesday said Sands would remain available through June 24 to facilitate a transition.
This is a developing story and will be updated as needed.