Image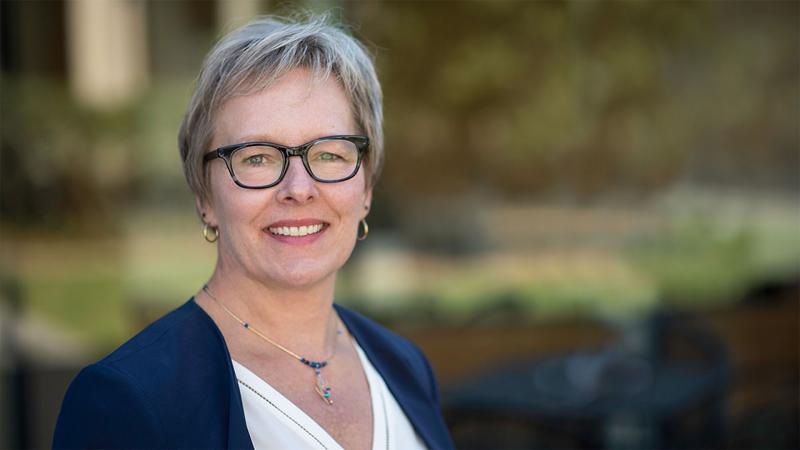 Credit: Cleveland State University
Faculty were ready for change, Bloomberg takes the reins at CSU 2.0
Faculty gave newly appointed president Dr. Laura Bloomberg a standing ovation at the Senate meeting April 27.
Faculty gave Dr. Laura Bloomberg a standing ovation at the CSU Faculty Senate meeting April 27 when she was introduced as the new president of Cleveland State University.
"Shall we just say that the faculty are very glad that there was a change," Senate President Robert Krebs told The Stater. "They were stressed over how things are going at the university."
Krebs' comments came after CSU and then President Harlan Sands parted ways April 26 "over differences regarding how the university should be led in the future."
The CSU Board of Trustees' abrupt reversal of support for Sands was unexpected, as a year ago it had extended his contract for a further three years, expressing its full confidence in the president, including his stewardship of CSU 2.0.
Future of CSU 2.0
As president, Sands was a driving force in the plan to revamp the university's college structure. After Bloomberg started work as provost at Cleveland State in September 2021, Sands put her in charge of implementing CSU 2.0. She has been working with faculty since then in a bid to marshal broad support for the plan.
However, disgruntled faculty have made their opposition to elements of CSU 2.0 clear in recent months. At a Faculty Senate meeting on March 30, Krebs called for faculty to work together and not blame each other for changes that were happening as a result of the implementation of the plan.
Bloomberg updated the campus community April 27, telling them the goals and aspirations of CSU 2.0 remain unchanged. She reiterated that message to faculty at the Senate Faculty meeting later that day. 
Krebs said he felt Bloomberg has done a good job of earning the confidence of stakeholders, although some faculty remain leery of the changes. 
"Bloomberg clearly said in her speech that we're moving ahead with this and she's fully accepting that we'll still be changing a lot of the pieces all through next year," Krebs said. "But that the basic structure is going to go forward."
Krebs added that the CSU Board of Trustees has every confidence in Bloomberg following through with the plan.
"I've had a conversation with (CSU Board of Trustees chair) David Reynolds. He was very clear on that -- just because we're changing leadership at Cleveland State, we're not stepping away from CSU 2.0," Krebs said. "He pointed out that that was kind of a mandate on the new president."
Bloomberg appointed without national search
The Senate president said that Reynolds and he had discussed the board's decision to appoint Bloomberg as president, rather than as interim president followed by a national search to find a permanent replacement for Sands.
"They've (the board) had a chance to feel that she could do this job and that they weren't going to put her through a search," Krebs said. "They felt that that was the wrong approach." He added that part of the board's decision was aimed at keeping Bloomberg at CSU, given her reputation and talent.
Krebs acknowledged that the board's action did, however, open it up to questions of procedure and shared governance. 
"Now, the downside of this ... is there is an expectation of shared governance ... an expectation of at least corresponding and involving faculty with their (the administration's) decisions," Krebs said.
The next faculty senate meeting is Sept. 14, 2022. Krebs' term as CSU faculty president is set to expire, and he told The Stater he would not be seeking reelection.