Image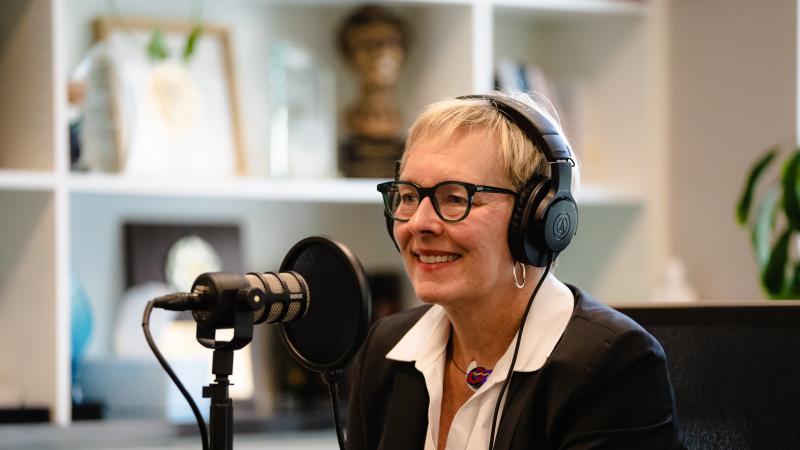 Credit: DeAndré Patrick
President Laura Bloomberg discusses CSU's future, her vision
Bloomberg spoke to The Cleveland Stater ahead of her inauguration as Cleveland State University's 8th president this coming Friday.
CSU President Laura Bloomberg discussed in a wide-ranging interview with The Cleveland Stater her support for changing the name of the Cleveland-Marshall College of Law, the School of Urban Affairs and the Levin name, Cleveland State's decline in enrollment, what it's like to be a university president as a woman, and her hopes for the future of the university.
The Stater's Editor-in-Chief, Mary Dudzik, conducted the interview on Sept. 26, ahead of Bloomberg's inauguration this coming Friday as CSU's 8th president.**
Dropping the name of John Marshall from the law school
"I submit to you (the CSU Board of Trustees) my acceptance of the recommendation to remove the name of John Marshall from CSU's Cleveland-Marshall College of Law," Bloomberg wrote in her Sept. 2 memorandum to the board, after she reviewed the findings of the ad hoc committee set up by the university to determine whether to drop Marshall's name from the law school.
Asked by The Stater whether she expected the trustees to drop the name, the president was diplomatically silent, saying it was not her decision.
"It is my recommendation that they (the trustees) bring it up in November," Bloomberg said. "And then at that point, it is up to the board itself whether they bring it to a vote."
The debate whether to drop the name of John Marshall, the fourth chief justice of the U.S. Supreme Court, has gone on for more than three years at CSU.
"Marshall's time on the Supreme Court was notable for its successes, but opponents of the name say those successes are overshadowed by Marshall's legacy as a slave owner," Jaden Stambolia wrote in spring 2022.
If the board of trustees approves the recommendation of the ad hoc committee and president, the search for a new name will begin.
"If we don't make a decision that's grounded in good policy, we're in trouble," Bloomberg said. 
The name of Maxine Goodman Levin and CSU's School of Urban Affairs
The realignment of colleges at CSU begun under Bloomberg's predecessor, Harlan Sands, produced as part of its restructuring of the university a new College of Education and Public Affairs. 
The Maxine Goodman Levin College of Urban Affairs was integrated into the newly established college, known by its acronym CEPA, and was renamed the CSU School of Urban Affairs.
Bloomberg said this was being rectified.
"There will be a Maxine Goodman Levin School of Urban Affairs," the president said. "It becomes a part of this much larger college." Bloomberg also told The Stater more information was likely on this in the future. "But right now for sure, that name stays with urban affairs, which is a significant part of the broader college that includes education and public affairs."
Enrollment decrease
President Bloomberg addressed the news CSU Provost Nigamanth Sridhar, Ph.D., told the university community on Sept. 14, that CSU's enrollment has fallen 20% since 2018, from 16,400 to 12,900 students between fall 2018 and fall 2022.
Bloomberg described it as a "rather steady decline in overall enrollment," and added that the "trend tracks with what's happening nationally." She said she was confident in the future of student engagement on campus. 
Bloomberg said one of the positives that have come out of the university attempting to fix the decline in enrollment is CSU Global. Sridhar, at the Sept. 14 faculty senate meeting, said that CSU Global was only supposed to bring in 300 new students in its initial iteration, but ended up sending 700.
"We need to recognize that we have a large number of students from India," Bloomberg said, and that it was up to the university to make them welcome. 
"We didn't have a lot of culturally respectful food options," she said. "Now you can see in our dining facilities we do have Indian food."
Bloomberg added that cultural enrichment goes both ways.
"It's not just for those international students, it's for all of us," the president said. "I, for one, am really excited about that."
One bright moment from the provost's report to the senate was the marked increase in first-year retention rates which are up from 49% in 2009 to 70% now. 
For now, President Bloomberg is focused on ways to keep students engaged and enjoying their time on campus as they pursue their educational goals.
"We also need to have opportunities for as many different kinds of student groups as there are students who want to engage," Bloomberg said, pointing to the range of recreational opportunities in the Rec Center as an example. 
"Those are all things that build a sense of community so that people who want to be on campus feel like they're in a thriving place to be," the president said.
On being the second woman president of the university
President Bloomberg is only the second woman in CSU's history to have that role. The other was Claire Van Ummersen who served as president from 1993-2001. 
Bloomberg said she takes inspiration from former U.S. Secretary of State Madeleine Albright as a model for women in leadership and as a mentor, including to young women.
"She (Albright) would say that when a woman who was aspiring in leadership anywhere in the world would call her, she would always take the call," Bloomberg said. "She would always understand that as a role model, she had a special opportunity, if not an obligation, to offer support, encouragement and guidance, whenever possible. And I like to try to follow that model as a way of supporting young women." 
Message to the students
President Bloomberg told The Stater how she has spent her entire life in education.
"From being a special education teacher to a high school principal to a professor and a dean and a deputy superintendent of K-12 education," Bloomberg said.
She has witnessed students of all age groups, from k-12 to college students. She said that what she has learned from these experiences is that the administration needs to listen to students and their ideas. 
Hopes for the future
President Bloomberg has many hopes for the future, but specifically wants to focus on the university's role in the Cleveland community and the region it serves.
"I want us to solidify that role as an anchor and also be a beacon," the president said.
"You asked me about our international students and I said, 'I think that they are a huge benefit to campus.' ... We shine a bright light that draws people here to Cleveland, to northeast Ohio and to this campus. When we do that well, we create a thriving campus in this city for people all over the country and potentially all over the world." 
** Editorial note: DeAndre Patrick did the photography for the interview. Jack Gillespie provided audio and technical support.