Image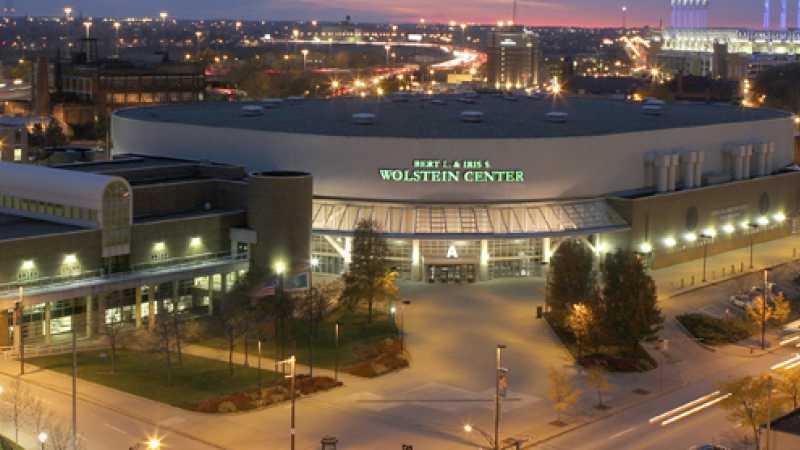 Credit: Cleveland State University
CSU plans to demolish Wolstein Center in new master plan
Cleveland State University announced a new master plan with major changes which include demolishing the Wolstein Center and replacing it with a "Partnership District."
Cleveland State University unveiled at a board of trustees meeting on Nov. 17 a $650 million dollar master plan with major changes to include demolition of the Wolstein Center and replacing it with a "Partnership District" to drive economic development in the area and better connect the university to the city and region.
The overall plan envisions a remastered university, using the land in a smarter and more strategic way. It is expected to take 10 years to complete according to Cleveland.com, which sat down with CSU's Senior Vice President of Business Affairs and Chief Financial Officer David Jewell to discuss the project.
Jewell told Cleveland.com that the open-ended nature of the Partnership District is "a strength of this plan'' because it would enable collaboration between the university, private developers, and city and county government.
"This district provides an opportunity for us to work with the city, county, and our education, corporate and health care partners to develop 10 acres of prime, downtown real estate next to a major RTA hub and a parking garage,'' Jewell said. "The possible collaborations and benefits to the university and the community are only limited by our imagination."
Wolstein Center
The Wolstein Center opened in 1991 as the CSU Convocation Center. In 2005 it was renamed after Bert Wolstein, a CSU alumnus and Cleveland area real estate developer, and his wife Iris. Although part of the school's campus for 31 years, the arena is often idle or near empty and currently operates with a deficit of $1 million or more a year. Talk of demolishing the center has been ongoing since 2016 as well as plans to replace it with a smaller facility with housing.
The new master plan calls for replacing the 13,000 seat arena with a 5,000 to 7,000 seat facility to house sporting events, concerts and other events while being located next to the Krenzler Field and neighboring the Rec Center and the school's softball field. 
The physical changes that are entailed in the new master plan will provide the physical structure for the university's strategic realignment known as "CSU 2.0" to be rolled out as planned. 
Caption: The CSU campus as envisaged after its reimagining in the  university's new master plan. (Cleveland State University)
CSU President Laura Bloomberg Ph.D. told the university community that CSU is looking forward to amplifying the students' experience at school. 
"We're excited about the opportunity to better link our students and the community to CSU athletics while creating vibrant entertainment opportunities in this part of downtown," Bloomberg said. "We want to enhance the experience for our students, student athletes and fans, and draw more visitors to campus."
Other elements of the plan
According to the plan, the academic core of the university willl also be reshaped through, in part, a reimagined Rhodes Tower that converts the first four floors into a library and social spaces and adds student housing to the other 13-floors, offering housing to nearly 500 students. No mention was made of the troubled history of the building.
Along with new student housing, two new buildings will be added to the west of Rhodes Tower hosting active learning classrooms, laboratories and collaborative spaces that could change teaching and learning methods. One of the two buildings will also be another student housing location as well. 
A Corporate Connecting building will be placed east of Berkman Hall as the starting point of the university for partners and other associates to stay connected to research, faculty experts and a workforce consisting of CSU grad students and undergrads. 
Additionally a new campus quad will be added between a new academic building and the Music and Communication Building, connecting to the already existing Student Center plaza. 
Next steps
The university stressed that there are no firm timelines to these structural plans to start to undergo construction. The master plan still has to undergo the finalizing stages of development, funding, detailed budgets and timelines. 
CSU has contracted with Sasaki, a global interdisciplinary architecture, planning, landscape and design firm with extensive experience in both urban and campus planning, to develop the master plan.