Image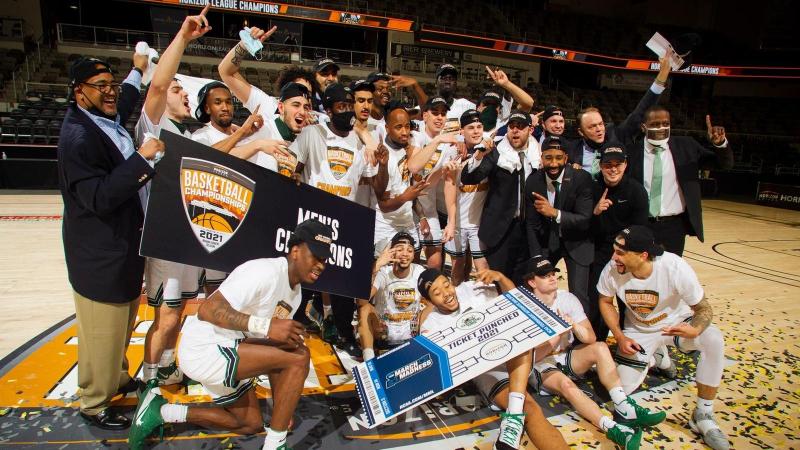 Credit: Cleveland State Athletic Department
Loaded with experience, Vikings men's basketball aims higher in 2021-2022
The Vikings return all five starters from last season.
Cutting down the nets at the Horizon League Championship last spring has left the Cleveland State men's basketball team craving more. 
More heart; more hustle; more desire to fulfill head coach Dennis Gates' vision to one day cut down the nets for a different kind of championship.
Led by the back-to-back Horizon League Coach of the Year, the Vikings and Gates, rewrote the program's history books last season, totaling 16 league wins, their most since the 1992-1993 campaign. Cleveland State ended their regular season run with a share of the league title with Wright State and went on to win the Horizon League Championship, punching it's first ticket to the NCAA Tournament since 2009, and third in program history. 
It was one wild ride as Cleveland State was cast into the national spotlight and got the full experience, including an unforgettable trip to the Indianapolis Motor Speedway during Selection Sunday weekend. That joyful ride crashed to a halt when the Vikings were outmatched by a Houston Cougars squad that would go on to reach the Final Four. 
An unforgettable journey, but one that Gates and his men know they must put in the rearview mirror.
"No, actually I don't even really think about it, I can't comprehend it," Gates said of last year's trip. 
"For me, as a head coach, my job is to look forward and not really observe what has happened," Gates said, "but try to make sure that nothing is in our path so that we can rebuild and continue to build something that I think has to reset each and every year."
After rumblings of interest from other teams, the Vikings and Gates agreed to a contract extension through the 2026-2027 season, putting to bed the notion that CSU might have just been a stepping stone for a larger program. Instead, Gates has begun the process of turning the Vikings into the larger program.   
Cleveland State is loaded with experience this season. Having lost only a few players, mainly to the transfer portal, the Vikings welcome back 10 returning seniors and their entire starting five from last year's historic run, which includes Tre Gomillion (Horizon League Defensive Player of the Year), Torrey Patton (All-League First Team), Craig Beaudion, Deante Johnson (All-League Defensive Team) and D'Moi Hodge.
A senior-laden squad is always welcome news for a coach, but for this group in particular, Gates has watched them evolve from junior college (JUCO) to the bright lights of the national stage. Throw in the fact that they did it during a global pandemic that tested their mental and physical ability and it's even more compelling. 
"I feel good about our guys because I know what they are mentally made of, I know what they are mentally capable of and I know the sacrifices they have made in the past," Gates said. "The extra layer of discipline in any program is gone because everyone is outside — the world is open. You've got to limit distractions and maintain your day to day business, and make sure to stay as focused on your goals as possible."
The team
One of those former JUCO players is Gomillion, who has become the league's best defender and the backbone of Cleveland State's success. The 6-foot-4, 215-pound guard appeared in all 32 games last season and averaged 8.2 points per game, 4.8 rebounds per game and amassed 110 defensive rebounds. He posted a 46.5 field goal percentage.

Gomillion looks forward to the challenges of a new season, and knows CSU is no longer a team to take lightly. 
"We just got a target on our back," Gomillion said. "Last year, we were mostly hunting after people. People didn't want to give us that respect. We got that respect and now we have got to keep it."
Gomillion's running mate Patton was the offensive leader of the group last season. He averaged a team-high 14 points, eight rebounds and 2.7 assists. Patton also posted a 46.3 field goal percentage.
The Dayton, Ohio native said the decision to come back for his fifth year of eligibility was an easy one. 
"I was excited," Patton said. "I've grown to love Cleveland, the team, the staff, the coaches and the community and you know, everybody around. It was a no-brainer to just come back one more year with these guys and make it back to the tournament." 
The chemistry continues to be a staple of the program, and with a few fresh faces, Patton is excited to see how they mesh. 
"I feel like we are just excited coming into the upcoming season," Patton said. "We have got a lot of guys returning and a lot of good pieces coming in. They are great players, but not just great players, great people all around. That's starting to become the culture here at Cleveland State."
New players this year include: 
Nathanael Jack — 6-foot-5, 195-pound senior guard
Broc Finsteun — 6-foot-4, 200-pound senior guard 
Deshon Parker — 6-foot-4, 195-pound senior point guard
Cole Middleton — 6-foot-6, 220-pound freshman forward 
Anderson Mirambeaux — 6-foot-8, 305-pound junior forward
You can see Cleveland State's 2021-2022 full roster here.
Players to watch: Cleveland State's contributions came from all over the court last season. Here are a few players who could have a big emergence this season.
(FR) Cole Middeton — At 6-foot-6, 220-pounds, Middleton could very well see some consistent playing time this season. He has the build and frame to battle with the rest of the league. He recorded 77 blocks in his senior year and tallied 13 straight games of 10 or more rebounds. Look for the Pace Academy (GA) star to at least be a strong backup for Johnson down low and push for a starting role.  
(SO) Jayson Woodrich — Woodrich was the spark of the team last year off the bench. He scored 10 or more points on three separate occasions and was crucial in keeping the Vikings season alive with 11 second half points in CSU's Horizon League semifinal victory over Milwaukee. He should continue to get more playing time and be a consistent threat from deep. 
(SR) Craig Beaudion — The 6-foot-3, 170-pound guard is primed for an even greater contribution this season. He delivered consistent numbers and was key to the Vikings offense last year. He tallied 10 or more points in 12 games and led the team in steals. He also dished out six assists three different times. Beaudion averaged 9.3 points, two rebounds, 3.3 assists and 1.1 steals last season.  
(SO) Demetrius Terry — The St. Edwards sensation played in just 21 games in 2020 and saw limited action for the Vikings. The 6-foot, 175-pounder has strong potential and will likely get some more opportunities this season to show what he can do.
(SR) Algevon Eichelberger — Plagued with injuries last season, the 6-foot-8, 250-pound sixth-year senior forward provided the Vikings with the highlight of the season as he drained a 3-pointer to force double overtime in the Vikings Horizon League first round game against Purdue-Fort Wayne that they eventually won 108-104 in 3OT. Eichelberger averaged 6.2 points, 3.3 rebounds and 1.2 assists. His size and presence will continue to boost Cleveland State's already potent defense. He also has the ability to get hot at certain times, which makes him a threat on both sides of the ball.    
On the bench, Gates also brings back most of his talented staff from last year, including Rob Summers, Drew Joyce III and Ryan Sharbaugh. New additions include: Travis Lewis (Director of Video Operations) and Matt Cline (Special Assistant to the Head Coach). Dickey Nutt, who held that title last season, has moved on to become the head coach for men's basketball at Gaston College.
The fans
This year will be the first time in nearly two years the Vikings are able to welcome their fans back into the Wolstein Center. The COVID-19 factor has played a major role on the mental health of these athletes. But normalcy, at least in some sense of the word, is right around the corner. 
"I'm excited because I know the tradition of Cleveland sports fans," Gates said. "They supported the Cleveland Indians, the Cleveland Browns and the Cleveland Cavaliers. We are right in that footprint, and I truly believe that fanbase is the fanbase that's going to make our environment a home-court advantage for the Horizon League and the non conference."
The Vikings home crowd will not be the only one they see this season. Cleveland State has some tough matchups on the road, including back-to-back meetings with Oklahoma State and Duke in December. 
The new challenge of opposing environments is just another adaptation that Gates is preparing his team to face, and one that he hopes they will relish and learn from when it is all said and done. 
"Those are some hostile crowds that will allow us to prepare for nonconference and our conference season," Gates said.
The Vikings open up the season on Nov. 9 on the road against BYU. Their home opener is Nov. 13 against Ohio. CSU opens up Horizon League play at home against Northern Kentucky on Dec. 2. The full 2021-2022 schedule is here.
Vikings culture and core values
Hodge, who is from Tortola, British Virgin Islands, recalls his memories of the NCAA tournament game back in March.  
"It was different," Hodge said. "Coming from a small island. It was different, just a whole different vibe. It was surreal for me."
Bombarded with attention from those looking to celebrate the accomplishments. Gates' message to his players in the offseason has been simple: Cherish and move on. 
"He has had the same message," Hodge said. "Don't think about last year. Last year happened. We went through COVID, and we won a championship. We are not going to stick to that, you know. This year is a different year. He always tells us there is still COVID going on so we have to stay locked in."
Since taking over the helm in the summer of 2019, Gates has built the program into a culture. One that has preached eight simple core values: friendship, love, accountability, trust, discipline, unselfishness, enthusiasm and toughness.
The Vikings were told from day one they could win it all. A phrase that is often tossed around with unrealistic expectations. But this team continues to believe. That has always been the goal. And so, as year three begins, the goal remains the same.