Image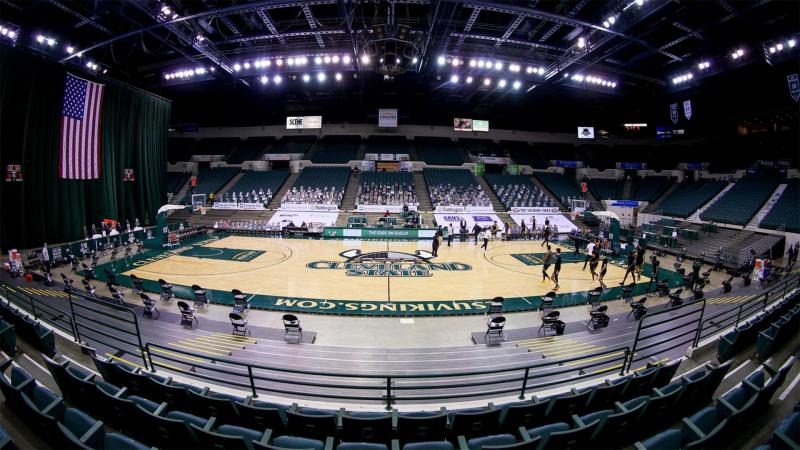 Credit: Cleveland State Athletic Department
Cleveland State to invite fans back to athletic events
After a season with no fans, CSU looks to fill the stands once again for the 2021-22 season. So what can fans expect and how will athletics deal with the threat of COVID?
Cleveland State University will look to fill seats with fans instead of cardboard cutouts this season after COVID-19 prohibited spectators from attending games in 2020. 
One of those fans is Kyle Rossi, a graduate student here at CSU, who is also a die-hard Vikings fan. Rossi has attended multiple soccer events so far this year and plans to go to as many sporting events as he can.
"You kinda forget what an essential piece of your life sports is," Rossi said. "I kind of have a little bit of a goal this year to see every sport at least once this year."
Rossi is one of many fans hoping to get back in attendance to see their favorite college team in action. The same goes for the athletic department at CSU.
"We are selling hope. People want normalcy in their lives," Carrie Neville, assistant athletic director of ticket sales at CSU, said. "Something simple as a Cleveland State soccer game gives that normalcy that they haven't had for the last year."
That thirst for normalcy was quenched by the COVID-19 vaccine rollout, helping carve down the positive cases of the novel coronavirus. However, hope is not gone yet even with cases once again rising due to the highly contagious delta variant.
One of those places of hope is the Wolstein Center, the home of Cleveland State Vikings basketball, which is coming off its third-ever NCAA tournament appearance.
"Our fans are just clamoring to be in the building," Neville said. "If that means being masked up or socially distant, they want to be in the building to see it."
The Vikings have some great matchups early during the men's basketball season. Playing teams like Ohio University, who are coming off an NCAA tournament appearance, where they upset fourth-seeded Virginia.
"We identified some games that will draw the big crowds," Neville said. "We stand a chance to make some noise and have some really big crowds right out of the gate."
With the virus spiking again, many people are still waiting to see what the situation is before committing to go to a sporting event. Despite this, the Vikings have received 85% renewal from season tickets holders from the 2019-2020 season for men's basketball.
CSU has taken the extraordinary times into consideration and provided fans with some compensation. 
"We made it adamant that if they chose not to renew due to COVID, we would keep their seats," Neville said. "Next year when they come back, they will be able to get the same seat." 
A strong run into the crowdless Big Dance last season has fans interested once again and tickets are selling. CSU has added over 100 new season ticket holders for men's basketball, and tickets are in high demand for the upcoming men's lacrosse season.
Basketball and lacrosse are not the only games people want to go see. 
Crowds have shown up for the early season soccer matches and Athletic Director Scott Garrett is ready for volleyball to serve up similar results.
"We are incredibly excited," Garrett said. "We have had really nice crowds at men's and women's soccer ... We are eager to get volleyball started at home in the next couple weeks."
How will the Vikings handle the threat of COVID?
With volleyball, basketball and other indoor events returning with fans. Garrett and the athletic department are taking every possible precaution to minimize any impact from COVID-19.
"Indoor events obviously we will follow campus protocols," Garrett said. "Which our expectation right now is certainly for volleyball, and likely the start of basketball season."
For now, as cases are on the rise, Garrett and the athletic department have not discussed mandating vaccines or a negative COVID test to enter indoor sporting events for fans.
"We will follow whatever the campus protocol is for vaccines," Garrett said. "We will have to have some discussion on whether it's appropriate for visitors, including fans at our events, to fall into that policy. For now, we are not considering that."
When it comes to getting a front-row seat, discussions are still happening around the possibility of this, given the coronavirus and the need to protect the student-athletes and fans.
"It still remains to be seen a little bit," Garrett said. "Our goal is certainly to provide courtside seating opportunities. We have sold out all of our courtside seats, on a season ticket basis."
When it comes to deciding this policy, Garrett will be looking towards the Horizon League protocol to make sure it is possible.
"That will be dictated by what the Horizon League has in-terms of COVID protocols," Garrett said. "We are still working through with the conference exactly what the arena operational protocols will be for the league. Whether that will be up to each institution or league rules."
Garrett emphasized that the most important thing is determining the appropriate buffer zone between fans and student-athletes to protect both parties. Garrett also emphasized what having fans means for the athletes themselves.
"It was very hard on them to not play with friends, family and spectators," Garrett said. "They (athletes) are very excited to be able [to] not only have those who are close to them at the games but have that home court advantage. I think all our sports are very excited to play in front of crowds again."