Image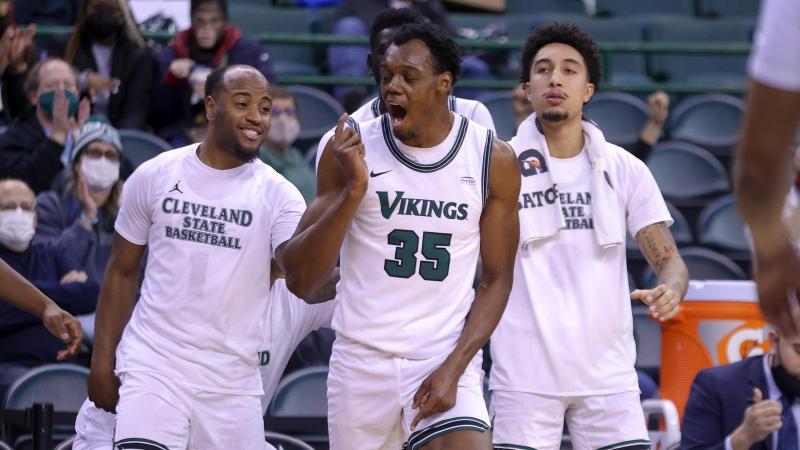 Credit: Cleveland State Athletic Department
Cleveland State batters Northern Kentucky inside to take Horizon League opener
The Vikings have won five straight games as they head into a showdown with Wright State on Saturday.
No 3, no problem.
Cleveland State notched its fifth straight win despite not hitting a single 3-pointer until the final minutes as it opened Horizon League play with a 72-58 victory over Northern Kentucky at the Wolstein Center on Thursday evening. 
Three Vikings tallied double figures, including a game-high 20 points and six rebounds from senior guard Torrey Patton. D'Moi Hodge added 15 points and five rebounds while Deante Johnson bullied his way inside for 14 points, six rebounds and four assists. 
The defending Horizon League champions started a little slow, but quickly kicked into gear with a 16-3 run midway through the first half. That spurt was spearheaded by Patton, Hodge and Broc Finstuen attacking the paint. The three have been key contributors to Cleveland State's hot streak as of late as they look to carry the load in senior Craig Beaudion's absence due to injury. 
That would prove to be the blueprint in disposing of the Norse. 
Cleveland State thrived inside, boasting a 48-18 advantage as the Green and White continued to attack Northern Kentucky's withering defense. The Vikings finished shooting 50.9 percent from the field. 
Cleveland State (5-2, 1-0) took a 39-25 lead into the break.  
The Norse (2-4, 0-1) battled through some foul trouble throughout the evening, including from their playmaker Trevon Faulkner, who was still able to tally seven points, five assists and three rebounds in the loss. 
Perhaps the Vikings most impressive stat of the night was their focus at the free throw line. Cleveland State went 17-of-24, a staunch improvement in a category that has given them woes early this season. 
The Vikings kept up their stellar play in the second half as the offense continued to click. Cleveland State stayed one step ahead while preventing the Norse from making any serious run. 
Filing in for Beaudion, Deshon Parker churned in another admirable performance, tallying three points and seven assists. Cleveland State assisted on 22 of its 27 made shots as it distributed the rock early and often.     
Finstuen and Tre Gomillion each chipped in eight points while Northern Kentucky was led by Marques Warrick's 14 points and five rebounds. Cleveland State's defense held the Norse to just 19-of-62 shooting (30.6 percent).  
The Vikings will look for their sixth straight win Saturday afternoon when they host Wright State at the Wolstein Center. Tip-off is slated for 3 p.m.