Image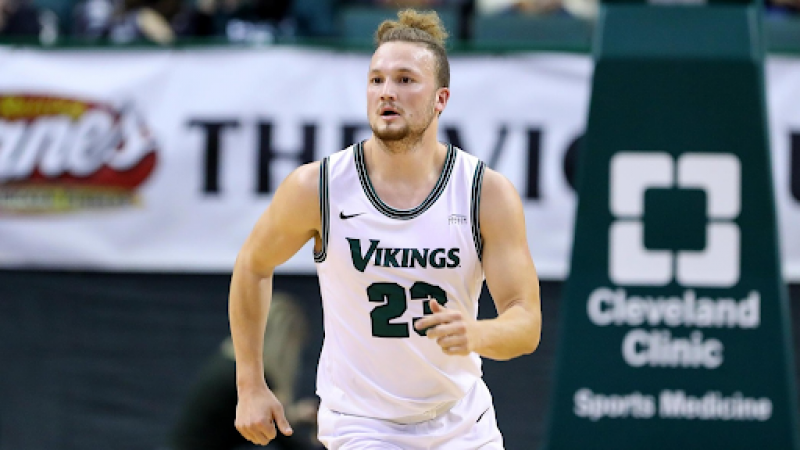 Credit: Cleveland State University Athletic Department
Vikings valiant in men's basketball season-opening loss to BYU
Cleveland State hung with the host Cougars through most of the night, forcing 14 turnovers.
Cleveland State displayed the gritty and gutsy style of basketball that they are known for, but on opening night it was not enough.  
The Vikings fell to Brigham Young, 69-59, in their season starter in a non-conference matchup in Provo, Utah on Tuesday. The trip was 1,743 miles from campus. It was the first time the two programs met.  
The game was much closer than the score indicates. Cleveland State hung with the Cougars (1-0) from the opening tip, briefly taking leads in the first half, but BYU would play keep away as CSU was one step behind in the second half. The Cougars strung together an 8-2 run to eventually pull away to capture the double-digit victory.  
The Vikings (0-1) were paced by senior guard Torrey Patton, who tallied a team-high 14 points and four rebounds while Broc Finstuen and D'Moi Hodge chipped in 11 and 10 respectively. Head coach Dennis Gates called on the bench throughout the night, an early indication that this year's group will have a deeper reserve than last season.
Finstuen's energy and timely plays made him a standout and seemingly an early candidate for the Vikings' sixth man this season. He went a perfect 5-of-5 from the field and helped CSU stay aggressive with four steals.
Cleveland State played a give-and-take game as they thrived in the turnover margin (6-14) but had familiar troubles down low as the Cougars dominated inside the paint, posting a 41-31 advantage. The rebounding woes of last year's NCAA tournament loss to Houston came creeping in, but the Green and White stayed within striking distance throughout most of the second half. 
BYU controlled the paint throughout the encounter, posting seven blocks to just two from the visiting Vikings. 
BYU senior guard Alex Barcello gave the Vikings foul trouble all evening, tallying a game-high 24 points, including a perfect 13-of-13 from the free throw line. Junior guard Spencer Johnson tacked on 13 points and three rebounds.
The Vikings will look to enter the win column as they return to Cleveland for their home opener against Ohio University at the Wolstein Center at 7 p.m. on Nov. 13.