Image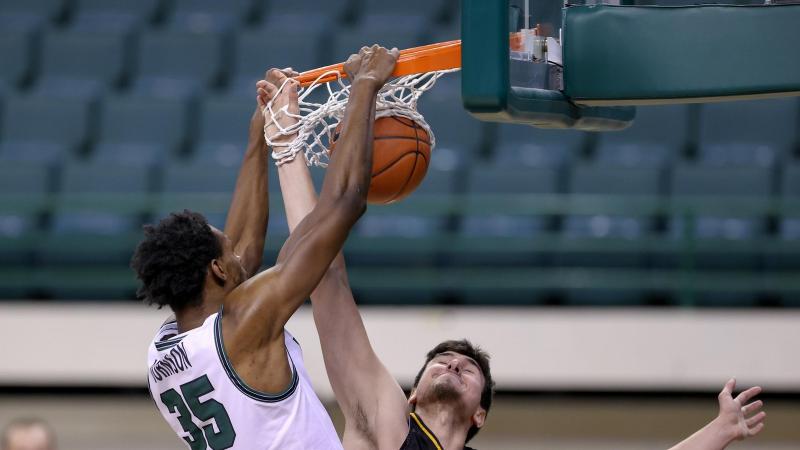 Credit: Cleveland State University Athletic Department
Vikings notch 15th Horizon League victory, remain tied with Wright State for first place
"We haven't played our very best yet, and I'm still waiting for my team to play their very best," - Vikings Head Coach Dennis Gates
After suffering a tough loss on Friday night, Cleveland State men's basketball entered back into the win column with a 71-64 victory over Detroit Mercy on senior night at the Wolstein Center Saturday evening. 
The win snapped a six-game winning streak for the Titans, and marked a program-record 15th Horizon League victory this season for Cleveland State.The last time the Vikings won 15 conference games was back in 1992-1993 when they were in the Mid Continent Conference. 
Cleveland State (15-6 overall, 15-3) remains in a tie with Wright State for first place in the Horizon League standings with two games left to play.
Cleveland State seemed to be hungover from their previous loss, dropping into a 15-1 hole in the opening minutes as Detroit Mercy sharpshooter, Antione Davis, found his range.
However, the Vikings then overcame their sluggish start, steadied by freshman Alec Oglesby and senior Torrey Patton. The tandem each tallied 15 points to pace the Vikings throughout the night. Oglesby pulled the Vikings even at 29 after connecting on a pair of free throws. Shortly after, Patton gave Cleveland State its first lead of the night on a jumper.
Patton has been sensational recently, averaging 20.3 points per game and 8.3 rebounds. He scored a career-high 33 points on Friday night. 
Oglesby's strong play was part of an outstanding effort from the bench as they went on to outscore Detroit Mercy's bench, 34-2. Yahel Hill also tallied eight points and five assists in his time on the court.  
"My player of the game is Alec Oglesby, being able to come in off the bench playing 33 minutes," Vikings Head Coach Dennis Gates said. "And obviously he was a plus 20 on the court, so I had to make sure he was going to stay in the game no matter what."
Oglesby also had the daunting task of slowing down Davis, who had put up 10 early points in the game.
"He just continues to get better and better," Gates said. "Defensively, he took the challenge. I showed him a clip last night in the middle of the night of Davis, and ways he can continue to improve defensivley, and he executed it to the t."
Detroit Mercy's Davis still finished with a game-high 23 points. 
"Davis is the player of the year in the conference," Gates said. I'm just being honest with you. There is no other person more important to his team than he is. And that's how I grade it. If you take Davis off that team, they're not anywhere as effective," 
Overall, Gates felt the Vikings dug out some of their "comeback material" after trailing through most of Friday night's game and again early into Saturday's matchup. 
"I'm absolutely proud of our team and the way they responded," Gates said. "You cannot hit the rewind button and go back to last night, but I thought our guys did rewind mentally ways they can help us win. And they were able to lock in a bit more in detail and I thought they executed to the t."   
The Vikings received contributions from all over the court as Deante Johnson provided some much needed post presence against Detroit Mercy's towering big men. Johnson had seven points, five blocks and 12 rebounds on the night. Craig Beaudion also did his part, chipping in with 10 points. 
Johnson's defensive presence wasn't alone. After allowing 89 points in the opening game of the weekend, Cleveland State clamped down on the defensive end on Saturday, holding the Titans to just 31 points in the second half. 
The Vikings took a small lead early into the second half and cushioned the margin with a 26-13 run. 
Cleveland State led in most categories, including rebounds (35-31), assists (14-8), and fastbreak points (15-2).
With his team less than three weeks away from hosting a quarterfinal conference tournament game, coach Gates believes his team has yet to reach its peak. 
"We haven't played our very best yet," Gates said, "and I'm still waiting for my team to play their very best."
The Vikings will close out their regular season with back-to-back games on the road against Purdue Fort Wayne (6-13) on Feb. 19-20.