Image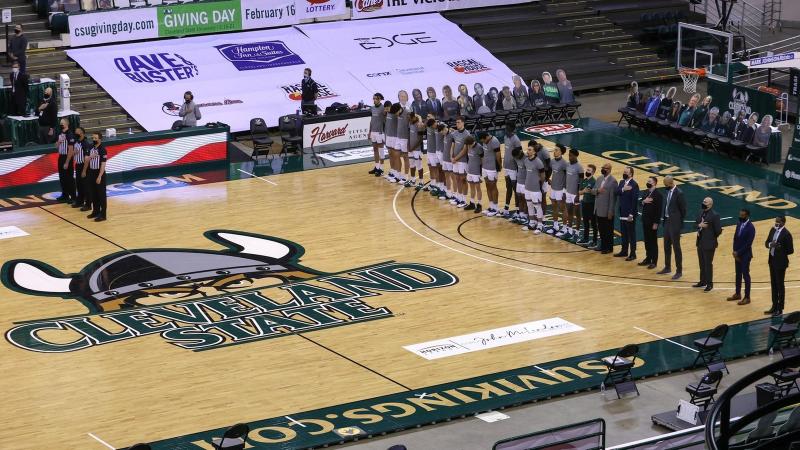 Credit: Cleveland State University Athletic Department
Vikings erase 16-point halftime deficit but fall short against hot shooting Detroit Mercy, 89-83
The loss snapped a four-game winning streak for the Vikings (14-6 overall, 14-3), who now fall into a tiebreaker with Wright State at the top of the Horizon League.
Cleveland State men's basketball erased a 16-point halftime deficit but were unable to stymie the hot shooting of Detroit Mercy as the Vikings fell, 89-83, in a Horizon League contest at the Wolstein Center on Friday night.
The loss snapped a four-game winning streak for the Vikings (14-6 overall, 14-3), who now fall into a tiebreaker with Wright State at the top of the Horizon League.
Buried in a 46-30 halftime hole, Cleveland State orchestrated a resurgent second half, beginning with an 8-0 run led by junior guard Torrey Patton. But, as would be the theme of the night, the Titans (9-8 overall, 8-5) had an answer.
Detroit sharpshooter Antoine Davis could not be contained as he torched the Vikings defense for a game-high 35 points, six assists and six rebounds, including 13-of-13 from the free throw line.
"I thought he made great shots, he was able to keep his team in the game. Difficult shot maker and potential Player of the Year in our conference," Vikings head coach Dennis Gates said of Davis. "I think that is well documented what he can and cannot do, and ultimately he willed his team to victory. That's what great players do."
Davis' teammate, Noah Waterman, did some damage of his own, nailing a handful of late shots, including a trio of 3s to keep the Titans one step ahead of the Vikings throughout the night. The 6-foot-11 Waterman, who finished with 17 points and five rebounds, was 5-of-8 from deep while the Titans as a whole shot 13-of-26 for a crisp 50 percent. The Vikings entered the night holding their opponents to 29 percent from long-range.
"We just didn't get stops," Gates said. "We didn't get stops at the end of the day... Credit to them, like I said, they did a wonderful job coming out of the gate. They had us down 22. I thought my team responded and they were able to get the game tied."
After slowly clamping down and chipping away, the Vikings finally pulled even at 63 after a three-pointer from Patton and one emphatic dunk from Tre Gomillion. But Detroit Mercy refused to let up, quickly putting together a few stops for an 11-4 run led by a pair of baskets from Davis.
With the Vikings upping their physicality down the stretch, Waterman unloaded his final barrage of shots, including a three-pointer to make it 79-71 with 1:14 left in the game.
"Ultimately, Waterman was able to knock down some threes in the last three minutes, and they were crucial," Gates said. "But also, Antoine Davis, he was able to knock down some shots as well. We just got to do a better job of personnel and recognizing."
Patton led the Vikings with a career-high 33 points on 13-of-19 shooting. D'Moi Hodge added 11 points while Gomillion and Craig Beaudion each tallied eight points. Jayson Woodrich chipped in nine points in 11 minutes off the bench.
Cleveland State opened the night with a flurry of turnovers as the offensive rhythm was slow to muster.
"They were doing a good job stripping, and I thought they got their hand on some balls and they're very quick at swiping down, and we weren't strong enough with the ball in the paint," Gates said. "That's ultimately where some turnovers came about. Detroit forced them, and they did a great job defensively. They were able to get some blocked shots and some deflections."
The Vikings found themselves on the wrong end of a few runs, including a 7-7 tie that quickly erupted into a 10-0 run for the visiting Titans. Coach Gates let his confident young men figure it out on more than one occasion, something he was eager to evaluate after the loss.
"They were playing from behind for the entire first half, and then halfway through the second," Gates said. "I thought my team responded. They were able to get the game tied. I thought I should have called some timeouts at that point, and try to manage. And during that stretch we were 0-3, 0-4 from some field goals, and if I had to do it again, just to hit the reset button because they fought, clawed so much to get back in the game, at that point we could have reset ourselves emotionally, and I didn't call or didn't use those timeouts in time. I have got to do better at that."
As Gates has said throughout the season, it was not a loss but merely another lesson, and one that he himself will hope to learn from as the regular season winds down and tournament time quickly approaches.
"I'll look at it as a lesson, and once I watch film, I'll be able to see what that lesson is," Gates said. "Ultimately, my hat's off to Detroit, they played a wonderful game throughout that entire game, from beginning to end."
The Vikings continue their weekend series with the Titans on Saturday evening with a 7 p.m. tip-off at the Wolstein Center. There, they'll be looking to reverse Friday's loss and finish the regular at-home season on a high note.