Image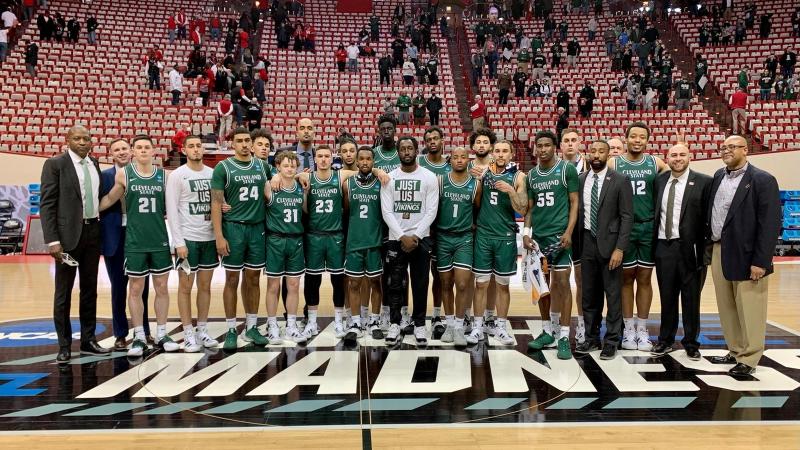 Credit: Cleveland State Athletic Department
A SEASON TO REMEMBER: Cleveland State men's basketball's championship run
The Cleveland State men's basketball team had mixed emotions as they gathered at center court on March 19 to take a group photo inside historic Assembly Hall in Bloomington, Indiana.
They had just been soundly defeated by Houston in the first round of the NCAA tournament, just their third NCAA berth in program history. They were feeling beaten, battered, and yet, accomplished, proud.
"It's a raw, emotional picture that you can look at and it can tell you a thousand words. If you look at each face, I know the competitive spirit, competitive nature of our players, and they know their own competitive nature and spirit, and to capture that, to sort of catch it in that phase, it's going to be forever remembered," CSU head coach Dennis Gates said.
Chemistry from a chance
Gates, a longtime Florida State assistant, was a late choice to take the helm at CSU when he was hired in July 2019. He took a gamble coming to Cleveland. His future players also took a chance. What followed was a two-year culture change that captivated the campus and led to a season that will go down in CSU lore.
"That team is a Hall of Fame team," Gates said. "I want them to be known for exactly who they are. They didn't give up. They had the utmost perseverance during a time where a global pandemic ended a season, and also, we had to navigate through a season to get to that point."
A team that returned nine players — including four who would anchor the starting lineup through most of 2020-2021 — was enjoying the game of basketball, and the brethren they shared it with. Boosted by a brazen bench that often caused a raucous scene in the near empty arenas COVID-19 forced on the season, the Vikings were not a flashy team, but a grind it out, gut it out squad. 19 of their 27 games were decided by 10 points or less.
"I think it says a lot about our entire program," Gates said. "You have to be prepared with preparation, and our staff did a wonderful job of making sure our guys were prepared for certain moments."  
Gates' staff includes assistants Ryan Sharbaugh, Drew Joyce III, Rob Summers and Dickey Nutt. (Shortly after the season, Nutt moved on as assistant athletic director/head coach of the men's basketball program at Gaston College in North Carolina.)
The accolades
In 2020-2021, the Vikings strung together one of their most impressive seasons in the past 35 years. They were crowned Horizon League regular season (16-7) champions and captured their first Horizon League tournament championship since 2009. They won 16 league games, the most since 1992-1993, back when they were in the Mid-Continent Conference.
Gates earned his second of back-to-back Horizon League Coach of the Year honors. Several players earned individual awards, including Tre Gomillion as the Horizon League Defensive Player of the Year, and senior Torrey Patton, who grabbed all-Horizon League First-Team. Gomillion and junior Deante Johnson earned All-Defensive Team honors. The accolades spilled off the court as well with sophomore Hugo Ferreira posting a team-high 3.9 cumulative GPA. Ferreira (spring) and junior walk-on Ben Sternberg (fall) each made the Cleveland State President's List as well. They were honored during CSU's virtual banquet in early April.
(Ferreira recently announced his intention to enter the transfer portal, as did freshman Alec Oglesby, who transferred to the University of North Carolina Wilmington.)
Core values
Cleveland State's success can be traced to the team's eight core values: friendship, love, accountability, trust, discipline, unselfishness, enthusiasm and toughness.
Created by coach Gates, it was a motto, not words, and it was the glue to the evolving puzzle of success that had eluded the Vikings for years. These values kept the team sharp, adaptable and with a hunger to improve.
"Along the way, there were some core values I believed in, some that I crossed out, some that I added, and lo and behold as I got closer and closer to August 2019, these were the core values that I knew I would need to lead young men," Gates said.  
Of all the core values, perhaps love was the one that had the strongest effect on the players. Not only their love for their teammates, but their coach as well.
"He just prepares us for real life," Gomillion said of Gates shortly before the beginning of the NCAA tournament. "In practice we have troubles figuring something out, and he'll purposely not answer it, or he'll purposely make us figure it out on our own because he says that's how it's going to be in the real world. How to just do fundamental man stuff, stuff to make us good fathers, husbands, everything. He does so much for me off the court, it's unbelievable."
Gomillion is just one of many players who has that connection with Gates. Cleveland State was his lone Division I offer, and after a stint at JUCO Gordon State in Georgia, the Augusta native found his way to Northeast Ohio in 2019, sharing the court with a group of young men and a coach he connected with.
"We all turned into family," Gomillion said. "We were already close and very cool friends but that bond and friendship turned into a family-type environment." 
A preseason No. 7
Gates still keeps articles on his desk of the media expectations of Cleveland State once he took the position. From the look of them, the program was facing an uphill battle.
"Several articles said they would be surprised or shocked if we won one game," Gates said. "I don't share that with the guys, it's just something that I always look at every day."   
Cleveland State was picked to finish seventh in the Horizon League preseason poll in 2020. An early chip on their shoulder that they slowly shed as they fought for one another through a challenging season amid the global coronavirus pandemic.
"For those 12 months or less, I would just say it was special because of the adversity they overcame, the sacrifices they made, and how it all just came together at the end with the results," assistant coach Sharbaugh said. "They basically bubbled up. I don't know how many other teams made the sacrifices that we made, and I think that's what allowed us to overachieve the way we did."    
The Vikings, often referred to as a transfer school, were still seen as a project despite Gates securing COY in his first season. The program retained Patton, Gomillion, Craig Beaudion, and Deante Johnson, while welcoming a talented 2020 freshmen class, along with JUCO Florida College-Manatee transfer, D'Moi Hodge.
Hodge caught the nation's attention with a 46-point performance against Purdue-Fort Wayne on December 20, helping the Vikings improve to 2-3 on the year after a tough start. But that wasn't the spark for the season that followed. It came a few games earlier.
From Athens to Columbus
Cleveland State began the season with a pair of road losses to Toledo and Ohio. The loss to the Bobcats was a 101-46 blasting that was broadcast on ESPN 3. The Vikings allowed a 40-0 run, setting an NCAA Division 1 record as Ohio embarrassed CSU with their second consecutive loss to begin the season.
"I thought of it as an anomaly," assistant coach Summers said of the lopsided game. "You get the phone call from people and people are talking, you know, 'what happened?'." I think we just had a really, really bad game and they played really well. I knew that wasn't what our team was about."
After stewing on the ugly outing, Cleveland State went back to the drawing board, orchestrating a gutsy effort against Big Ten powerhouse, Ohio State. The Vikings trailed throughout the game, but stayed close and gave the Buckeyes, the eventual No. 2 seed in the NCAA tournament, all they could handle. It was their third loss in a row, but it was a lesson, an insight into what was to come and the beginning of something special.
27 days of joy
Cleveland State returned home from Columbus to reel off a nine-game winning streak, all of which were conference opponents. The Vikings had gone from a 0-3 team to a 9-3 squad who was undefeated (9-0) in league play. All but one of those nine games were decided by 10 points or less.
This looked nothing like the team that took the court in Athens. The trust was there, and they were finding ways to win, but could it continue? 
"I always told our guys we are still the underdog," Summers said. "Even though we went on that run, and it was great, we still had our doubters and we were the only people that believed in us."
The streak ended with a humbling 85-49 loss to Wright State, whom they would jockey with for the remainder of the season for top spot on the Horizon League ladder.
The loss only spurred Cleveland State to further improve, winning seven of their next 10 games, clinching the Horizon League regular season crown February 20 with a win over Purdue Fort Wayne. It was the Vikings fourth game against the Mastodons for the season, and they weren't done yet with the familiar foe.  
The tournament run
Cleveland State split the regular season title with Wright State, but earned the Horizon League tournament's No. 1 seed heading into the postseason. The tournament was held at the Indiana Farmers Coliseum in Indianapolis, Indiana.
The Vikings survived a thrilling triple overtime classic in their opener to defeat Purdue Fort Wayne, 108-104. The heroics were on full display as Patton, who led the team in scoring all season, notched 30 points and 13 rebounds while senior Algevon Eichelberger saved the season with a 3-pointer to tie the game at 89 in the final seconds of the second overtime. Eichelberger finished with a season-high 20 points.
It was the talk of the town the next day, and even parts of the nation as the top-seeded Vikings continued their quest to make the NCAA tournament. 
"That game was nuts, I'm not going to lie," Patton said. "I feel like as a team we were all locked in. Every single player was locked in. We all believed we could win that game. It came from a lot of players stepping up, and I feel like that was the story of this team all year."
(Patton is still in the process of deciding whether to return to Cleveland State for his extra year of eligibility due to COVID-19 regulations.)
Cleveland State received a huge favor from the rest of the league when No. 2 Wright State and No. 5 Detroit Mercy were bounced out of the tournament in their opening round matchups.
The Vikings regrouped for their next battle as they headed to Indianapolis to take on Milwaukee. 
The Vikings found themselves trailing multiple times during the game, including 30-24 at the break. They battled back to take the late lead on a Gomillion dunk, eventually pulling away, 71-65, to clinch their berth in the Horizon League championship game.
The third-seeded Oakland Golden Grizzlies were all that stood in the way of Cleveland State and its third NCAA tournament berth in program history. The Vikings played passionate and inspiring basketball, taking an early double-digit lead as they celebrated a night to remember with an 80-69 victory.
In a way, it was a culmination of a victorious season, in more ways than one. No matter what March Madness would bring, they overcame their toughest obstacle, just playing basketball during a global pandemic.  
"This season was one for the books in terms of what we did on the court, but also in terms of what we had to go through," assistant coach Joyce III said. "I can't commend our players enough for the sacrifices they made and the discipline that they committed to."
March Madness
It's hard to even put into words the emotions that emanated from the Cleveland State men's basketball team from the moment they clinched their NCAA berth to the spectacle and pageantry that was Selection Sunday.
The team had a multitude of memorable moments, including a ride along on the team bus inside the famed Indianapolis Motor Speedway. Like many of his players, it was Gates' first time at the racetrack.
Coach Gates was thrilled to be a part of the moment, but was more proud to see the hard work of his young men reward them with what could be a once-in-a-lifetime opportunity. In fact, he still hasn't been able to soak in what transpired this season.  
"I still haven't reflected on it… I look into the eyes and the faces of the players and my staff, and I see their joy," Gates said. "I see the administration's joy. I see the alumnae's joy, the fans' joy. For me, being able to steer, it's hard in my position to really absorb what we were able to accomplish."
The tournament game, a brutal matchup with No. 2 Houston (24-3), didn't go as planned. 
The Vikings held firm in the first half, but were battered inside with offensive rebounds and a noticeable height and athleticism disadvantage. Cleveland State trailed 37-29 at the half, but went cold as the Cougars reeled off a 12-2 run to start the second half, burying the Vikings in what would become a too-deep hole.
"I knew what we were facing," Gates said of Houston. "Sometimes to hold up a trophy you have to go through the best teams. We weren't able, at Assembly Hall, to play our best and some of that is because the University of Houston didn't allow us to."  
Walk-on Ben Sternberg gave the Vikings something to cheer about as he checked into the game in the final minute, eventually securing a pair of free throws and a March Madness moment for the guard who spent most of the season relentlessly cheering from the bench.
Cleveland State lost 87-56 to the Cougars, which made it to the final four, something Gates hinted towards during his postgame interview, along with his admiration for Cougars head coach Kelvin Sampson.   
"I will be curious to watch the next five games that Houston will have," Gates said after the loss. "I truly believe this team can win a national championship that we just played. That team is really good. I don't think they get the credit they deserve. I think they are a number one seed."
Defeat was bitter, but the journey was sweet. Gates had taken a bottom-dweller in the Horizon League and transformed them into believers and winners.
Instilling a culture change at Cleveland State, including his on-court success has led to speculation that Gates could move on to a bigger coaching opportunity. But he says he's focused on continuing the path he has created in Cleveland.
"One of my goals is to be the all-time winningest coach in Cleveland State history. That's how I look at it. I don't look outside of where my two feet are. Never have, never will."