Image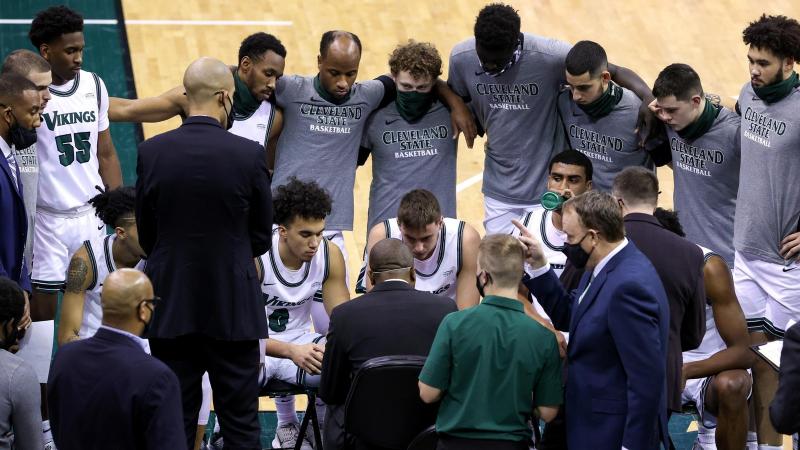 Credit: Cleveland State University Athletic Department
Led by their core values, Vikings locked in and turning heads in men's basketball
Bonded by their head coach, Cleveland State men's basketball is turning heads this season.
The Vikings (12-5 overall) have strung together one of their most impressive regular seasons in recent years, and sit at the top of the Horizon League standings at 12-2 with just six games to go in the regular season. They hold a one game lead over Wright State, who they split the season series against.
In just his second year at the helm, Vikings coach Dennis Gates has instilled a new mentality of core values into his players as CSU looks to return to the NCAA tournament for the first time since the 2008-09 season.
Those values are friendship, love, accountability, trust, discipline, unselfishness, enthusiasm and toughness.
"I have seen consistent growth," Gates said. "I have seen these guys hold each other accountable. I have seen a level of friendship and love that is demanded from top to bottom. It's all welded together with focus and they have been locked in on and off the court, and in the classroom."
While each game presents its own challenges, it was the Ohio State road game back on Dec. 13 that really turned the season around.
Coming off a blowout loss to Ohio University, the Vikings trailed throughout the entire game against the Buckeyes, but gave a gritty effort, going toe-to-toe with a team that is now ranked No. 7 in the nation. They eventually fell, 67-61.
The game was not a loss, but merely a chance to grow. 
"We never referred to anything as losses, they were lessons," Gates said. "For as long as we allow ourselves the opportunity to grow from those moments that we have not been successful, that's the most important when you are building a program, especially with guys of our level of experience."
The Vikings dropped to 0-3, but they also earned a lot of respect and more importantly, they garnered a boatload of confidence heading into their conference schedule. Beginning on Dec.19, Cleveland State reeled off a nine-game winning streak, catapulting them to the top of the Horizon League standings.
Once again, Coach Gates' attitude took center stage, restarting the season after each victory.
"We didn't look at it as a streak, we reset ourselves after every game, after we debriefed and looked at each outing as a new opportunity to grow and get better and give our very, very best," Gates said. "My job is to hold up a mirror in front of each guy, and the reflection that they see should be the very best of themselves."
It was an historic stretch that gave them the best start since a 1992-1993 squad that finished with a conference record of 15-1 – back when the Vikings were part of the Mid-Continent Conference.
Throughout their nine wins in a row, the Vikings took care of business in all types of games. They had close calls, dominant performances, defensive gems, and one offensive explosion from junior guard D'Moi Hodge.
He racked up 46 points – the third most in school history – against Purdue Fort Wayne on Dec. 20. Hodge, who is a JUCO transfer, was simply sensational, tallying 15 of 23 from the field and 10 of 15 from long range, including eight 3's in the first half. He dazzled with 31 points in the first half, setting the stage for a night that he will never forget.
That performance was however a rarity because this team is not a one-man show. Part of what makes this team unique – and successful – is the ability for any player to lead the team on any night.
"The strength of our team is in our numbers," Gates said. "That's well-observed. I think at any moment, any guy can step up and lead us, whether it's offensively or defensively. I think we have those types of personalities where we genuinely cheer for each other. There is a level of unselfishness."
Junior guard Torrey Patton out of Indian Hills Community College leads the team in points, touting 11.5 per game and 7.3 rebounds, while Hodge also breaks double figures in points with 11.0 per game.
The calling card of the team has been their stingy defensive prowess. The Vikings boast the second-ranked defense in the conference, allowing 68.5 points per game.
Gates points to the preparation of his staff and coaches in helping his players thrive. Coaches like defensive coordinator Ryan Sharbaugh and assistants Rob Summers and Drew Joyce III amongst others. 
"They have definitely kept our guys lost in detail," Gates said. "The spirit of our team is high energy. We win by committee. And our depth is something that we depend on. Our energy, whether it's our bench or our players on the court, does not waiver."
Whether it is high-fiving the cardboard cutouts after the game or their passion on the court, the Vikings have also kept their energy for the students and fans who have been unable to attend games due to the restrictions brought about by the COVID-19 pandemic.
"We do feel their support, and we feel their support because we know they are out there, watching and following. We know it's bigger than us. It's giving not only our institution, our students, future students and our past alumni, it gives them a bright light of hope and a glimpse of happiness during a dark time."
The Vikings are on a two-game winning streak and will travel for a back-to-back against Oakland University (MI) on Feb. 5 and Feb.6.